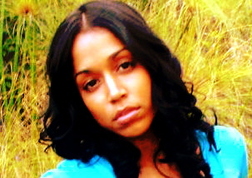 We managed to get Natasha Ramos aka Tasha aka Daliah for a interview thanks to Goober where she speaks about what she is been up to, her new album, how she's been signed to Star Trak, her Kanye West collaboration on the Neptunes produced track "Screwed", Star Trak's girl group and much more. Tasha also clears up what's been up with her at the "Midnight Hour Studio Session" with The Neptunes six years ago where she looked bored in the studio. So let's get it started. "It's been a while since anybody heard and seen anything from me, but I'm Back Bitches!, Right now, I'm Tasha Ramos, you can call me Natasha Ramos, Daliah. Over the past few months I have been working on new music and some of you may know that I got a song on the Fast & Furious Soundtrack "La Isla Bonita" a Madonna's Remake which I'm very proud of".
How Did You Get Started?
When I was 17, my mom told me about this talent show where I went to the audition. At that time Destiny's Child broke up and they were looking for a 3rd member to be in the group so they choosed me. I worked with them and we did 10 songs, we were really close to finish the album but my manager & I had differences, it didn't worked out, I was not ready for what the business had for me, I left the group and I came back home. It was so stressful to me that i wanted to give up, but then what actually made me not give up was, I had a dream about Aaliyah after she had pasted away, I was at the grocery store and was looking at magazines with pictures of her and the pics became live and she started talking to me. When I woke up, I said I can't just give up like that, I was inspired by that dream. I've been singin since before i could even speak, allways wanted to be a perfomer, a singer. My first performance was with 6 out in front of an audience after that I was just about all the talent shows community activities where they been lookin for anybody to perform. After I developt my voice, I was a Highschool National Anthem Singer for all the boys Basketball games.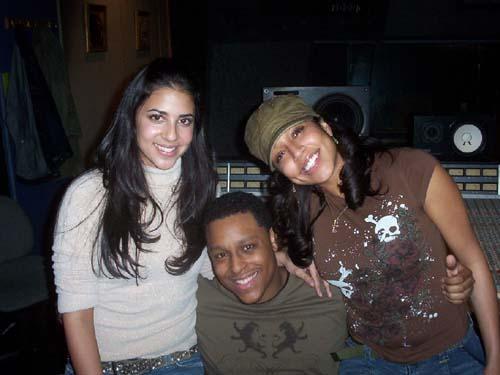 Working With The Neptunes & Star Trak Girl Group
A friend of mine from highschool "Brandon" came to me one day and was like "I know this guy Reggie he is a really good friend with the producer "Troy Oliver" who worked with Jennifer Lopez, Ginuwine and I told him about you, he wants to meet you". So I met Reggie, Reggie brought me to Troy, Troy introduced me to L.A. Reid and I sang "Yesterday By Shanice" to L.A.. He was blown away. I ended up signing the deal with Arista. Then I started working on my album with The Neptunes and did Midnight Hour, Invisible and a few other songs that people not heard of but I wasn't signed to the Star Trak Camp yet, I was actually with Chocolate Factory, Arista. We we were so close to finish the album but then Arista canceled it, I was lefthanged after that and Pharrell was like "I'm thinking about doing this really dope girl group, 3 Spanish girls, they all spin like black girls," I was like no thank you i don't wanna be in a group again. Until about a month later I was like "you know what, God keeps throwing me on my way, maybe It's because this is what I need to do, so I took the offer and Vanessa Marquez, myself and the third member didn't worked out, so we all went separate ways and I've been signed to Star Trak then.

Natasha Ramos – Midnight Hour Studio Session

Who Recorded The "Midnight Hour" Video?
It was Kenny Ortiz, he was my A&R at that time.
What's With The Bored Look In The Video?
People on Youtube just make me laugh, they just speak and they just dont know. The reason that I looked so leanbacked and chilled was because I just came back from L.A. from working with Darkchild for 4-5 days in a row then flew straight from L.A. to Virginia. I was a lil' nervous because it's Pharrell, I was exited but at the same time supertired. So I was absolutelly not bored, there was no way in hell I coulda been bored in the presents of Pharrell Williams and Chad Hugo, THEY MAKING A RECORD FOR ME AND I'M BORED?? TEH FAK.
Who Made The "Midnight Hour" Beat ?
The Neptunes made the beat, Pharrell wrote it 6 years ago.
What About Natasha – So Sick feat. Clipse ?
That's not by me, I did not record that record. That's Natasha on Jive Records, I'm Natasha on Star Trak Records. Two tottaly different people, it did cause some cofusion because it was with the Clipse, you would think that's kind of a give, Natasha & Clipse but it really wasn't.
Is Star Trak "Uninvolved"?
Kelis said once that "Star Trak allegedly are an uninvolved label, but that's not true. They are invovled, I got a very close contact with the record label and it's not just a label with me, it's a familly, so if I have to call somebody up and say "hey this is going on am I right" It's Star Trak. I don't know what's been going on when Kelis was on the label but things happen with different people.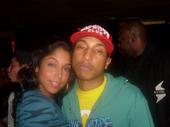 What Do You Feel About The Current State Of The Industry ?
I wish it was like 20 years ago i would be like superfamous (Laughs), the music is not what it used to be, people who feel and love music would agree with me. A lot of labels are looking for things that don't really matter, not everybody can be Beyonce, dances and sings and backflips all at the same time, my speciality is singing, with the vocals and the pen. That shouldn't be something that people are gonna be like "She doesn't dance like Ciara so i don't know if she gonna be big". It's all about what you hearing what you feel. Beyonce & Lady Gaga are hot.
Who Are You Inspired By ?
Musically I'm inspired by anybody who's inspired by their own music, anybody who's inspired by what they do. I'm inspired by them, because anybody who's really passion about what they do can hear it feel it, I can't really point by who am I inspired by, I'm just inspired by great music wether it's just one song of an artist that Is awesome out of the whole album.
What Kind Of Music Do You Listen To ?
I listen to every genre of music, exept of heavymetal but one day i may hear a heavymetal song that i like you never know, but if it's good music, I like it.
How Did "La Isla Bonita" Come About?
Star Trak's A&R Jay Jackson actually got intouch with me and told me that they have this record for me to do. I came to New York and I didn't even know the song I was doing, I knew it was for a Soundtrack but I didn't know the song I was doing until I got there. I met the producer J. Drew Sheard II. " Kierra "Kiki" Sheard's brother" one of my favourite gospel singers. It took about 4-5 hours to record it.
Any Secret Projects ?
It wouldn't be a secret project if if I told you, right ?. So it's gonna have to stay a secrect!
Pontential 1st Single
I can't really say what single I should pick. If they can make a whole album a single that would be a deal.
What Do We Have To Exept From The Album ?
It's just realness, real music. Stuff that is musical, good melodies and just great tracks and awesome lyrics and real topic that people go through, I'm all for music that can make you dance, but at the same time I'm all for music that can make you think and cry and feel and be that's what i want and that's what you'll get.
Who Are You Working With ?
The album is not completely done yet, so obviously The Neptunes, Troy Oliver, Hitboy, Ryan Lesle maybe again etc.
Are There Any Collaborations On The Album?
So far I have one song with Kanye West called "Screwed' produced by The Neptunes. His verse is so stupid!
Natasha Ramos – Untitled (2009)
Producers & Guests: Just Blaze, Darkchild, The Neptunes, Hit Boy, Troy Oliver, Ryan Lesle, Kanye West…
Confirmed Tracks:
- This Love
- Invisible (Neptunes)
- Strawberries
- U Can't Handle This
- Lady Likes
- Screwed feat. Kanye West (Neptunes)
- Running Out Of Love
- I'm Feelin Myself
- Music Box
www.myspace.com/igooner
www.myspace.com/natasharamos
Big Props To Gooner!
Natasha Ramos & Theneptunes.org Interview Part 1

Natasha Ramos & Theneptunes.org Interview Part 2

Natasha Ramos & Theneptunes.org Interview Part 3

Natasha Ramos & Theneptunes.org Interview Part 4
Check out the song that she sang infront of L.A. Reid "Yesterday By Shanice" at 5:50

Natasha Ramos & Theneptunes.org Interview "Shout Outs"

Natasha Ramos & Theneptunes.org Interview – The Bloopers