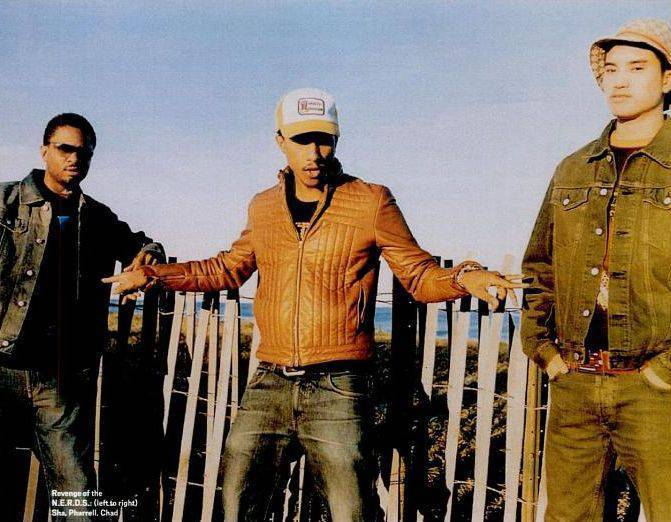 Most of y'all should remember back in 2002 when the first Star Trak site launched, there was this little Neptunes Discography with a Brandy tune titled 'Save The Babies, well here is an article where The Neptunes say that they are about to go in with Brandy in the studio for Brandy's third studio album 'Full Moon (2002)', so 'Save The Babies' is probably from that studio session but it was never released, probably the management didn't liked it and went with the Darkchild tunes instead heh (Michael Jackson Topic). The article also says that they're about to produce for Stevie Wonder too, so after all, the Stevie Wonder x Neptunes Tracks rumours aren't rumours at all, check out the article below.
Chairmen Of The Boards
These days, no major hip hop album is complete until The Neptunes have contributed at least one track. With the release of their debut album N*E*R*D, these fiery 'It Producers' are turning up the heat. By Joseph Patel.
Angie Martinez swivels in her chair, not convinced. "I don't know if I like it so much anymore," she says, shaking her head. "It's not the same as before." Martinez, a New York City radio personality on Hot 97 who is taking her turn as a recording artist, is sitting in the basement of New York's Right Track Recording Studios across the production console from her producer, Pharrell Williams of The Neptunes. "I thought you were going to sing the hook," she says, almost pouting. Martinez is referring to the final version of "Dem Thangz," the scheduled first single from The Up Close & Personal Project, her debut album. The beat blasts out of the trademark club-ready, chopped-up speakers that have become Pharrell, 28, and his Neptunes partner, 27-year-old Chad "Chase" Hugo's, trademark.

Pharrell's vocals have graced other Neptunes produced chart-toppers for the likesof Jay-Z and Mystikal, but on this track, his effortless falsetto is absent; a woman sings the hook. The change leaves Angie, who's most comfortable with their proven formula, nervous. "This song needs a singer, a woman to sing it," Pharrell says. "You have to trust me." Fatigued, he leaves the room, hoping a few minutes alone will allow Martinez to rethink her position on the matter. The Neptunes have evolved over the last four years from burgeoing Virginia Beach, Va., producers into a mainstream hit factory. At the time of this session, Mystikal's "Danger (Been So Long)"; Ludacris's "Southern Hospitality"; and Jay-Z's "I Just Wanna Love U (Give It 2 Me)," all three of which the produced, are in the Top 40. Yet, here's a relatively unseasoned artist challenging their creative process.
Pharrell feels a little frustrated. "Annoying," he says pointedly, now in the studio's conjoining ante-room. "I can't show a person how to present their character, you know. Not everyone practices individuality. A lot of people practice cloning, and the ego gets in the way. The say, 'I want a joint like you did a record like that-it'd be hot!" Coppy, punctuating bass hits warmed by colorful inflections, a guitar lick, or a moaning keyboard sum up The Neptunes' signature sound. As stripped-down, low-rent tracks have replaced extensive sampling, The Neptunes' minimalist concoctions flourish as both rhythm and melody. They rose to prominence with Noreaga, whose thuggish staccato on "SuperThug" fit well with their machine-gun aesthetic. They followed by producing several tracks on Ol' Dirty Bastard's memorable N***a Please and the psychedelic soul album Kaleidoscope for singer Kelis, and redefining remixes of "Everyday," "How Many Licks?," and "By Your Side" for Angie Stone, Lil' Kim, and Sade.
Employing an arguably limited sonic palette, The Neptunes tailor each record to the strengths of the performer. It's because of this that Pharrell is wuick to note it is not just Martinez's reaction that's got him stressed, but rather the unwillingness of artists to trust him and Chad when they want to try something new. "The only reason [artists are] a little less reluctant is because of the tracks. That's all it is, man." Spend any amount of time with Pharrell and Chad and you'll discover the two are unlikely candidates of hip hop hitmakers. As a welcome change of pace, Pharrell doesn't smoke and rarely drinks alcohol. The way they dress doesn't even conform to the code of the streets. Chad looks everyday normal in his cargo pants and black T-shirt, while a yellow, thrift-store Izod polo shirt, snakeskin boots, and a trucker-style, beat-up, mesh baseball cap crowns Pharrell's skinny frame. Only a shiny, diamond-encrusted watch hints at ghetto fabulous convention.
For them, it's alll about the music. They devour it in all forms, lick it up, and suck the bones. "When we were younger, we loved hip hop, but we were always looking for something alternative," Chad says. Indeed, Chad, one of the rare Filipinos in hip hop, grew up on a steady diet of new wave and Native Tongues. Pharrell bumped '70s rock icons like Steely Dan and America and today chats up his new favorite group, Stereolab, the delicious London-based art-rock grop. "Listening to them makes me realize I wasn't the only one who heard Sergio Mendes and Brasil '66," Pharrell gushes. Pharrell and Chad became friends as middle-school students in Virginia Beach, both preferring the music program to after-school sports. "Chad was a different cat, and he was cool with that," Pharrell says. Rapping still commanded a lot of their time. They were invovled with two rap groups during high school: Surrounded By Idiots, with Timbaland and Magoo and another partnership with a third student, while Chad made beats that eventually got him and Pharrell signed to Teddy Riley's New Jack Swing production company.
They didn't get much work: Pharrell wrote Riley's rap on "Rumpshaker," and had a verse on a Riley-produced SWV remix ("Right Here") that later got cut. The inertia became so maddening that they got out of their deal, becoming producers instead. "Our group always had a specific sound people never really understood," Chad explains. "We allowed our minds to wander, and most people don't." That they are desired purveyors of pop hits wich a sparse sonic aesthetic they used to get grief for is very funny to them. With producing jobs for artists like Stevie Wonder and Brandy in the works, the fact that these former music geeks have beaten the odds and even become popular is not lost on Pharrell. "I didn't think I was ever going to have anyone's children singing my song," he says. "We always just struggled to do what we wanted to do." That's why The Neptunes' new solo project, N*E*R*D (The Neptunes plus Virginia friend Sheldon Haley, aka writer/vocalist Shae) is wholly appropriate. An acronym for their musical philosophy No One Ever Really Dies, N*E*R*D is really a continuation of their high school efforts at combining different genres of music.
The Trio's debut, In Search Of… is a concept album that trashes typical pop conventions by marrying that famed Neptunes' punch with elements of classic rock, blues, and old-school funk. Pharrell croons sexually charged lyrics like a bold '70s rock icon, turning the tables on white singers of the decade who borrowed heavily from black music. "Neptunes are what we do, me and Chad producing, being the Technicolor  people's ideas and thoughts. N*E*R*D is who we are, our lives and experiences," Pharrell says. "We just want to be more creative and pull some shit out from the left and create a whole new era."