Robin Thicke, Crooner Producer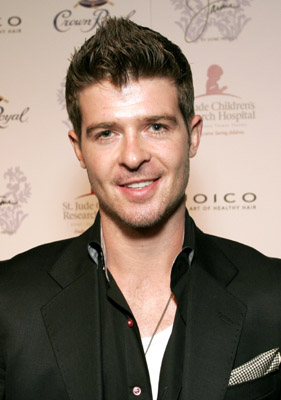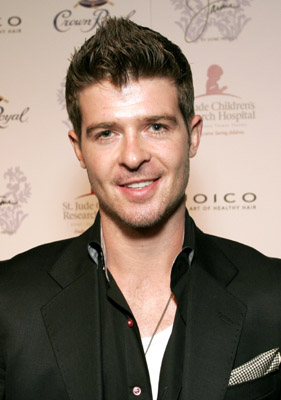 It's never a dull moment for bedroom crooner Robin Thicke. When he's not producing or popping up on tracks by the likes of Ashanti or Lil Wayne (he sings on Wayne's New Orleans ode "Tie My Hands"), Thicke is working on his own stuff and doing the diva tour thing with Beyoncé (2007) and now Mary J. Blige. He plays with her Sunday at DTE Energy Music Theatre in support of "Something Else," which will be in stores Sept. 30. It's been a slow climb for Thicke. He finally measured big U.S. chart success with "The Evolution Of Robin Thicke," the 2006 album that went platinum partially on the strength of urban radio hit "Lost Without U." When it's pointed out to him that he has scored opening spots with the two biggest female names in R&B and hip-hop today, he laughs and notes,"That's the princess and the queen, you know?" Thicke caused a stir recently when comments he made to Billboard Magazine made it sound as if he thought Vibe Magazine was racist for not putting him on the cover. It turns out that wasn't exactly his intention. But Thicke is, no doubt, right in the thick of it — and that's fine with him.

QUESTION: What does that time feel like between when you've finished an album and are waiting for it to hit the shelves?
ANSWER: At first when it does, you're very confident because all of the first responses are so powerful. Then after that, you get a little anxious, a little nervous, because maybe there's expectations from the last work, and you really just want to give people something they like. Now I'm just excited to get it out there and hope that people connect to it.
Q: There are some tracks on the new album that have pretty issue-oriented lyrics. Was that a conscious choice for you when writing?
A: It's not purposeful. I think the last album I was really writing songs about what I was going through, and then after you get out there and you see the world and you go to 40 cities and you meet thousands and thousands of people a week, I think you just realize that there's a whole other world that's going on out there besides little old you.
Q: What about the title of the album, "Something Else"?
A: There's a whole bunch of layers to it. There's the Barack Obama layer of this era of change and needing him in the White House, and there's me. It was being on the road for a year and a half singing the same songs and feeling the same feelings and worrying about the same things and wanting to do something else and think about something else.
Q: There was a bit of a mess with Vibe last month slamming your complaint that they didn't put you on the cover because of the color of your skin. Was that really the reason they gave you when you asked why you didn't get the cover?
A: No, no, Vibe didn't say that to me at all. It was my buddies, friends of mine. When I was saying, 'Man, I wish I could get the cover and blah blah blah,' my buddies were like, 'I don't think they have white people on the cover.' But what really the conversation should be about is the flip side of that. Why Vibe exists is because of the hundred other magazines that wouldn't have African Americans in their magazines. That's really the issue at hand. I'm not the victim in this. But it is a conversation that should be had. How come the other magazines don't have R&B or hip-hop or African-American designers? How come they're not in the other magazines? That's the question that should be raised.
Q: So you're cool with Vibe?
A: They're lovely people who have done a lot for my career. I would never have any beef with them.
*freep.com