Interscope Inks Deal With GenAudio for New Robin Thicke Album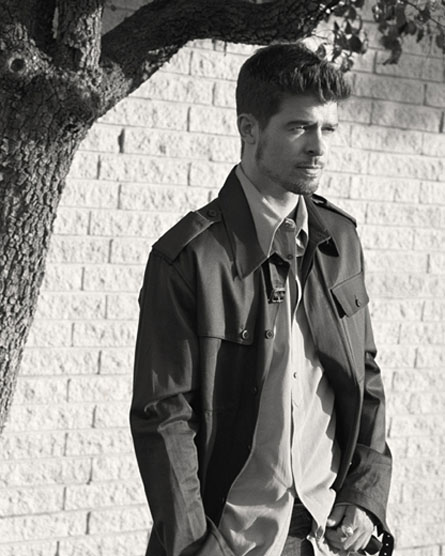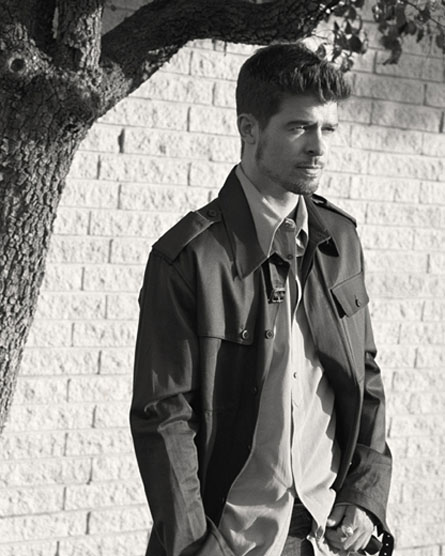 Grammy winner, Robin Thicke has a top 5hit on his hands with "Magic," the lead single from his new album, "Something Else," due Sept. 30 from Interscope Records / Star Trak Records. The certifiedplatinum soul singer is truly creating the "Magic" with afirst-of-its-kind partnership with GenAudio, which is debuting its new audiotechnology, AstoundStereo(TM), by providing alternate mixes of six tracks from "Something Else." "As an artist, having this kind of technology is a dream come true. Mygoal is to always have my audience hear my music on a deeper level, so I amthrilled about AstoundStereo(TM)," says Robin Thicke. Developed by GenAudio, the new technology, AstoundStereo(TM), is the nextdimension in the evolution of audio.
A next generation 4D audio technology, AstoundStereo(TM) immerses the listener with sounds, elevating and wideningthe sonic landscape to create a much more enjoyable listening experience. "This will change the way the world listens to audio," says Jerry Mahabub,Chairman/CEO of GenAudio. "AstoundStereo(TM) is not only the next dimension inthe evolution of audio, it will become the new standard for listening toaudio." AstoundStereo(TM) requires no special hardware or decoding. Headphones or two speakers are all that is needed to experience 4D audio. In addition toproviding for a better stereo listening experience, AstoundStereo(TM) alsointegrates seamlessly with all Surround Sound delivery formats yielding abetter multi-channel audio experience.

In other words, it is compatible withall audio playback systems including but not limited to home theater setups, portable music players, computers, car stereos, etc. Interscope Records credits the artist's musical palette for the GenAudiopartnership. "There is an inherent richness to Robin's music, as well as avariety of musical styles, that we thought would work well with the new GenAudio technology — and it does," says Ted Mico, EVP of Digital at Interscope Geffen A&M (IGA). "We see this as a good fit between artist and technology." The six AstoundStereo(TM) re-mixed tracks — "Magic," "Sidestep,""Dreamworld," "Sweetest Love," "Shadow Of Doubt" and "Cry No More" — areavailable as a gift-with-purchase for anyone who orders the digital version ofthe album on the artist's website www.robinthicke.com or the physical CD on Amazon.com.
Robin Thicke is the first artist to showcase his music using AstoundStereo(TM). Thicke's customized Musicane widget will be posted on his official site www.robinthicke.com offering fans the opportunity to buy the entire album and/or individual songs directly from him, via his website. Fans that buy his album directly from his site will instantly be able to download the AstoundStereo(TM) files directly from the widget. The widget will contain previews of the album, news, videos and, for the first time, sell his branded merchandise. The digital music downloads sold via Thicke's Musicane will offer his full catalog in unrestricted 320 kbps MP3 format. All music is DRM-free and will be playable on any portable and home music players including the Apple iPod(R) and iPhone(R).
Robin Thicke's manager Neil Jacobson, of Interscope Management, concurs."I compared the original mixes versus the AstoundStereo(TM) mixes on all six tracks," he says. "You can close your eyes and hear how the audio expands around your ears and above your head — it completely immerses you in Robin's music. This technology takes Robin's music to a new level." Vikramaditya Jain, President & COO, Musicane, agrees, "AstoundStereo adds a new dimension when listening to music and it is great for all music consumers, particularly the fact that the enhanced sound quality is reflected through normal speakers. Most of our users are listening to music throughtheir computers and portable devices while surfing the web, and it's great that they can benefit from a unique sound experience."
Because Robin Thicke's music is varied — from upbeat and funky to soulfuland atmospheric — GenAudio showcases the different ways that AstoundStereo(TM) can be applied to different styles of music, Mahabub explains. "With Robin having such a wide range of musical style, it enabled usto have a new level of creativity using our AstoundStereo(TM) technology." From a marketing perspective, Interscope now has a different type of bonusoffering for Robin Thicke fans. "This is a great incentive for fans to buy the album," Jacobson notes. "This is real, tangible, and makes perfect sense." GenAudio has tapped GMR Entertainment to handle marketing and artistpartnerships for this platform.
GMR Entertainment is one of the leading musicand entertainment marketing agencies within the Omnicom Group. Recently, GenAudio was selected as a top finalist in the new i-Stage competition, a technology event featuring the most innovative new consumer technology products that will soon come to market. GenAudio will unveil AstoundStereo(TM) before a live audience on Oct. 20 at CEA's 2008 Industry Forum at the Four Seasons Hotel in Las Vegas. To find out more about AstoundStereo(TM), go to astoundstereo.com.
*ibtimes.com