Pharrell In The "Fashion Rocks"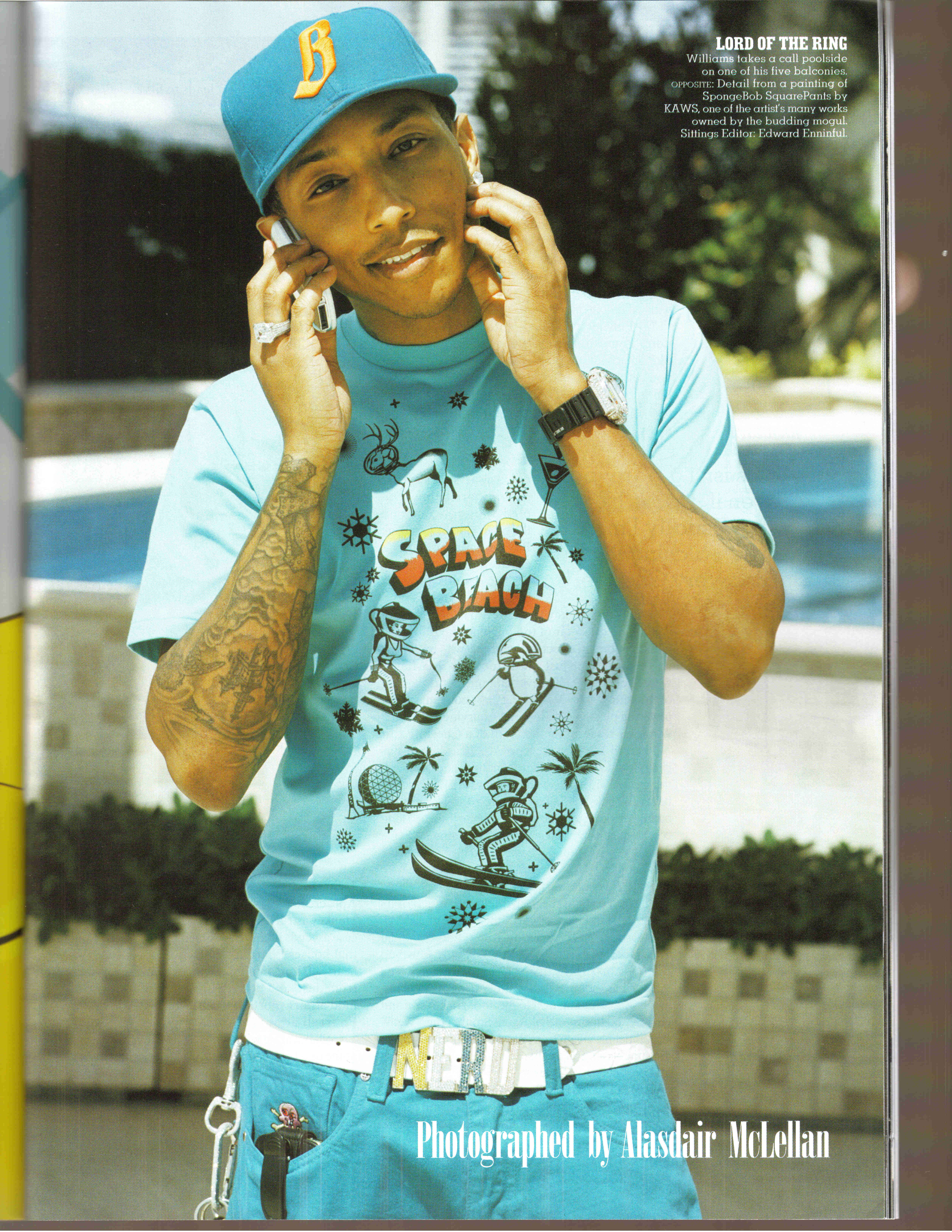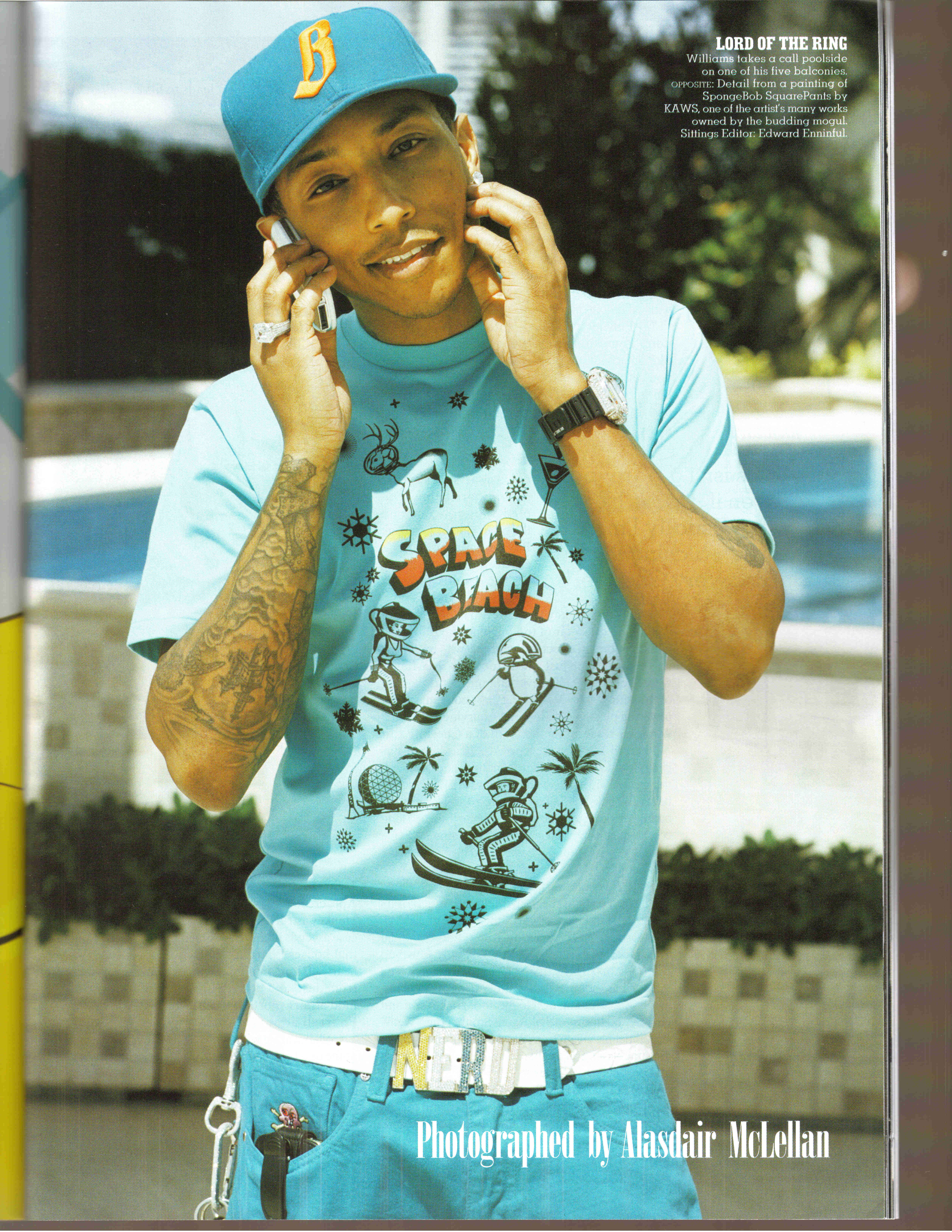 From His Candyland perched high above Miami, superstar producer Pharrell Williams has been designing everything from sounds to sunglasses, and quietly amassing an impressive collection of contemporary art. Robert Haskell takes in the view from the top. Every March, dance music's global army of deejays, producers, and party promoters converges on South Beach for the Winter Music Conference. Boys barely old enough to drive steer their Bentleys down Collins Avenue, and women in nothing but string bikinis and heels slide along the beach. Depending on how you look at it, this is either heaven or hell on Earth.
A Big Thanks To Molly.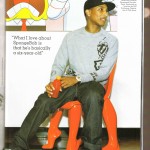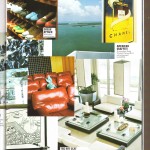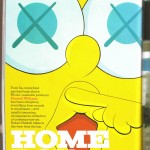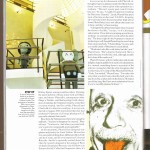 Across the causeway, in Miami proper, at the top of a 40 story tower on Brickell Avenue, Pharrell Williams is sitting on one of his five balconics, fiddling with a diamond in his car. "D-Flawless," he says, anticipating the question. "Four carats each. When you get them small, like one carat, ypu look like a stereotype. When you get them at six carats, it's just completely ostentatious. But when you get them at four carats, and if you don't have a huge basket that holds the stone, then it's pure stone against your ear, and the statement is just a little more interesting. "One senses that Pharrell, whose famous rhythms are being sampled and sequenced on the other side of Biscayne Bay, brings a composer's eye to everything he touches.
The diamonds glitter beneath a bright-green baseball cap, the key to his Ferrari dangles from a belt loop on a pair of too-big blue jeans, and the whole calibrated effect is of a prince who was inherited the kingdom just a little too soon. In Miami, where he spends half of every month, it's a kingdom of low-slung ivory sofas, long glass cocktail tables, towering plants, and an endless, curving wall of tall windows resembling the teeth of a Cheshire cat. Pharrell, 35, who grew up skateboarding in Virginia Beach, does Floridian glamour as he does everything else – with a wink: Xbox games are sandwiched between obelisks; a robot holding a Taser guards the bathroom door; and the polished white walls of a long corridor are hung with giant Smurf paintings. "I love to twist things around," he says, "to take something that people exept to sound or look or feel one way, and say, 'Au contraire, mon frere.'" Pharrell bought the apartment and much of its contents from Ugo Colombo, the Miami uberdeveloper responsible for ushering in an era of residential skyscrapers in the city. And to Colombo's grown-up rhapsody in beige, Pharrell has added giggles. The fun begins as soon as the elevator opens onto the fortieth floor: Standing next to the door is a life-size and jarringly lifelike model of Agent Smith, Hugo Weaving's indelible villain from The Matrix, complete with the sunglasses and the black suit.
It was a gift from film producer Joel Silver. But it's Pharrell's collection of art by KAWS, the New Jersey-born graffiti artist, painter, and toy designer, that sets the tone of this opulent candyland. Down the hallway that leads to his bedroom, its door propped open by a giant purple crocodile Hermes Carryall, hangs the artist's series of paintings of SpongeBob SquarePants, the popular cartoon character. "What I love about SpongeBob," Pharrell says, "is that he's basically a six-year-old." Next to the giant SpongeBobs, Pharrell has placed a group of KAWS's reworked Andy Warhol Chanel No 5 ads, each perfume bottle entwined with a pastel colored spermatozoan. This collection offers a reprieve from th big-game assemblies of bona fide Warhols and Basquiats one sees on too many walls the size of Pharrell's. Here, KAWS's enormous, anime-inspired sculptures fill the three-level great room, and for the second floor landing, Pharrell's friend Tomoaki "Nigo" Nagao, founder of the Japanese streetwear label A Bathing Ape, created a six-foot-tall fibreglass monkey astride a horse. A spiral staircase ascends to a small, domed room that houses Pharrell's collection of nearly 40 Louis Vuitton has been a part of the quiet empire-building that has occupied Pharrell lately. As the beat-making duo The Neptunes. He and his partner, Chad Hugo, spent the early years of the new millennium shaping the sounds of Justin Tmberlake, Mary J. Blige, No Doubt, Nelly and Britney Spears, among countless others.
Dressing the spare skeleton of house music with sci-fi blips, zaps, and sirens – Pharrell is, among many other things, a Trekkie- and then layering it with a heavy dose of painting, The Neptunes forged a sound that everyone wanted. And for a while, Pharrell and Chad sold it to whoever could pay. A survey conducted in August 2003 determined that they had produced 43 percent of all songs playing on U.S. pop radio stations that month. Since then, The Neptunes have been wise enough to pull back. "You have to disappear for a second," Pharrell says. "You have to. And when you come back, you've got to be recognizably unrecognizable." In the meantime, Pharrell has designed sunglasses and jewelry for Louis Vuitton. He now has two successful clothing lines, Billionaire Boys Club and Ice Cream, and his own imprint at Universal Records. And he's especially exited about the chair he recently designed at the urging of Paris art dealer Emmanuel Perrotin, who will show it in Europe this fall. Called The Perspective Chair, it's Charles and Ray Eames's classic molded plastic seat, reconfigured with four legs that are, in fact, four legs – the front pair belonging to a woman and the back pair to a man. "It's about being in another person's shoes," Pharrell says. "It's about being in love, and I wanted to knoe what that was like." Love is not up for discussion with Pharrell, although he hopes a glimpse inside the Miami house doesn't serve to shore up his wide reputation as a Lothario. "This isn't a party pad, even if it looks like one," he says.
"Usually I'm just here watching the Discovery Channel." Lately, Pharrell has spent most of his time on the road. N¤E¤R¤D, his grimy alt-rock band with Chad and another high school friend, Shay Haley, has a new album that came out in June, and they've been touring. "I designed this album based upon what I wanted the shows to feel like," he says, "so it's all energy and emotion. Those kids are jumping up and down, moshing – we counted twelve crowd surfers the other day." The time is right for The Neptunes to return to producing as well, though Pharrell says he won't drop beats on just anybody. "Choise things," he says, such as a sizable chunk of Madonna's recent album. "Madonna looks like a risk taker, but she's not," Pharrell says. "She's done her homework. She's a genius because it looks like a risk, although actually she's done all the math on it." Pharrell's house, with its inside jokes and arcade delights, departs giddily from such cool calculations; it is, instead, something loser to a portrait of the artist as a young boy. But the artist recognizes that in other ways, he's a chip off the Material Girl block. "Yeah, I'm studied," Pharrell says. "You take risks only when you don't know what the fu** you're doing. If you buy a ticket and win the lottery, I'll respect you all day long. But I have more admiration for you if you're carefully planned it all out."