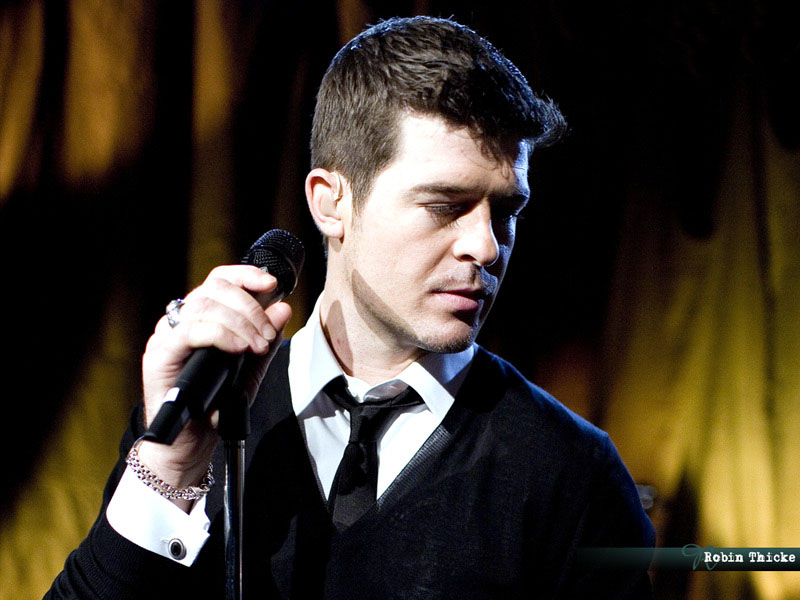 Album Of The Week: Something Else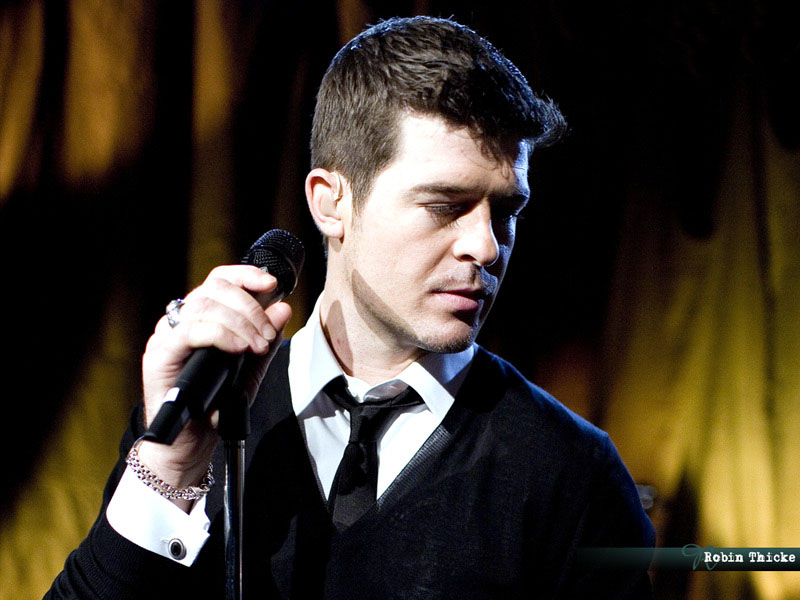 Robin Thicke has produced yet another ground-breaking album from his first in 2003, A Beautiful World, to now in 2008, Something Else. Even though Thicke has only been out since the start of the century, when I first listened to his music, it hit me that he could be best appreciated by an older generation that remembers when music was more sensual. Fans of Thicke will not be disappointed; neither will many of the fans of different artists within the same genre. Many of Thicke's albums have hit platinum status, and it's yet to be seen if this one will too. Thicke gives a lot of his inspiration to the early years of his life growing up in Los Angeles. Thicke's music is widely appreciated by fans of Michael Jackson, probably for the smoother sounding elements to it.
Within the lyrics themselves, Thicke speaks about the time for change and needing a more peaceful time around us. Like many other artists, Thicke has traveled from city to city creating his powerfully joyful songs. "Side Step" is perhaps the best song to dance to on this album, while "You're My Baby" is something one might listen to with a love. For those avid fans of his that would like to see him tour, there is one very close appearance of him coming up on Sunday, October 12 in Atlanta, which as anyone on campus knows, is only a few short hours away. Tickets have already gone on sale for other shows, all of which can be found on his website. If you happen to pick up this album and wish to hear his other works, I recommend A Beautiful World.
*thechanticleeronline.com
Advance Titan
Robin Thicke, known for being the son of "Growing Pains'" Alan Thicke and more recently as a growing star in the R&B scene, has released his fourth studio album, "Something Else," that truly leaves the listener wanting something else from this lukewarm album. As a fan of his prior album, "The Evolution of Robin Thicke," and the Beethoven-flavored "When I Get You Alone" from "A Beautiful World," I expected more from a platinum-selling, award-winning R&B artist. Out of the 12 tracks, 11 of them are about love, lovemaking or his lady. The first track on the album, "You're My Baby," sounds like your standard R&B love song. But upon further listening and inspection of the lyrics, the song becomes almost creepy in a pedophilic sort of way. "You're like a baby/Jumping up and down/ Ooh like a baby/I can't put you down/And when you cry I'll pacify you/Here in my arms you're safe and warm."
Who writes stuff like that? And it just gets worse as the song goes on: "I will protect you/ I'll tell you straight up/Re-educate you in love/You can trust me." From the first track Thicke croons his way through a couple of tracks that are reminiscent of a clean R. Kelly song. "Magic" is one of those songs. It is slated to be the album's first single, and although it's OK; it's definitely not a chart-topper. The song "Ms. Harmony" is slightly noteworthy because it incorporates an acoustic guitar and bongos into yet another lady-wooing track. "Dreamworld" is one of the more enjoyable songs on the album because it's a solid mixture of piano, blues guitar and vocals that seem to let the listener into the other side of Thicke's world. This track is also the first off the album in which he discusses something other than how he takes care of his women.
He sings about a "Dreamworld" in which he and his wife could walk the deep south without anyone caring. For Thicke, race has always been an ongoing theme in his music and is also an issue for his wife, a black actress in Hollywood. The last track on the album features Lil' Wayne, and is probably the most radio-friendly. Think Black Eyed Peas' "Where's the Love" but swap out Fergie for an older Justin Timberlake. [Especially noting how politically motivated Hollywood is, the references to racial issues and the president surely fit.] It feels as though on "Something Else" Thicke became lazy with his beats and his lyrics. He has instead "evolved" into R&B oatmeal: Boring and lacking flavor.
*advancetitan.com
Allmusic.com

4/5
Looking like a Europop album from 1997 or 1998, Something Else's sleeve design would be much more indicative if it grafted a bunch of little Robin Thicke heads onto each dancing and playing body in Ernie Barnes' Back to Sugar Shack, the painting used for Marvin Gaye's I Want You. Not only would it be apt, it would play to Thicke's predilection for populating his covers with several images of himself. But it would obviously cause some problems. While a few songs do modernize the sound and feel of Gaye's steamy 1976 classic — filled as they are with serene sexual energy and lush, impeccably layered arrangements built on rolling bongos, liquid basslines, and Thicke's acutely Gaye-indebted upper register — there are several inspirations floating throughout, including indications that Thicke has a deeper understanding of Brazilian music, correctly believes that Philadelphia International did not flame out in the mid-'70s, and has transitioned into doing rocking R&B à la Van Hunt (cool, relaxed, natural) rather than pre-New Radicals Gregg Alexander (forced, awkward, unintentionally seriocomic).
Following The Evolution Of Robin Thicke, which went to the top of the R&B/Hip-Hop Albums chart and reached number five on the Billboard 200 (there was an Oprah appearance), Something Else features improvements in every aspect. From the tropical serenade opener to the album's quietly dazzling true close (the somber Lil' Wayne collaboration "Tie My Hands" is really a bonus cut, having already appeared on Tha Carter III), Thicke has shed his affectations to the point where it's much easier to detect the sincerity he once obscured with hubristic tendencies. No longer a show-off, he sounds much more sure of himself; he would not have been able to pull off a socially conscious Southern-styled ballad like "Dreamworld," whether from a writing or singing standpoint, in 2003. Though his sources remain numerous, this is his most focused, least scattered, and least dilettantish set, and it benefits greatly from its brevity relative to The Evolution. That means everything has a deeper resonance — especially the ballads, of which there are several. The man does know his audience.
*allmusic.com
Dallas News
MAGICAL EVOLUTION: Although 2003's Beautiful World established Robin Thicke as a talented vocalist and songwriter, it was 2006's Evolution Of Robin Thicke, featuring the inescapable "Lost Without U," that solidified his stance as a genuine blue-eyed soul man. Something Else retains the plush feel of Evolution without being bogged down in too many tracks, guest appearances or style shifts.
MR. HARMONY: Sleek and replete with his fluttering falsetto, Something combines swaying, syncopated '70s-style rhythms with crisp, modern edges: "You're My Baby" is a breathless "Lost Without U" sequel, and "Sidestep" demands respect with its urgent up-tempo groove. The Marvin Gaye-influenced "Dreamworld" threads societal observations with a lofty wish list: "There would be no black or white/the world would just treat my wife right." "Cry No More" is a billowy ballad about no longer playing somebody's love-struck fool.
BOTTOM LINE: Except for the energetic but ill-fitting "Hard On My Love" and the nonessential Lil' Wayne track, "Tie My Hands," Mr. Thicke succeeds in giving Something Else worthy to his fans.
*dallasnews.com
Canada.comThis is the third album from this neo-soul singer and looks to be the one that will break him into the Justin Timberlake sales numbers that his label has always expected. The growth in his singing and writing since the platinum The Evolution Of Robin Thicke is noticeable in every way. For fans of Gamble and Huff-era Philly soul, the production alone will get you smiling. When was the last time you really heard the conga player and handclaps in a tune like "Sidestep?" There is an incredible opportunity for Thicke to enter the star chamber with this album's adult-oriented pop ballads.
Best Track
The strings and heavy backbeat of "Magic" just ooze smash. The slower ballads, such as "Ms Harmony," don't quite suit his vocal style as well as more up-tempo tunes, but there are a lot of slow songs on the 12-song CD. The rocking "Hard On My Love" reminds one of Curtis Mayfield.
Liner Lessons
The fold-out booklet shows the son of actor Alan Thicke looking a lot like his dad in a slick soulman's black suit and close-cropped hair. Is this really the guy who used to be the scruffy Thicke?
*canada.comIn R&B, it's been an unusually good year for sensitive guys and the women who love them. On the heels of Ne-Yo's The Year Of The Gentleman and born-again monogamist Usher's Here I Stand comes Something Else, Thicke's love letter to his wife and unabashed homage to old-school lover men. Marvin Gaye's impact is heard first and clearest, in Thicke's delicately applied cream-and-whiskey tenor and the shivery falsetto that he reaches for on You're My Baby and dips back into throughout the album. But a whole array of Motown and Philly faves also inform tunes ranging from the disco-licious title track and thumping Magic to the glowing, horns-laced The Sweetest Love. If Thicke doesn't offer the freshness or effortless fluidity of his influences, he's at least a savvy and resourceful student — and a great date, no doubt.
*usatoday.com
USA Today
3 Stars
Miami HeraldOn album No. 3, Robin Thicke becomes the Lenny Kravitz of sexy bedroom soul. Like Kravitz, Thicke isn't an originator and borrows so heavily from his antecedents you wonder where they trail off and he begins. But in these times where melody and musicianship is sacrificed for one-size-fits-all rhythm tracks, a crafty album like Something Else is worth starting a collection around. The music on Something Else — a lush, warm, scented bath of vintage Fender Rhodes, swirling strings and tickling congas — trumpets its debts to Marvin Gaye (You're My Baby), '70s Roberta Flack balladry (Ms. Harmony), full-on disco (the title track), Sly & The Family Stone-styled funk (Hard on My Love) and creamy Philadelphia International soul (Magic). Unlike his hit 2006 album, The Evolution Of Robin Thicke, an interminable slog of boring R&B ballads and vanilla hip-hop, the singer-songwriter has learned about tempo, variety and vocalizing and can do something other than offer a grating falsetto for every track. As a result, Something Else becomes something else, indeed.
Pod Picks: Magic, Something Else, Side Step
*miamiherald.comLatest swoon-worthy collection of slick ballads and sexy dance tracks will surely set the mood. A typical release from Robin Thicke, who broke big last year with his slinky bedroom ballad "Lost Without U," isn't so much an album as a survey course in Late 20th- Century Smooth. The 31-year-old L.A. native uses himself as a sort of musical medium, conjuring up everyone from "Sexual Healing"-era Marvin Gaye (falsetto-swathed sweetheart ode "You're My Baby") to Curtis Mayfield (the strutting, horn-heavy "Hard On My Love") to Stevie Wonder (crooning piano anthem "The Sweetest Love"), and even KC minus the Sunshine Band ("Something Else," a bona fide roller-skate jam). Thicke imbues the album with a bachelor-highlife vibe, all cuff links, cocktail glasses, and a Mad Libs shuffle of soigné seduction phrases.
Entertainment Weekly
B+
Yet what could come off like a bad lounge act on the lido deck is somehow elevated, both by Something Else's buttery production and by Thicke's own light-footed ease with the material. As a songwriter, producer, and general man-about-the-industry, he has made appearances on recent albums by 50 Cent and Lil' Wayne, and penned songs for the likes of Christina Aguilera. On his own time, though, he relies much less on that kind of strident urban currency. It's not so much that Somethingis old-fashioned (both the sound and his videos clearly benefit from the best in current technology) as it is happily inclusive of the past. There may be very little here that is truly innovative, but Thicke proves that new dogs do old tricks pretty well.
*ew.com
R&B singer Robin Thicke must have known he'd have to fight an uphill battle. Not only is he white, he's also, well, Alan Thicke's son (just FYI). But on his third album, the far-too-modestly titled Something Else (Star Trak), Thicke continues to prove why it's not he but Chris Brown and Justin Timberlake who should be feeling the growing pains. On first listen, Thicke's biggest counter to the naysayers is hard to dispute: He has the best male falsetto in pop, Timberlake included. And unlike Gnarls Barkley's '60s retreads, the Mark Ronson–fueled Northern Soul and Stax revivals or the irony-laden, clumsy funk often produced elsewhere by his producers and label bosses, The Neptunes, Thicke's output does not shy away from wrestling with the more conventional soul gods.
Time OutAs transparently as possible, Thicke invokes Curtis Mayfield horn arrangements on the single "Magic," raw Jimi Hendrix guitar on "Hard On My Love," Sade lite-soul in the sublime "Loverman" and the quiet desperation of Marvin Gaye's voice on nearly every track. Much of Something, in fact, moves like a custom-tailored playlist for a stepper's ball. But Something also takes detours from its predecessors, especially lyrically. "Dreamworld" repositions the spooky chords of "I Put a Spell on You" into a sly commentary on gas guzzling, racism (in regard to Thicke's African-American wife) and, oddly enough, the tragic ending of Gaye's short life. It's a here's-what's-wrong-with-the-world song, a rite of passage for all great R&B men, and again, Thicke proves up to the challenge. So don't pick this album up expecting a reinvented wheel. Thicke has something far more impressive to offer up to the soul gods: skill.
*timeout.comDon't take the title of the follow-up to 2006's platinum-plus "The Evolution Of Robin Thicke" as a sign that this well-connected R&B crooner has changed his style the way he did between his grab-bag 2003 debut and "Evolution." Long on breathy sensitive-male ballads about how he understands your hopes and shares your desires, "Something Else" picks up right where Thicke left off with the last album's hit single, "Lost Without U." Given his weakness for bongos and syrupy strings, the new set isn't without a whiff of schmaltz; more than once you'll think he's about to cover "Take My Breath Away." Fortunately, Thicke's strong singing — and a few winning uptempo numbers, including the infectious "Magic" and the R. Kelly-ish "Sidestep" — right the ship.
*theusdaily.com
US Daily