Chester French Sentimentalist Mag Interview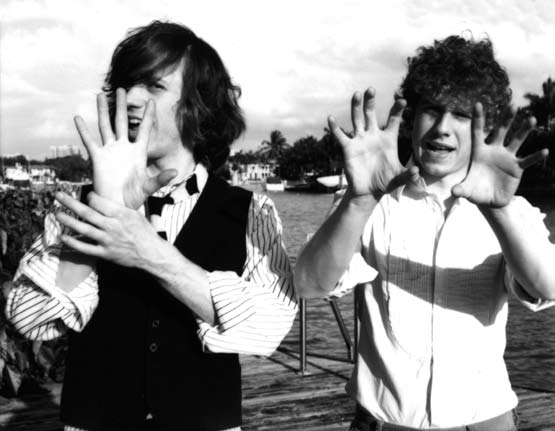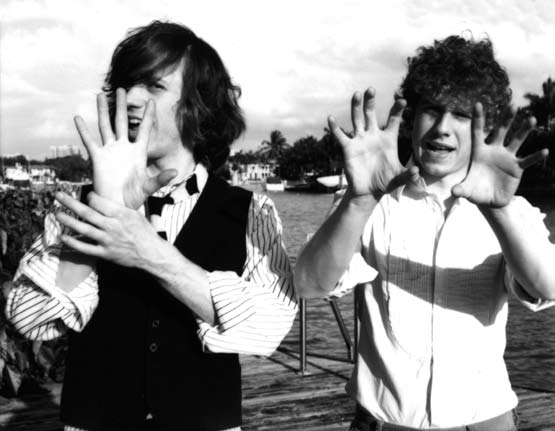 D.A. Wallach and Max Drummey are pushing boundaries – combining wit, intellect and an undeniable penchant for art-pop, their duo, Chester French, is fashioning their own musical canon. With a myriad of different sounds ranging from Motown and power pop to retro-pop to hip-hop, Chester French combines the strongest facets of the music into one kaleidoscope of sensibility and diversity. They reach the unattainable – instead of many current bands that attempt to combine variations of the musical spectrum and instead only come up with a sound of negligence and insipidity, Chester French is scattered and substantial, nerdy and engaging. These musical savants are ineffable and innovative. Both Harvard alums, Wallach and Drummey have studied everyone from David Bowie to The Beatles and Neil Young. These iconic artists have served as catalysts for Chester French's wry and shimmering sound. I caught up with them recently where we discussed everything from condoms to six-minute abs. According to this Interview, "Love The Future" (2009) has been pushed back to March Now.

Your name originated from the sculptor Daniel Chester French, most famous for designing the Lincoln Memorial. What made you choose this name for your band?
Chester French: We just thought it was a cool-sounding name. We wanted a name that was just a name. We thought if we are cool the name will be a cool vessel for what we do.
What brought the two of you together and made you decide to record an album?
Chester French: We met in the dining hall (of Harvard) our freshman year. It was us and three of our friends. We both had been into music in high school. We were both in bands. We were looking for a way to continue that in college.
How would you personally describe the She Loves Everybody EP?
CF: Well, since it's an EP there are only two songs on it but we like to say they are original songs. We remix a few artists we like. It's more of a little taster for people. We're still preparing to put out the real album. This EP is just something for people to listen to and talk about.
When is your first full-length album supposed to come out?
CF: First coming out in March 2009. That record is our album we made when we were in school. We got a few great musician friends and have been playing live a lot. Playing shows and touring has really been our focus for the past year. We've done a good amount of touring with N*E*R*D and Common. We're getting ready to do some more shows right now. We were a little bit backwards because we started as a studio project. We were born feet first.
What made you decide to make the album cover in the format of a condom? Was it meant to as social commentary or just as something recognizable?
CF: We put it out there as ambition to make people think to use them (condoms) for both musical purposes and health purposes.
Why did the both of you decide to start the band instead of remaining in the more traditional fields of academic study, especially with a reputable Harvard degree?
CF: Academia blows relatively quickly. What we do is absolutely hands down more fun than grad school or jobs unless you're a firefighter. To the extent that we were and remain able to do this, able to make and play music and tour like we want and trick people into compensating money for what we do is great. Academia is a waste of time.
Why do you think academia is a waste of time?
CF: You just don't necessarily have to think that academia is for you. Every industry has big problems and the academic industry is no exception. The number of inane papers on them most narrow and insignificant topics is a testament to what's wrong with academia. There's a lot of wasted energy in it and most of it is frustrating and self-satisfying. As dudes we have a general approach where we like to do things for a reason. With the music we've tried to make, we hope it's something that people can understand and reflect what we're going through and relate. We try not to be arbitrary. You gotta think – "does this paper need to be written" in the same way as you think "does this song need to be made?" Are you putting an idea that is novel?
What did you study at Harvard?
CF: Max studied social anthropology and I studied African-American studies.
If you weren't in a band, what do you think you'd be doing?
CF: If we didn't' have the chances we've gotten, we were both in agreement that we would still work on playing music. That's always been what we've wanted to do.
Are you satisfied with your choice to go with Pharrell's label, Star Trek? Has it given you all of the freedom you originally envisioned?
CF: It's been great to work with them creatively. They've given us most of the freedom we've wanted. The one big freedom that we haven't had is the ability to release the music. We're basically prisoner to the music industry.
Do you personally think you live up to your reputation as musical "visionaries?"
CF: We're just trying to make really good music that a lot of people musically appreciate. We have two goals: One is to make music really good and musically interesting and creative. Our second goal is that we wanted it to be mainstream. We've succeeded by our standards so far. Pharrell has really helped us do that. We have the most random assortment of people listening to us and the challenge of that is that we haven't had an obvious home in the cultural sense. We haven't been indie rock or hip-hop. We've really had to win people over one by one. We're just trying our best to put on an entertaining show that everyone likes.
You recently toured with and opened for N¤E¤R¤D. Do you think you will continually cater to the same audience?
CF: We had a great audience. People in the audience basically just partied out. No one was judging. When we first walked on people probably thought who are these funny looking white dudes but by the end of the set we had people having a lot of fun. They are open minded enough to appreciate our music.
What is your ideal venue to play in?
CF: A stadium. Probably one in Milwaukee. It would be awesome to have athletes listening to us play. It would also be sweet to play in the wilderness and have people flock to us.
Why do you think most of your fans tend to also be fans of hip-hop?
CF: We make music techniques that definitely demonstrate an affinity towards hip-hop. At this point, it's almost 2009 and there's been this dichotomous world between hip-hop and rock. We've been really lucky to have some great artists support us like Pharrell and Kanye. Our biggest cheerleaders have come from that world. But Pitchfork on the other hand, their only coverage is to shit on what we do. But audiences reinforce themselves.
Do you think that the industry still maintains a strong division between rock and rap or do you think they have become more intertwined?
CF: Every record label has an urban department – which basically means black people. Every label is set up like this. There's a separate marketing staff and it makes no sense. There's no reason for that division. Music is music. I don't think it (the division) really exists for consumers at this point but it's a hold over in the record industry.
Who are some artists that have inspired you? Who are you listening to right now?
CF: The Beatles and OutKast. Fat Cat. Neil Young. We both have terrible attention spans and the worst ADD. Tomorrow we'll listen to something completely different. We have been watching Gus Van Sant movies though.
I read once that both of you tried Vipassana meditation. Did that have a major impact on either of you?
CF: It was terrifying and awful and it was really boring and slightly awkward. I came to a new level of boredom. It was so boring we kept falling asleep. There was one time we escaped after the third day. During the second day we were sitting there for six-hour meditation sessions and I get so bored while I was sitting there I knew I had to leave. We will probably never do that again.
Any other future plans that you want people to know about you?
CF: We're really into our physiques. We're working on building our bods. I'm into six-minute abs right now.