Pharrell's Playboy Interview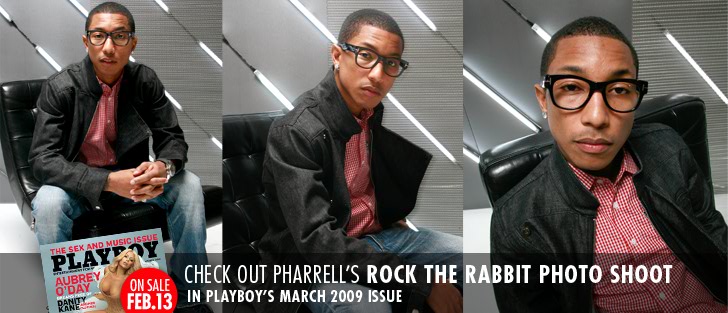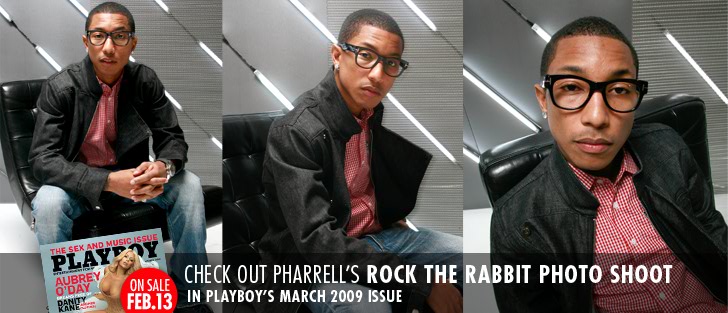 Pharrell—he has a last name, Williams, but needs only to use his first to be recognized around the world—had already produced hit records for Ol' Dirty Bastard, Kelis, Mystikal and Mase before he really even got started. As one half of The Neptunes, he went on to produce global smashes for Britney, Nelly, Snoop, Jay-Z, Gwen Stefani, Ludacris and Justin Timberlake; crank out a number one album under the moniker N.E.R.D.; and rack up a slew of Grammy nominations and awards. But he's a man of many hats (as well as almost always appearing in one). In the musical arena, he has applied his touch to rock bands like The Hives and Maroon 5. He has wider interests as well with businesses such as his Billionaire Boys Club line and his Ice Cream fashion brand. And his Rock the Rabbit T-Shirt is badass.
PLAYBOY: You're a style icon. How would you describe your current look?
PHARRELL: I go through cycles. Sometimes I want to wear things that are very loud. Now that everybody is wearing things that are loud, I kind of want to dress down more. Now it's low-key but still cut to fit, not necessarily baggy, more form-fitting.
PLAYBOY: What designers are you into?
PHARRELL: Tom Ford is the king right now. Everything from his suits to his glasses. I like his glasses so much I went and put clear lenses in them.
PLAYBOY: What are your must-haves while you're on the road?
PHARRELL: All my hardware so I can make music on the bus. I'm not a big porn guy, but I've been finding myself watching them recently. I'm thinking about collecting 1960s and 1970s porn—the music's going to be right, all the tits are going to be real and there's muff.
PLAYBOY: Do you play video games on the bus?
PHARRELL: They dominate the living room of the tour bus—Madden and all that—but I suck at video games.
PLAYBOY: What's your go-to bedroom music?
PHARRELL: Something orchestral. Naturally you have a tendency to zone out and think—string-heavy music is good for provoking thought. I wouldn't listen to Prince or a Vanity 6 record while having sex with my girl. I also like the rhythms of sex itself. I should make a beat from sampling sex sounds!
Thanks To Marsguo.