NERD ~ Jakartaglobe.com Article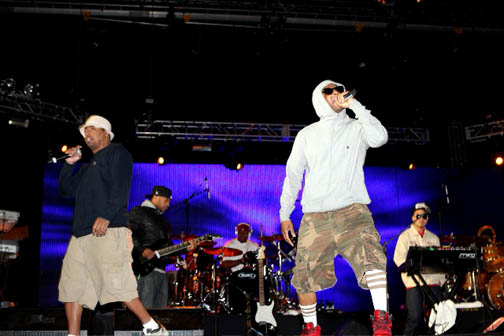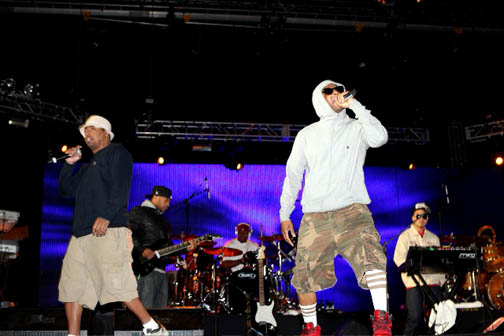 NERD's Not Your Stereotypical Group. Do not be fooled by their name. This group of three does not wear thick eyeglasses, carry heavy textbooks or consider the library their second home. These buddies since high school — Pharrell Williams, Chad Hugo and Shay Haley — make up a group called N.E.R.D., which marries hip-hop with funk-rock. These versatile musicians infuse a little bit of everything contemporary, including pop, heavy metal, funk, hip-hop, rock and R&B. Williams is the group's frontman, who also plays the drums. Hugo, who is of Filipino descent, plays lead guitar, keys and saxophone. Shay Haley is the backing vocalist-cum-percussionist. On Sunday, March 22, NERD is scheduled to perform to about 4,000 fans with their fusion groove at Tennis Indoor Senayan in South Jakarta, following back-to-back performances at international music festivals in Singapore and Malaysia.
Nirmala Hapsari of Java Festival Production, the promoter of the concert, said, "With many concerts being held in Indonesia, with various genres, this is concrete evidence that Indonesia, especially Jakarta, is a safe and lucrative place for foreign musicians. "NERD is a must-see event for those who have a passion for funk, hip-hop and rap," Nirmala said. "You can't miss out on [their] stage presence." The ingenious Pharrell Williams and Chad Hugo also make up the dynamic Grammy-winning duo, The Neptunes, who are responsible for producing the sounds of some of the most acclaimed pop, hip-hop and R&B artists, including Jay-Z, Snoop Dogg, Britney Spears, Madonna, Kelis and Justin Timberlake. NERD is an offshoot of The Neptunes. NERD is the outlet in which the boys can directly channel their musical creativity. As the band puts it, on their official MySpace page, "NERD is the offspring of The Neptunes id … that subscribes to no rules, adheres to no agenda." In 2001, their debut album "In Search Of?…?" was released in Europe. The first version was produced with a digital-heavy sound, echoing the modern, hybrid beats Williams and Hugo used on albums they produced for other artists as The Neptunes.

Wanting the band to breathe in different air to the music they had produced as The Neptunes, Williams and Hugo decided to incorporate live instrumentation and collaborated with the Minneapolis native pop-rock band SpyMob. The album did not thrive well compared to The Neptunes' masterpiece, and neither of its singles, "Lapdance" and "Rock Star (Poser)," surfaced as chart-toppers. But the somewhat rowdy hard-rock funk album was not completely bereft of appreciation. It won the second annual Shortlist Music Prize, a music accolade bestowed upon an album released in the United States that is yet to enter the mainstream radar and has album sales of less than 500,000 copies at the time of nomination. Tracks from the second album "Fly Or Die," released in 2004, did better in the music charts and in terms of sales. With the help of pop meets hip-hop, hits like "Maybe," "Backseat Love" and "She Wants To Move," the album peaked at No. 6 on the US Billboard 200.
David Browne of the Entertainment Weekly revered the album because "[N.E.R.D.] aren't afraid to thrash a melody one minute, caress it with suave harmonies the next, toss in fusion jazz piano and set it all to beats, with real drums, that truly swing." In 2005, the group disbanded over a label dispute. In March 2005, a BBC Radio 1 interview revealed that "N.E.R.D. is dead," announced by Williams. "I don't agree with the management at Virgin Records, so we're done." In 2006, frontman Williams decided to go solo without the help of his tandem Hugo, launching "In My Mind," an album that received a Grammy nomination for Best Rap Album. But in a recent interview with The Australian newspaper, Williams admitted that he regretted going solo, saying, "I wasn't cut for all of the work that it required to be a solo artist. I like having my friends around." The hiatus only lasted for about 3 years.
On June 10 last year, the baggy clothes wearing musicians reunited, signed with a new record label and launched their third album, "Seeing Sounds," which entered the US Billboard 200's top 10, peaking at No. 7 within two weeks of its release. The album champions two hit singles, "Spaz" and "Everyone Nose," the latter of which is frequently being played in major Jakarta nightclubs. Christian Hoard, a music critic for Rolling Stone, wrote, "Specked with ostentatiously weird grooves, 'Spaz' and the speedy, jazzy single, 'Everyone Nose,' are destined to go down as some of 2008's most interesting hip-hop cuts." N.E.R.D. actually stands for No One Ever Really Dies. As frontman Williams says on the group's official MySpace page, "People's energies are made of their souls. When you die, that energy may disperse but it isn't destroyed." Let's hope N.E.R.D. brings this invincible energy with them to Jakarta on Sunday.