The NERD ~ Sunburst Music Festival Article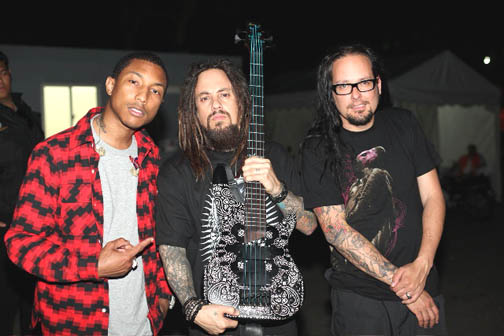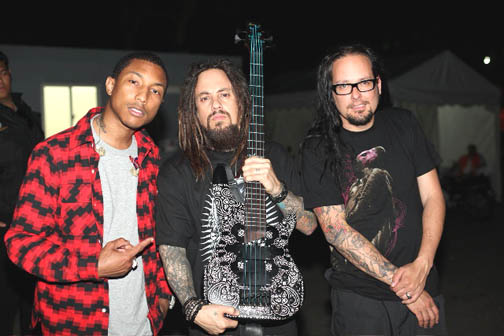 The Sunburst Festival in Kuala Lumpur pulled a massive crowd once again in its second edition — but unfortunate permit problems for certain acts left behind a sour taste. No Chris Martin, no problem. Last Saturday, the Sunburst fest had to sink or swim with international acts like KoRn & NERD leading the main stage attractions. It was up to the nu metal fans and the trendy hip hop crowd to swell up the outdoor grounds. Agrikulture was just the perfect warm-up to NERD, although there was a slight delay. The wait was worth it as the combination of Pharrell Williams, and Shay Haley (without Chad Hugo) gave an unforgettable performance, making sure the crowd was "bouncing" for more than hour. Williams made clear six ground rules – crowd surfing and mosh pits were mandatory among others. But the sixth rule was the most important (like break more rules!). NERD were hired to rock the crowd and that is what the band did. All the heavy-duty numbers were brought out to move the masses, notably Time For Some Action, Kill Joy and Spaz.
The band did it all – hip hop, rock and funk."It's about the people," declared Williams at one point when he saw that the security was preventing people from getting on the stage. The security personnel did not adhere to his pleas and he stopped midway through another song. "If people are getting pushed around, we will leave the stage," Williams warned again. From that point on, there were no interruptions. NERD made the festival rules. The band further endeared themselves to the crowd by getting people to dance on the stage. First it was the guys, about 30 of them dancing to Popcorn. Then it was time for the fairer sex and this time about 50 of them were on stage to shake their booty to Everybody Nose (All The Girls Standing In Line For The Bathroom) and She Wants To Move. By the end of their performance, it was obvious that NERD had captured everyone's imagination with a set built on showbiz and groove.