NERD In San Francisco's Warfield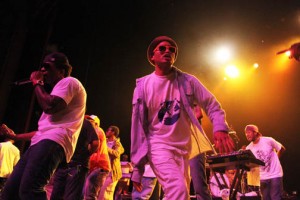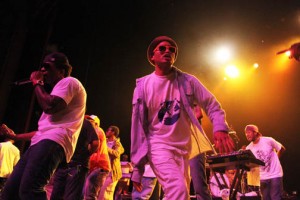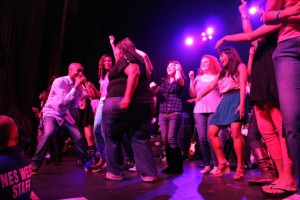 When rock, funk and hip hop combine to bellow out soothing rhythmic sounds you get NERD And we're not talking about the candy or Steve Erkle. But we are referring to the musical trio of Pharrell Williams, Chad Hugo and Shay Haley. The brains behind the beats of NERD are back together and touring again, with a stop in San Francisco night at the Warfield, after a three year hiatus. NERD is known for its exploration of sounds from different musical genres but the boys rarely sample previous work. Instead they pride themselves on coming up with original beats and lyrics that can be reproduced live on stage. "(Live instruments are) a necessity for us," Williams told MTV.
"Because we want to give people a show, not just us up there standing with microphones." Hugo said, "The band are amazing musicians and just to see the sound coming out of those instruments, in real time, is an amazing experience." NERD also makes sure that fans are treated to high energy shows. "(Our shows are) like taking (a) Redbull shot to your ass," Williams said. Don't worry though. The shot actually is lot less painful than it sounds. Plus Williams was speaking metaphorical anyway. No one will be going anywhere near your backside with anything sharp unless you throw yourself into a mosh pit and then you are on your own.