Styleweekly.com ~ Clipse Interview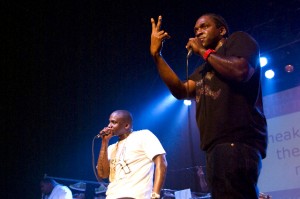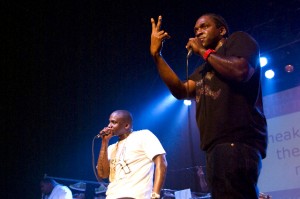 Now signed to Columbia Records, after a number of tumultuous years with previous label Jive, the brothers are prepping the Oct. 20 release of their third LP, "Till The Casket Drops," by touring the country with rap newbies The Cool Kids. Before the headlining trek brings them to the National on Aug. 31, Style spoke with Pusha T. by phone while he relaxed during an off day in San Diego.
Style: Do you view performing Virginia shows any differently from shows in other markets?
Pusha T: I always look at Virginia as a homecoming. You know, we spend a lot of time touring and going overseas. … but at the end of the day, when we're coming home it's always a big deal.
S:Do you feel any special responsibility to rep Virginia as artists from here?
P:Yeah, I think so. I think being from Virginia and being one of the ambassadors as far as lyricists go within the hip-hop game. … we gotta hold it down. That's where we're from and that's what we are about. Being from Virginia is part of the aesthetic that has made people gravitate towards the Clipse.
S:What part of touring do you enjoy?
P:Me personally, I'm more in tune with the shows and the fans. Touring is a good thing when you're actually doing the shows. … but like, I'm not a real sightseeing person. I've been doing this since, "Lord Willin'" came out in '02, and I haven't taken one picture. [chuckle]
S:The two of you seem to work together seamlessly. Are there ever any strong disagreements between you and Malice about the group's artistic direction?
P:I can't remember a time when we had strong disagreements. As far as the creativity goes, if anything … part of our dynamic is the difference in perspective. People love the Clipse because you might get more of the gratuitous ignorance and cleverness from me [slight chuckle]. And then, you might get the insight and other side of the coin perspective from Malice. And I think it meshes really well.
S:Artistically, what differentiates "Till The Casket Drops" from your previous two releases?
P:To me, the comparison is more between "Till The Casket Drops" and "Lord Willin'." I feel like "Till The Casket Drops" is more of that raw, carefree energy that "Lord Willin'" had. It's more of a disruption to radio. It's more of a dynamic-sounding record, sort of like "Lord Willin'" was, though different. "Hell Hath No Fury"… is 100-percent darkness. "Hell Hath No Fury" was super dark. And it was very linear, in the sense of being all anger. … so much more anger versus energy.
S:Is that because of what the group was going through at the time with the Jive label?
P:Yeah … that was just due to all the label drama. Not to take anything away from that album though, cause that by far is, to me, one of my best pieces of work.
S:How instrumental was Rick Rubin (legendary hip-hop producer and Def Jam label co-founder) to your signing to Columbia Records?
P:Very! From what I understood, he was vocal about wanting the Clipse at Columbia Records. And we appreciate that.
S:How would you describe your current relationship with The Neptunes?
P:When you hear "Till The Casket Drops," you'll see that relationship can't be broken. That relationship can't be denied. The creativity and the synergy that we've had amongst us, is something that will probably never be had between the Clipse and another producer, or the Neptunes and another artist.