Robin Thicke's Star Power Article On Miamiherald.com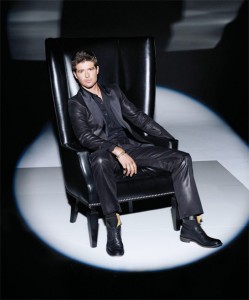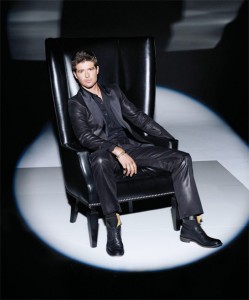 Singer Robin Thicke talks about his new album, 'Sex Therapy,' at Macy's in Dadeland Mall. Robin Thicke hasn't followed in his famous parents' televised footsteps. Dad is Growing Pains star Alan Thicke; mom is Days of our Lives actress Gloria Loring. The ex-couple divorced when Robin was 7, but passed on some great musical genes — Alan Thicke is also a songwriter; Loring a singer. The R&B heartthrob's career has really taken off — at 32, he's already won three Grammys. Just don't ask him to take off his sunglasses. Thicke stopped by Macy's Dadeland Wednesday night to promote his new album, Sex Therapy (out Dec. 8), and help launch Hugo Boss' new men's fragrance, Element.
Those baby blues were covered up for a reason — exhaustion. ''I'm doing eight cities in eight days, they're not coming off," spies heard Thicke say under his breath. The same spies also heard his driver took him to the wrong Macy's — downtown. Eek. No problem. The married father-to-be — wife Paula Patton, his high school sweetheart, recently announced the pregnancy — is a pro and put on a great show for fans. Thicke is particularly proud of his latest romance-inducing album, which boasts a slew of cool collaborators including Jay-Z, Snoop Dogg, Kid Cudi, Estelle and Jazmine Sullivan. "It's in the tradition of Marvin Gaye's Sexual Healing," Thicke said.
"No matter where you're at — whether you're just starting a relationship or if you've been in a relationship a long time, a little sex therapy is a good thing." Thicke, who taught himself to play piano around age 12, finds inspiration from the musicians he grew up listening to on the radio. "One of the first songs I learned was [Richard Marx's Right Here Waiting]," he says, breaking into song. "Wherever you go, whatever you do . . . because it was one note. Then I starting finding the chords." After the appearance, Thicke had big plans — to sleep. "I can never stay in Miami more than 48 hours," he said. "I'll get into too much trouble." Teddy Riley Produced the Snoop Dogg Collabo.
Robin Thicke – Sex Therapy  (2009) (December 8th)
Producers & Guests: Jeffrey Bahsker, The Surf Club, The Neptunes, Swizz Beatz, Danjahandz, Ms. Lago, Polow Da Don, Jay-Z, Teddy Riley…
Confirmed Tracks:
– Sex Therapy (Polow Da Don)
– Untitled feat. Snoop Dogg (Teddy Riley)