Kelis' Exclusive Launch Artist Chat From 1999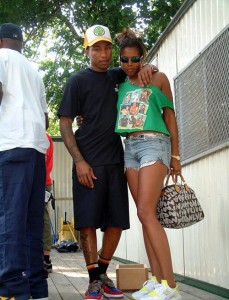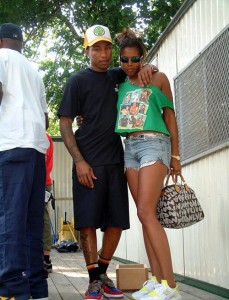 Here is an old Kelis' Livechat from 1999 where fans had the opportunity to ask Kelis questions on Yahoo.com. Thanks to Terr from the Ultimatekelis Forum. Kelis may be the one singing the chorus to Ol' Dirty Bastard's hit "Got Your Money," but it's her own fiery single, "Caught Out There," that's been getting the 20-year-old singer all the attention. The 5'10" former model had such a good time during her Nov. 12 chat with LAUNCH–her first online chat ever–that she said the chatters asked better questions than the journalists who interview her everyday.
While your favorite rap/ R&B editor is not sure whether or not to take offense, LAUNCH applauds the chatters for a job well done. LAUNCH users got Kelis to divulge plenty of secrets. Just what kind of conditioner does she use to keep her hair so curly? What dyes does she combine to get that bright fuchsia color? What's her ethnicity? Did she kill the guy in her video? Does she inhale? What was it like meeting D'Angelo in person? For an account of all these juicy tidbits and more, take a run-through of the chat transcript below. Heck, you can even forward a copy to your friends.
azureC99: Is your hair naturally curly?
launch_kelis: Yeah, it is. Actually it's always been a mess, but I recently, in the last couple of years figured out how to tame it. Conditioner's the key to life.
manolis_varnassinger: how were you discovered
launch_kelis: I wasn't really discovered. I was actually supposed to sign a deal with another label, and it just wasn't right. A friend introduced me to the Neptune people and they made a demo and took it to Virgin.
manolis_varnassinger: kelis are there any duets on your album
launch_kelis: Yes, there are. There's a duet with me and Marc Dorsey called "Ghetto Children," and one with Marketa, we do a song together called "Mafia."
Rm702: HOW LONG HAVE U BEEN ON THE MUSIC SCENE
launch_kelis: Well, like five years. But successfully only two years, actually.

manolis_varnassinger: kelis what are your music influences and what kind of music do you like to listen
launch_kelis: I grew up listening to jazz, and a lot of gospel. I didn't really listen to anything other than that, unfortunately. Then I started to pick up on Rap and R&B. My favorite artists are Stevie Wonder, Marvin Gaye, Nancy Wilson, Sarah Vaughan, John Coltrane.
iloveyoubabybo0: Kelis what made u sing that song and write ?
launch_kelis: It was collaborated with Pharrelle Williams from Neptune. It was a real feeling. The situation was just kind of like metaphoric for relationship problems. The key to the song is just as much the hook as it is the verses because they're all reflective of real emotion, stuff that really happens.
Rm702: HOW DID YOU MAKE YOU HAIR PINK
launch_kelis: I use three different colors. One is called Manic Panic, they're like hair color creams. I use three different shades. The other two are made by Funky Colors.
nap_317: Are you looking for a man
launch_kelis: Well, I wouldn't say I'm looking, but it would be nice to have a good one. What it takes to go looking for one is more than I have.
bobcats2003: Where are you originally from?
launch_kelis: I was born in Harlem, and I stayed there my entire life. I'm a Harlem girl.
lizz82_99: What's your favourite song that you've sung?
launch_kelis: Right now it changes. My favorite song is "Hello," originally written by Lionel Richie, also sung by Gloria Lynn. I guess off the album I'd say "Mars."
gymmyisthejam: HEY KELIS, IS THERE A SITE WHERE WE CAN HERE MORE OF YOUR SONGS
launch_kelis: Yeah, you can go to www.kelis.com or check me out under the Virgin Urban website.
bommer360: whats the dead guy saying in your video?
launch_kelis: It's kind of like he's in my head, so he's saying all my adlibs, like "oh no" and that.
City_02: Why are you so angry in your song?
launch_kelis: Wouldn't you be?
niya80: Kelis: is that ur real name and why did u chose that name as an artist
launch_kelis: I was born with this name. Actually, my mom named me–it's half my dad's name Kenneth and my mom's is Iveliss, so they took the Ke and added the lis.
gymmyisthejam: WHOSE ALBUM IS IN YOUR CD PLAYER RIGHT NOW?
launch_kelis: I haven't been home in a while, but if I remember correctly it's Stevie Wonder's Greatest Hits. Also Biggie. OutKast. I'm sure my Gloria Lynn's CD is in there. My mind just went blank.
chaos_2003: When did you start singing?
launch_kelis: I don't know exactly, I can't remember not ever singing, actually.
glocksy2k: how did u hook up with Ol dirty?
launch_kelis: The Neptunes did the track for him. I actually wanted it for myself, but the album was already done. The Neptunes promised me that I could be on the song, whoever they sold it to.
Queen_Antigonie: Your color rocks! do you add pieces so you don't dmage it?
launch_kelis: No, I just take really good care of it. With conditioning. There are things you can do to make your hair look good if you color and process it, or whatever.
freakish_bizkit_child: how do you feel being famous all of sudden????
launch_kelis: I don't really feel famous. It's just a couple of people saying they appreciate what I'm doing, and it feels really good.
caravaggio_99: are you politically active?
launch_kelis: In my own way, yeah, definitely. I have a strong opinion on almost everything. Either that, or I could care less. LOL.
gymmyisthejam: WHAT DO YOU CALL YOUR STYLE OF MUSIC? I THINK IT IS VERY UNIQUE BUT ANY INFLUENCES ON YOUR SOUND?
launch_kelis: Progressive expressive music. The abbreviation is PE, it's kinda cool–like recess in school? Feel-good music, no matter how intense the topic is. It's real and I want you to feel it.
gymmyisthejam: WHAT WILL BE YOUR SECOND SINGLE OFF THE KALEIDOSCOPE?
launch_kelis: It's called "Get Along With You," and I think it's track #4. I think it might be up on my website too.
bobcats2003: What is your ethnic background?
launch_kelis: That's a funny question. I usually don't like to answer that question, only because usually when people ask it means that they're trying to figure out something. And they can't see you and hear your response face to face. I consider myself black, although technically my mother is half-Chinese and half-Puerto Rican. My father is black.
the_government_created_aids_hiv: Is it true that you plan to do a duet with United Kingdom known Portishead?
launch_kelis: Where'd you hear that? I had no idea about that. It'd be incredible, but I've never heard that. I dig that name, by the way, I believe it.
hotangel740: How did you like working with the ODB?
launch_kelis: He was really cool. He was really easy and kinda funny. He's just a really funny guy. He lives in his own world, beats to his own drum, and I like that.
promodiva_2000: R&B radio was so late in jumping on you song, but pop radio and MTV were all over it. How do you feel about the current state of black radio and the way they igniore black artists who are a little different musically?
launch_kelis: That's a real issue, you know? It's funny 'cause you don't realize how much people notice that. It's true and it's sad. Just 'cause my stuff is different doesn't make me any less black or soulful. But then again, if it's good music they're gonna play it. Because black people can recognize good music more than anyone else.
NUBIAN_SYSTA: Who would you like to work with if you could choose anyone you wanted?
launch_kelis: Hmmm … let's see. Dead or alive? Dead: Donnie Hathaway or Biggie. Alive: D'Angelo or definitely Stevie Wonder. OutKast.
gymmyisthejam: ARE YOU GONNA BE IN THE MUSIC STORES PICKING UP MICHAEL JACKSONS NEW ALBUM WHEN IT COMES OUT?
launch_kelis: Oh yeah, I definitely gotta check that out. He's a legend.
NO_Cybers_Wanted: Kelis is the style on your c.d the same as "caught out there" or is there a variety?
launch_kelis: Nothing sounds like that, but it's consistently me. If you like the feeling of "Caught Out There," and the fact that it sounds like nothing else, you'll like the rest of the album.
charlie_the_chook: whats your favourite moment in your life
launch_kelis: Oh wow! That's a hard question, man.
charlie_the_chook: do you use the internet much
launch_kelis: Actually no, I'd like to, but I'm electronic-shy, for lack of a better word. All that stuff freaks me out.
moon_baby9810: Kelis, What do you enjoy doing in your spare time? Is all of being famous work or is there actually some fun attached to it?
launch_kelis: Honestly, it's exhausting. But the fun part is that you see the progress, and you see that it gets you to where you want to be. Although it's work, it's work I enjoy. But it's very tiring. In my spare time, I read a lot. I'm an arts & crafts person. I also cook a lot too, but I haven't been home much enough to do that.
NUBIAN_SYSTA: I have similar hair and also use a lot of conditioner. Please tell me what kind you use to help me with my hair?
launch_kelis: I use Queen Helene Cholesterol, and ThermaSilk heat-activated gel. It's the sh-t. It's changed my life. Or even the cheapest conditioner, but don't wash it out. Leave it in and let it dry and you're good.
gymmyisthejam: WHAT DO YOU LIKE BETTER…PRINCE….OR THE ARTIST?
launch_kelis: Definitely Prince. But I respect The Artist.
whispering2_1999: what;s your fav food in the whole world you cant live with out??
launch_kelis: As disgusting as it sounds, just meat. I'm a meat-eater. I can't live without it. I don't have a particular preference, I just eat meat.
NO_Cybers_Wanted: who beat up that guy in your video?
launch_kelis: Wouldn't you like to know? It depends on how you look at it, probably me though.
Whitecar99: Kelis, can I join your fanclub, I love you 😡 🙂 😀
launch_kelis: That's dope, but I don't have a fanclub!
NO_Cybers_Wanted: Kelis are you going to be touring to promote the new album?
launch_kelis: Yeah, actually I'm on tour of the West Coast right now. And I recently finished an East Coast promo tour. Hopefully I'll be going on tour with Rage Against The Machine and Gang Starr.
gymmyisthejam: HAVE YOU BEEN WRITING SINCE YOU WERE LITTLE? IS THERE ANY SONGS ON THE ALBUM THAT WERE WRITEN WHEN YOU WERE LIKE 12 OR 13?
launch_kelis: I've been writing ever since I was a little girl, I used to sit down at the piano next to my dad. But none of the album songs are old, it's all new, fresh stuff.
anethery7: What did you do before u started singing?
launch_kelis: I had a million sh-tty jobs. I used to bartend and waitress. Towards the end I was a buyer for a clothing store in NY.
shooter555: What is yopu view about all this school violence
launch_kelis: Well, what is your name all about?
wizzeb: kelis, whens the last time you cut your hair
launch_kelis: About 4 months ago. I trim it all the time, it keeps your hair very healthy and it grows faster. Plus curly hair burns faster than straight hair, especially with all the coloring.
stephanie_32308: WHO GAVE YOU MORE LOVE BET OR MTV
launch_kelis: Honestly, BET played it first. And MTV hopped on it after they were playing it. They play it more now though.
gymmyisthejam: KELIS, I TRIED WWW.KELIS.COM AND IT DIDNT WORK….ANY OTHER SUGGESTIONS?
launch_kelis: I've heard about some problems with that. Have you tried www.virginurban.com?
DIGGYCOOL85: Are you a christian?
launch_kelis: I was raised as one, and yes I do still have the same beliefs, so I guess yeah.
Whitecar99: Kelis, what do you look for in a man?
launch_kelis: Well, definitely funny. That's important, I like to laugh. I laugh constantly.
thorobred99: r ur feet ticklish?
launch_kelis: Yes, they are. That's a funny question! LOL Do you have a foot fetish?
wonderboy112_99: do you watch boy meets world?
launch_kelis: I used to really like that show. Do you watch Friends? or Ally McBeal? Those are good shows.
hotangel740: WHAT IS YOUR FAVE CANDY BAR KELIS?
launch_kelis: Twix. And I don't share, either. LOL
destinyzchiul: Do you believe that if you put your mind to it that it can come true? Like I want to be in the WMBA when I grow up how can I achieve that?
launch_kelis: Just getting your mind right. I do believe if your mind is right and things are right around you, you can achieve anything. Karma's the real thing.
atl_brave01: what is your fav baseball team?
launch_kelis: I'm not really into baseball, to be honest. It's like watching paint dry. I like basketball though.
Ellyria: I like your style, where do you mostly shop?
launch_kelis: Honestly, I shop all over the place. I can go from Soho to Barney's to Kmart. I just love to shop.
promodiva_2000: Your style is so funky! Is it true that someone in your family is a fashion designer? If so did their style rub off on you or did you develop your own style?
launch_kelis: Thank you, by the way. Yeah, my mom used to be a fashion designer. My style is completely different from hers, but her knack for what's dope wore off on me.
runks_17: what is your typical dinner?
launch_kelis: Since I've been on the road it's been sh-t, complete sh-t. But when I'm home, I cook all kinds of things.
annbell14: DO YOU HAVE ANY SIBILINGS?
launch_kelis: Yes, I have three sisters, one baby sister who's 17. Two older sisters who were adopted. I actually have three half-brothers I didn't grow up with so they don't really count.
sapita22: did you like waitressing? I hated it!!!
launch_kelis: At first, because I started way too young, it was exhilarating, but when I got older I hated it. It was the worst.
gymmyisthejam: HAVE YOU MET ANY LABEL MATES ON VIRGIN RECORDS LIKE JANET JACKSON OR DANGELO?
launch_kelis: I met D'Angelo the other day, actually. I love him. He's short and he's the sexiest thing alive. Plus I think he likes big women.
crybubby: how did you bleach your eyebrows?
launch_kelis: Now this is truly a secret … I never tell this, but it's actually mustache bleach. It's called Jolene. It works magic.
Ms_Emma_Peel: Kelis, I know this is such a vaige question, but I was curious what your all time favorite movie is?
launch_kelis: I have a couple…Let's see. Steel Magnolias. I cry every time! LOL. The Color Purple, I love that movie. And The Usual Suspects. Truly dope.
e_diddi118: did you go to college kelis
launch_kelis: I tried. LOL. I actually got a scholarship to NYU, the School Of Tisch, but I didn't go. I ended up bullsh-tting and going to CSI for a semester, when I realized I was totally wasting my time.
noods33: What do you think of long distance relationships?
launch_kelis: Well, it depends on the kind of relationship you want. If you're trying to be in a serious relationship, I tried it and it doesn't work, for the record. But if you're good friends and you have really good sex, then it's splendid.
noods33: I have a friend who does drugs, I told him that it was addictive, and he said, "Well, I am not addicted right now am I?" I said no, so then he told me, well I should be fine then. Any help on how to make him quit?
launch_kelis: What kinds of drugs does he do? I don't know what kind they are, so I don't know if it's really a problem.
promodiva_2000: Does it freak you out that people know so much about your personal life?
launch_kelis: They don't know that much. And I guess if it gets to be like crazy, hmmm, I don't know.
pebodie: YO KELIS DO YOU LIKE LATIN MEN?
launch_kelis: LOL. Actually I dated one once, back in the day. I think they're good-looking, but they're very machismo. But I've only dated one, so I don't really know. They're not really into me.
destinyzchiul: I have had a really hard life like a hrible one and now I moved form a big city in Cali and now I live in a small village in AZ. I have had a really hard time and I live with my grandparents how can I try to stop thinkin bout my rough life, and should I care about bad stuff people say about me. Like my chest is falt and I am made fun of should I care?
launch_kelis: I relate to that. My life sucked pretty bad too, really bad. And I guess the reason why it turned around is 'cause I had to change my whole thought process and the people around me too. And f–k the people who say bad things about you cause they really don't matter.
pebodie: WHEN ARE YOU GOING ON TOUR WITH THE GURU
launch_kelis: Probably supposed to be going on tour in the middle of December, but it's tentative. It's on the Rage Against The Machine tour.
jclacton: DO YOU SMOKE WEED AND IF YOU DO DOES IT HELP YOU IN ANY WAY
launch_kelis: LOL. F–k, I knew this was coming! LOL. Yeah, all the time! LOL. It's not that it helps me, but it's become a part of my lifestyle. But I can control myself, I don't think it's for everyone, that's key.
hotangel740: are you really naked in the video?
launch_kelis: Yes, I am. I have panties on though. They were like nude-colored.
Wes_703: How old are you Kelis?
launch_kelis: 20. My birthday is August 21st.
slapmeroundncallmenasty: ain't got no major questions, but i did want to give you mad props, you are cute as hell and your video was pretty damn tight.
launch_kelis: You just seem pretty horny, and that's cool. LOL. And thank you very much, by the way!
SportyOziMale: Hey kelis, how long do you take doing your hair in the morning? Must spend heaps on shampoo man!!
launch_kelis: LOL. Yo. No, it doesn't take a lot of time. It's a lot of brushing through that takes the time. I use a lot of conditioner, but shampoo is not too bad. I use a ridiculous amount of conditioner though.
sassy_wolf17: All my friends are juvial deliqents and i'm not, so now all the guys i like think i'm like them and they won't go out with me, what should i do?
launch_kelis: Well, sometimes you've gotta see what's important to you. If they're really your friends, if you really care about them, then you should help them not be delinquent or try to disassociate yourself. Something's gotta change. Or approach the guys that you like and say f–k what he thinks. Prove to him the kind of person you really are, let him see what you want him to see.
launch_kelis: This is actually my first time on a chat, and it was actually really dope. I wanna do it again! Thanks to all of you!
launch_promo: Thanks for coming out everyone! For a full transcript of out chat with Kelis, go to LAUNCH.com, and to find out more about Kelis, go to her official website at www.virginurban.com.