Pharrell Develops Musical Backdrop For GAP TV Spots, Collaborates With GAP Clothing Line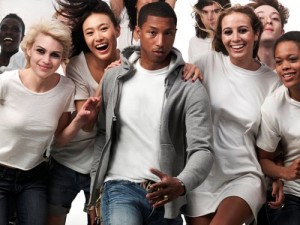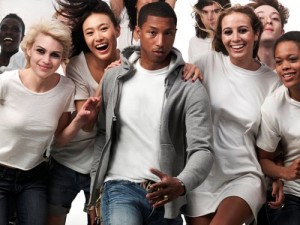 Building on the momentum of the 1969 denim launch, Gap launched a new holiday marketing and advertising campaign last night designed to be uplifting and inspiring, ultimately drawing more customers into its stores. The campaign offers a fresh voice featuring choreographed dancers and models belting catchy holiday cheers about defying convention, and captures the essence of Gap's roots but also looks forward with an optimistic eye on America. Called "Holiday Cheer," the multi-faceted campaign sets an optimistic tone and encourages customers to break from convention by wearing Gap clothes however they want and celebrate the season in their own individual way.
Pharrell – Go Ho Ho (Gap Holiday Cheer Commercial)

The Gap campaign highlights dancers wearing Gap's holiday product line inspired by "classic cozy cabin" – an urban unconventional modern take on the coziness and comfort of the American log cabin. Created in partnership with Crispin, Porter, and Bogesky, the television spots directed by Michael Gracey are irreverent and culturally relevant. Gap collaborated with recording artist and producer Pharrell Williams to develop the musical backdrop for the TV spots.
GAP 40th Anniversary Campaign

Pharrell also has teamed up with the clothing staple Gap on a bio-friendly clothing line called "Do The Right Thing." The line will be sold at Gap pop-up locations. The pop-up store involves opening a temporary storefront in a chic location with lots of foot traffic, and is usually stocked with concept or limited edition wares. It's a phenomenon that has become a popular Fashion Week gimmick over the past several years. The "Do The Right Thing" collection is part of Gap's 40th Anniversary Celebration. One feature that makes the items from Pharrell's collection unique is the material used to fabricate them.
The name of the stuff is "Bionic Yarn," which is a product of Pharrell's own textile company, that is spun from recycled bottles. Some of the items created for this collection include: footwear, a duffle, shirts, and a hoodie. The Gap pop-up store currently carrying Pharrell's collection is located on Carnaby Street in London. The shop opened on September 12th, and will only be open for a few more days. For those who find themselves in London over the next couple of days, feel free to stop by this make-shift Gap location and peruse Pharrell's designs, as well as the rest of the 40th anniversary collection.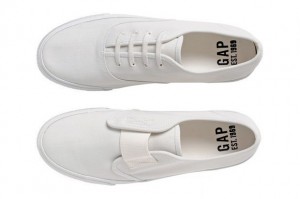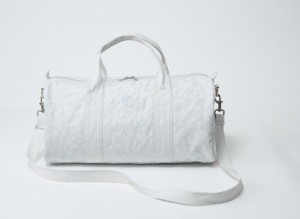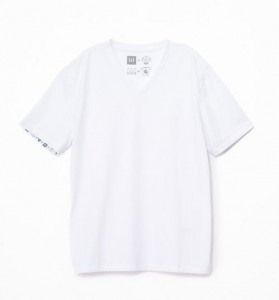 Here Is The MP3 Of  Pharrell – Go Ho Ho (Gap Holiday Cheer Commercial) For The Collectors.
Pharrell – Go Ho Ho (Gap Holiday Cheer Commercial) (MP3)
*welt.de
*sojones.com
*elleuk.com
*n-e-r-d.skyrock.com