Robin Thicke: "I Made The Best Music Possible"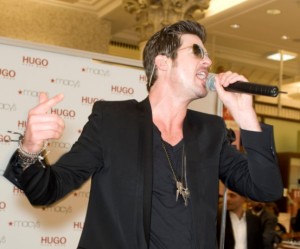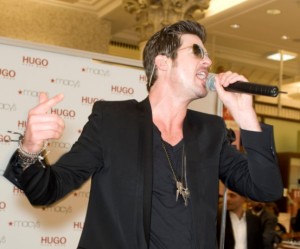 Robin Thicke at Macy's on Wednesday before his autograph signing and performance. Handlebar mustaches aren't as popular as they were back in the day – and by back in the day, I mean the Wild West — but don't tell that to 'stache aficionado Robin Thicke. The 32-year-old R&B singer sat in a conference room at Macy's (111 N. State St.) on Wednesday and fantasized about his facial hair's potential. "I'm growing a mustache right now," said Thicke as he rubbed the hair above his lip. "I want to get a curly mustache [or] that Daniel Day-Lewis mustache in 'There will be Blood.' In my new video, I'm wearing a fake mustache and a girl rips it off me. I think I want to get a real mustache and just go gangsta.
"Nothing is more gangsta then a good lip sweater." Thicke, who was in town for an autograph signing and performance at the downtown department store, said he no longer takes himself so serious. He feels he lightened up a bit with his fourth album, "Sex Therapy," which comes out Dec. 8. The album will have the soulful love songs that Thicke has become known for but will be "more fun" than his previous work, according to the Grammy Award-winner. Rappers Jay-Z, Snoop Dogg and Kid Cudi all make appearances on the album. "It's less mature," said Thicke, laughing. "I started out mature and was always way too deep and serious for my own good. I always tried to be such an artist with my albums.
"This time, I made the best music possible and am trying to make as many people happy as possible." Thicke's new attitude has led him to acting for the first time since he appeared on "The Wonder Years" and "Growing Pains" when he was a teenager (his Dad, Alan Thicke, played Jason Seaver on "Growing Pains" – but you probably already knew that). "I think I'm just getting over myself now," said Thicke, who claimed he recently landed a small role in a high profile film that comes out in 2011. "I was holding on so tight to what I wanted to be and what I wanted people to think of me and then I realized, 'Nobody gives a [expletive] about you, homey.' "Make great music and be a cool guy and everybody else will fill in the blanks for themselves."
It was recently revealed that Thicke and his wife and high school sweetheart Paula Patton are expecting their first child. Although he wasn't taking questions about the pregnancy, he did say couples will often open up to him about his role in their pregnancies. "They'll say 'We made our baby to your song,' or, 'We fell in love to your song,'." Thicke said. The guys sometimes give too much information, he said, and follow it up by exchanging a celebratory "elbow bash." Thicke said the songs that come up the most in these cases are "Angels," "Lost Without U" and "The Sweetest Love." "[Tuesday] I was walking through the airport and saw a couple coming back from their honeymoon," Thicke said. "They said 'Our first song at our wedding was "Sweetest Love." ' Then he shows me the wedding ring. The insignia said 'Sweetest Love.' "
Robin Thicke – Sex Therapy (2009) (December 8th)
Producers & Guests: Jeffrey Bahsker, The Surf Club, The Neptunes, Swizz Beatz, Danjahandz, Ms. Lago, Polow Da Don, Jay-Z, Teddy Riley, Kid Cudi…
Confirmed Tracks:
– Sex Therapy (Polow Da Don)
– Untitled feat. Snoop Dogg (Teddy Riley)