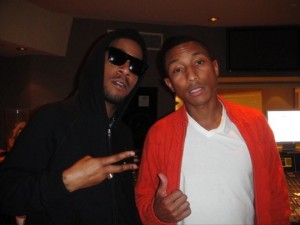 "Cudder, I already got five tracks locked in," he told us recently in New York. "We got Snoop, we got Pharrell. I just was in the studio with him. We got Jim Jonsin. I did a record with him. I'm gonna get back in the studio with him. Trying to get the right amount of hit records on this. It's gonna be the complete opposite of what Man on the Moon was. Man On The Moon was so serious. This one is gonna be more playful and fun. It's about having a good time." "People reaching out to me wanting to collab is so bugged out," Kid admitted. "I remember when nobody wanted to do any song with me, let alone listen to my sh–. It's been humbling since Kanye reached out. People seek my creativity; that's dope. I don't do the normal sh–. I don't make the normal songs. So when people reach out, that means they're on the same frequency."
*mtv.com

Update: December 4th
Kid Cudi has been in the studio with The Neptunes probably to work on some "Cudder" material, his  Collaboration album which is due summer 2010. "So far, we've got Snoop, Travis Barker — trying to get Green Day onboard, hopefully, Kings Of Leon, hopefully. I'm really trying to do all the collabs that I couldn't do for the [Man on the Moon] album, and then some, because the album was so themed that I had to strip a lot of features. We're going to have the Clipse on this compilation, Robin Thicke, hopefully we're going to get in the studio, I just did a record for his upcoming album; it's amazing." He also said that Kenna is on board for his compilation album, which they already been in the studio according to Kenna's Twitter.
Kenna's Twitter
"# Studio with Cudi… massive…"
*honeyee.com/pharrell
*theneptunes.org/kid-cudi-has-clipse-robin-thicke-lined-up-for-cudder-collabo-
*theneptunes.org/kid-cudi-working-with-kenna/
*theneptunes.org/kid-cudi-to-work-with-the-neptunes-kenna-robin-thicke