Pharrell's Modern Painters Cover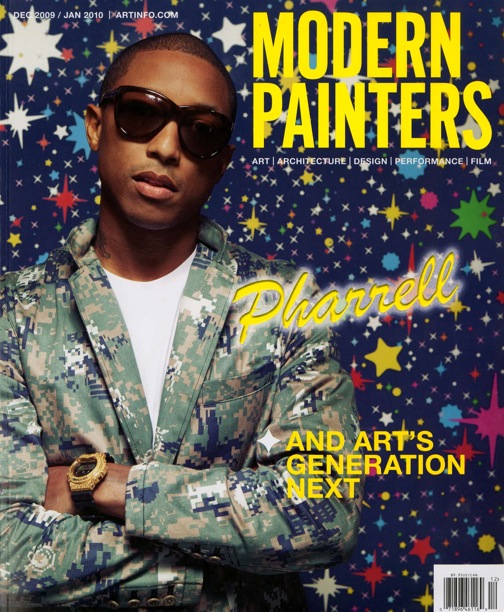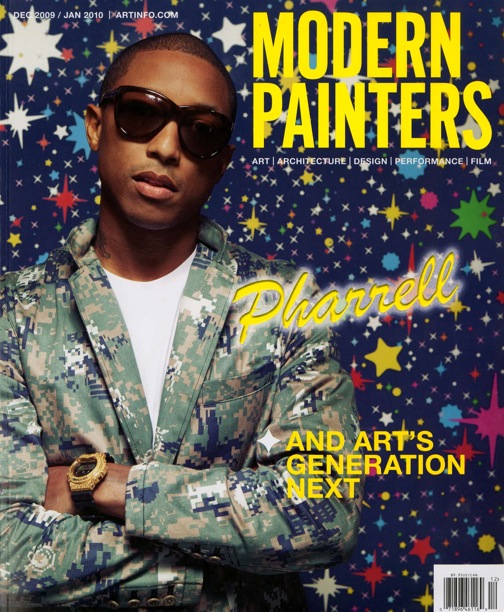 Pharrell is on the cover of the newest Modern Painters Dec/Jan Issue.
Pharrell Williams & Celebrity Interdisciplinarity
"I wanted to work with someone who could teach me something. I'm not interested in coming into any world, even outside of art, and it being about me. I'm interested in a learning process. I'm happy with always being the fortunate apprentice — not quite yet a novice, but for sure an apprentice." When I talked to him in September, Pharrell Williams, one half of the Grammy Award-winning production duo The Neptunes and cofounder of the rock band NERD, seemed anxious to present himself as the humble student. Yet Williams's first artwork, a sculpture produced in collaboration with Takashi Murakami and launched at Art Basel in June, is hardly low-key.
The Simple Things (2008-2009) features a six-foot-tall fiberglass, steel, and acrylic head based on Murakami's Mr. Dob character. In the creature's mouth are renderings of seven objects — including a cupcake, a Coke can, and a Heinz ketchup bottle — that Williams regards as underappreciated essentials. To underscore his reverence ("Imagine those seven things not being around! Imagine the public outcry if there were no ketchup for a day!"), the 36-year-old Virginian rendered the set in gold and encrusted it with some 26,000 gemstones. The New York Times's Carol Vogel characterized the resulting piece — surely without fear of contradiction — as "one of the only examples of flash" at this year's fair. It sold, with help from Galerie Emmanuel Perrotin, for a cool $2 million.
Previously, Williams has limited his extramusical creative efforts to design, working with the Japanese producer and designer Nigo to launch the fashion brands Billionaire Boys Club and Ice Cream Footwear, and with Camille Miceli on the Blason Jewelry collection for Louis Vuitton (which characterizes the line as "a variation on four themes, in which the rhythm and energy of the new continent harmonize with the spirit of historic Europe").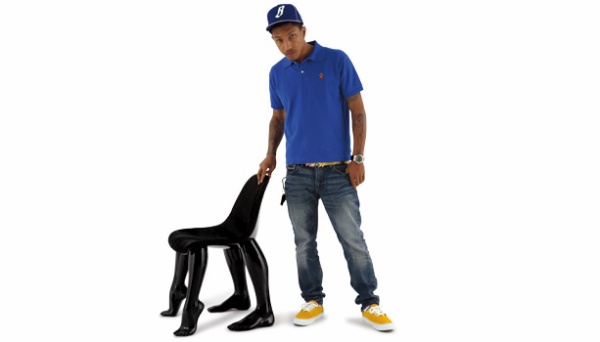 He has also, more unexpectedly, designed furniture, again under the banner of Perrotin. Williams enlisted the services of the French firm Domeau & Pérès to manufacture The Perspective Chair. Boasting two pairs of legs modeled after a man's and a woman's, the piece recalls Allen Jones's notorious forniphiliac collection from 1969, but it combines that anthropomorphic twist with a familiar Eames-style seat.
"I wanted to tap into classic midcentury industrial design," Williams recalls. "But the project was mainly about making a cradle, something that allows the user to sit in someone else's position and experience what it's like to be in love." It is perhaps unsurprising that this description recalls a certain other American artist's famously touchy-feely mode of explication. Williams greatly admires Jeff Koons, whose work he collects alongside that of Murakami, Keith Haring, Andy Warhol, and the street artist kaws, a.k.a. Brian Donnelly.
"Those guys just immediately became my favorites," he says. He is unabashed in his preference for the lighter side of Pop and post-Pop, citing visits to one of his collaborators' homes as inspirational. "Nigo is a huge collector, and all the stuff he has seems so fun," Williams enthuses. Pressed on whether all this fluff lacks a critical edge, he dodges the question, retreating into platitudes: "I've come to believe that nothing's impossible, if you can imagine it. . . . There's nothing new under the sun. When you're moved, you're moved, and you should seize the moment to express the feeling.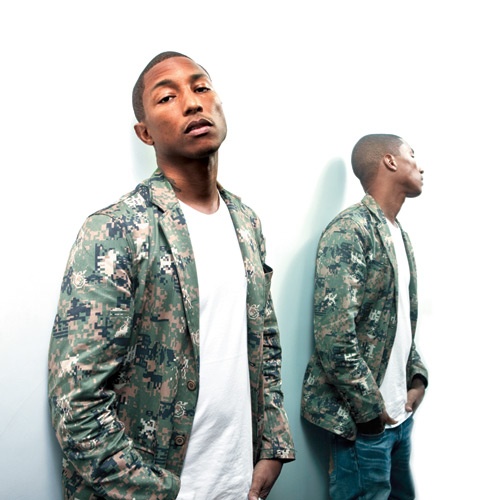 It's that moment of expression that I define as art. . . . The experience has been amazing, and my teachers, well, I have no words." He is similarly reticent about the complexities of moving between art and design: "To have a critical take on that would skew the creativity and add boundaries. . . . I move from a feeling, and when the work's done, it's done. Then we can talk over tea and scones about how it should be categorized." It's a time-honored stance, but no less unilluminating for all that.
What Williams does reveal is the heft of a well-stocked Rolodex. His career as a producer of hip-hop, pop, and R&B hits has involved him in numerous high-profile collaborations, so his taking a similar approach to art and design endeavors is entirely natural. And his mainstream fame has unquestionably smoothed the road to some creative partnerships that lesser-known figures might never have finagled. Williams has fingers in a few more-altruistic pies, running, for example, a networking site for young emerging talent called artst.com — "spelled without an i, because it's not about me; it's about you." But at this level, it's all about the Benjamins.
Whether prevailing economic conditions will encourage celebrities to stick to what they do best or barely scrape the surface of PR- and dealer-friendly projects remains unclear. A trailed project for Craig Robins's Design Miami fair is apparently still hush-hush, Williams demurring, "I can't get into that." "Frontin'" originally appeared in the December 2009 / January 2010 issue of Modern Painters. For a complete list of articles from this issue available on ARTINFO, see Modern Painters' December 2009 / January 2010 Table of Contents.
*bbcicecream.com/blog
*artinfo.com
*n-e-r-d.skyrock.com