Robin Thicke x LAtimes.com Interview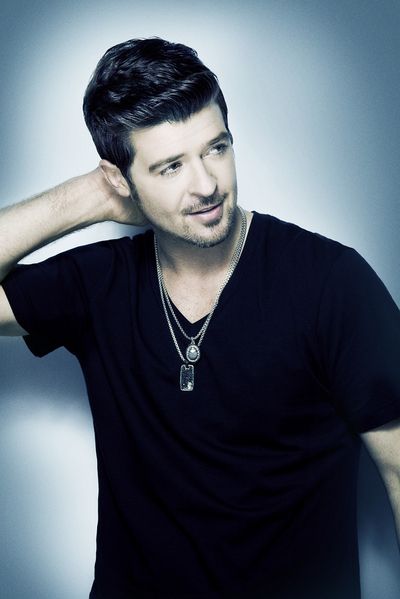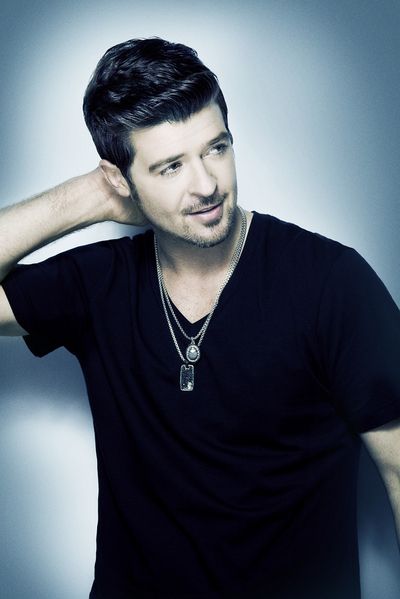 It's safe to say that Robin Thicke is having a good year. The 33-year-old is riding high professionally, with his fourth album, "Sex Therapy," which peaked at No. 2 on the Billboard R&B/Hip-Hop albums charts, and personally — he is expecting his first child with his wife, actress Paula Patton. His latest album, to which we gave two and a half stars (out of four), is a departure from his previous work, and showcases his more playful and frisky side with songs such as "Shakin' It 4 Daddy" and "Meiplé" emphasizing the first three letters of "sexy."
Thicke, the son of "Growing Pains" TV dad Alan Thicke and singer and soap opera star Gloria Loring, is currently on tour with Alicia Keys, and will play Staples Center on Tuesday. We caught up with Thicke when he called from his Atlanta hotel — he was watching "Crazy Heart" for the first time — to chat about the tour, those comparisons to Justin Timberlake and his inspirations.
LA: The last time fans might have seen you live was on the Beyoncé tour. You co-headlined with Jennifer Hudson, but this is your second big tour. What's it like going from touring with Beyoncé to now Alicia?
RT: You know, it's all the "big time" for me. Really, the difference for me is I have two more albums under my belt, and more experience performing. I feel a little more seasoned.
LA: In the past you've been very vocal about your struggles in the industry. If someone told you back then about everything that would happen to you career-wise, would you believe it?
RT:Of course. I had a dream, even after the first album didn't sell millions of records. There is a fine line between being delusional and being positive. I always felt like I was born to make music. I felt like that's what I was born to do. I've always had struggles … I was just waiting on the planets to align.
LA: The new album is a lot of fun, more playful, but also a bit more steamy. What was some of the inspiration behind the direction?
RT: My lady and I are pretty steamy (laughs). It was different than sitting and pondering your future, which is what "Evolution" is about. I felt like having more fun and keeping it light. I had spent so long singing sad songs.
LA: This album is heavier on collaborations (Nicki Minaj, Estelle and Jay-Z are a few guest spots) than your previous albums. Who was your favorite to work with?
RT: It's hard to say. Obviously, Jay-Z, he's a friend. He's always been very supportive. I mean he comes to my birthday parties (laughs). He's Mr. Cool. Snoop is the same way.
LA: Speaking of collaborations on the album, fans seem to be embracing "Shakin' It 4 Daddy" a great deal. Any plans for that to be a single? There seems to be some confusion over the video for "Rollercoaster" (featuring Estelle), which is circulating the Web.
RT: Definitely, you gotta put it out. The video with Estelle was for international markets. That was just to get out in the UK and France and Amsterdam. But with the Internet, something that's international will get everywhere.
LA: Is there anyone you are dying to work with?
RT: I would love to work with Beyoncé. I want to write the right song, I want it to be something special. I've been very blessed to work with some of my favorites. Also Dr. Dre. I want to work with him in the future.
LA: Talk a little bit about your musical inspirations.
RT: It's a wide range. I started with Michael Jackson and Prince. Then I got into gospel music in my teenage years. I also got into soulful rock 'n' roll like the Beatles and (Led) Zeppelin. Somewhere I fall into that.
LA: It seems that anytime a non-African American artist sings R&B there is an immediate comparison to Justin Timberlake. That happened to you early on, and continues to happen. Does the comparison bother you at all?
RT: No, not at all, to be compared to a guy who sells 40 million records, I have no problem (laughs). There is room for everybody. It's a complement. I get closer to the Marvin Gaye comparison and he gets the Michael Jackson. Those are wonderful things to be compared to.
LA: Your music has this vintage, almost '70s vibe to it. But people are quick to label artists such as yourself and Alicia "neo-soul." Why do you think that is?
RT: I don't know what "neo" is — soul is soul. "Sex Therapy" won't go down as my most soulful record. The fact that when I write my best, the soul is undeniable. When you're writing from the inside and not on the surface it's going to be soulful.
LA: There is this moment in your live shows, right before you go into the opening of "Lost Without U," when the crowd goes crazy. Did you think that song would become as big as it did?
RT: When I write a song that I love, I hope it has that appeal. Then you wake up sober and think, "Maybe not that one" (laughs). With "Lost Without U," I didn't think it would resonate with so many people. But it has. If I could repeat it without it being fake, I would. But you can't write "What's Going On" every time.
LA: You're in L.A. on Tuesday. What can fans expect from the show?
RT: It's pretty action-packed; with four albums of material and a handful of songs that have been on the radio, it happens pretty fast. You'll get a little bit of "Magic," "Sex Therapy," "Shakin It 4 Daddy" and "Dreamworld." There's a little of everything thrown in there.