Swedish House Mafia To Release Debut Single 'ONE (Your Name)' Next Week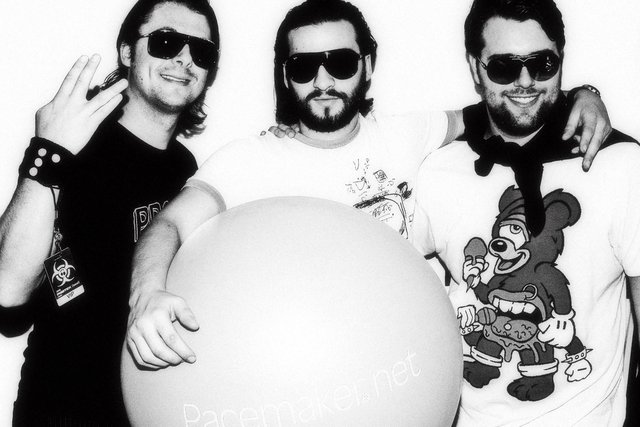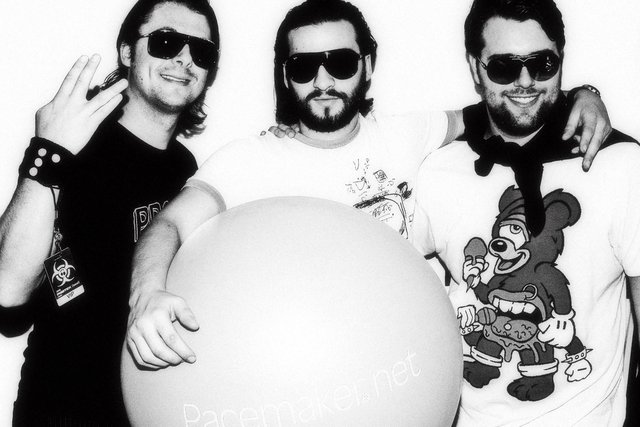 Superstar DJ collective Swedish House Mafia will release their debut single "ONE (Your Name)" on June 29th on Astralwerks. Initially released exclusively online via Beatport, "ONE (Your Name)" has emerged to become the hottest underground house track of the summer. With major support coming from Zane Lowe, Pete Tong and Annie Mac, the single's full release which now features the unmistakeable vocals of Pharrell Williams on "ONE (Your Name)" and is expected to catapult the song into the consciousness of the mainstream. The Swedish House Mafia have already developed an enviable reputation for their exhilarating live show & event concepts.
They hit the mainstage of Miami's Ultra Music Festival in March to an audience of 60,000 people and recently they returned to London's Brixton Academy for two sold out dates underlining their escalating status as one of 2010's most vital and exciting artists. And their live plans don't end there. They will play the Kinetic Field at the Electric Daisy Carnival this Friday, June 25th in Los Angeles plus Wet Republic in Las Vegas on June 26th as well as host their own tent at Creamfields for the second year running this August. They're also confirmed to soundtrack the summer when they play a sixteen-week residency at Pacha.
Last year their awarding winning show, the Dark Forest, opened to record crowds and this year's Masquerade Motel theme is set to immerse the audience with a 360-degree performance where the audience become a part of the show. "ONE (Your Name)" will feature on a highly anticipated album which compiles highlights of each Mafia member's solo work to date. To be released later this summer, the album will also be packaged with a DVD that documents the highlights of their worldwide touring. The documentary was directed by Christian Larson whose work with Jonas Åkerlund on high profile acts includes Lady Gaga & Jennifer Lopez.
Updated: June 5th
A leaked version of Swedish House Mafia's One was playlisted on Radio 1 before it had even been finished – great for exposure, but bad for the future of the music industry Dance group Swedish House Mafia Fixing a leak … Swedish House Mafia Last Friday, BBC Radio 1 played Swedish House Mafia's new track One (featuring Pharrell Williams) on Fearne Cotton's show. When I sent an email to congratulate the DJ/producers, I received a reply from group member Axwell saying: "I have no idea where they got the track from. What they played is a leaked work-in-progress copy that we haven't finished. It's really scary. This track has been leaking like a sieve. It's strange, since very few people have had access to it – just us, our management and EMI."
Swedish House Mafia consists of DJs Axwell, Steve Angello and Sebastian Ingrosso. Years ago they decided to tour together (Eric Prydz used to be a member too). Although they enjoy successful solo careers, together they recently signed a 360-degree deal with EMI. One is their first single as Swedish House Mafia (hence the track title), and was initially only supposed to be released as an instrumental, but after working with Pharrell on another project they decided to use some of the left-over vocals.
"First the instrumental leaked, then the radio mix of that and then the rough-vocal version," said Angello. "It leaked before Pharrell even got to hear it himself." He says that leaks – and illegal downloading – affect record sales. Angello has 10 artists signed to his own label, which he runs on money he makes from DJing, but says that because of leaks neither he nor his artists make much profit. "When there's no profit I can't fund new projects and sign new artists. A lot of talent gets lost because of illegal downloading."
"It almost feels pointless to get into a discussion about it, because we can't do shit," says Axwell. We discuss different ways of tackling the problem. Axwell suggests selling a subscription for £80, which gives fans everything Swedish House Mafia record, including exclusives. "They wouldn't want to give those tracks away to others, would they?" he says. For his next compilation, Angello plans to give away a card with every copy that gives free access to his gigs.
With Pharrell on the new record, are Swedish House Mafia planning on "doing a David Guetta" and taking dance music into the US charts? "Guetta is considered urban in the US, not dance," says Angello, who now lives in LA. "In the States, it doesn't matter what the bpm (beats per minute) is – if it's a track featuring an urban artist, it's urban. Pharrell wanted to do a dance track with us. It has no verse, only a chorus. We've used his vocal the way you use vocals in house music – we cut it up." Like Guetta, they've seen a backlash from older fans, the more successful they get. "I read articles all the time, saying that we're getting worse and worse – that we've lost it – even though we get more and more popular," says Axwell. "It doesn't really add up."
It seems the proof of real popularity is when Radio 1 rips your song off the internet to play on a daytime show. The producers of Fearne Cotton's show say that the track came from a third party. "They seem to think there's a copy circulating on the internet," says the show's PR. I ask if ripping tracks off the internet is a common occurrence at Radio 1. She says tracks come from all over the place, and that she'll ask the music team. They have yet to reply.
EMI believes the Pharrell track was taken from Axwell's computer. Then it was leaked online, where it was discovered by Radio 1 . Although nobody, including Swedish House Mafia, is complaining about being playlisted on Radio 1s, a leak like this creates problems.
Swedish House Mafia realise that they need to reduce the time between sending a track to radio stations and making it commercially available. If fans can't buy a track legally, they're even more likely to go to p2p networks. But the Pharrell version of One wasn't even serviced to radio – it wasn't even finished. "It sucks," says Axwell. "It makes it next to impossible to plan when a record should be released." Last week, the group played two packed gigs at London's Brixton Academy. So how did they celebrate? Champagne, perhaps, or a night on the town? No. Instead, they went straight into the studio to finish the Pharrell version of One as quickly as possible.
Updated: May 10th
Swedish House Mafia – One feat. Pharrell Shots To Top Of Beatport's Chart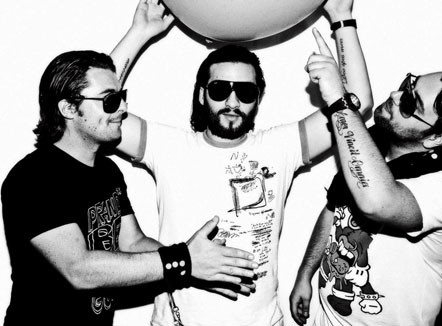 Here is the Main Version of the Swedish House Mafia and Pharrell collaboration. The new Swedish House Mafia single 'One', has shot straight to the top of Beatport's download chart in less than 24 hours after its release, the Original Version didn't have Pharrell on the vocals but the final version will have Pharrell on the single. The Swedish House Mafia; Axwell, Sebastian Ingrosso & Steve Angello have finally released their massive debut single, "One". The biggest track of WMC 2010 and the highlight of their headlining set at the Ultra Festival to 50,000 fans, "One" is getting serious love from all the essential tastemakers and fans alike.
Zane Lowe: "A piece of music so colossal, so huge, only one team can deliver time after time unadulterated club bangers. The new Swedish House Mafia"
Pete Tong: "And I said to them that they should retire after that!! It's so kinda simple but it's SO large! Hats off to them, the Swedish House Mafia."
Tiesto: "They are rock star of the house scene. They party together, they play together – very talented, all three of them. They make phenomenal tracks."
Buzz Chart: "No.1: The biggest buzz on a record for 10 years! This breathtaking epic will be the dance track of the decade not just the summer.
MTV: "And then came the trio of Sebastian Ingrosso, Axwell and Steve Angello – billed together as the all-star Swedish House Mafia. Of course, the highlight of their set was their new single; a mix of eerie atmosphere and euphoric resolution that had fans begging for more."
Swedish House Mafia – One (Original Version)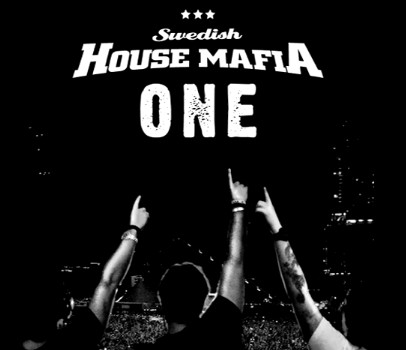 Swedish House Mafia – One (CDS) (2010)
01 – One feat. Pharrell (Radio Version)
02 – One feat. Pharrell (Main Version)
03 – One (Original Version)
Total Size: 20,00MB

Updated: May 9th
Here is the longawaited collaboration between the Swedish House Mafia and Pharrell, produced by Swedish House Mafia, Pharrell has only a guest appearance, apparently thats their first single from their upcoming Project, check it out.
Swedish House Mafia – One (Your Name) feat. Pharrell (10′)

Updated : October 26 (2009)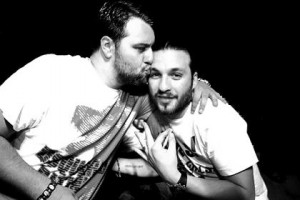 A track with Pharrell, 5 cars, countless watches, a pad in L.A, and he still doesn't think he's made it? By now everyone into house music (and some pop fans) will no doubt have heard about Steve Angello. He was the guy behind the re-rub of Robin S 'Show Me Love', with fellow producer Laidback Luke, you know the one, the track that went ballistic across every European national chart. He is also 33.3 % of The Swedish House Mafia, the too hot to handle bad boys of Dance music.
As a solo artist, Steve's talents did not go unnoticed by Super star DJ Erick Morillo who quickly became his number one fan. Afer a great deal of chasing, Erick has finally got Steve to produce an album for his beloved Subliminal label. Here Erick interviews Steve and finds out about the man, his music and what's he has done with the new mix. The Swedish House Mafia is a group of three popular house DJs and producers; Axwell, Steve Angello, and Sebastian Ingrosso. Eric Prydz is a former member of the group.
Erick: What's this thing with Pharrell? Why are the big Hip Hop stars looking to top European DJ's all of a sudden?
Steve: I think America has recently seen just how good dance music is. There's a lot of energy in it with a lot of people having a good time. Me and Sebastian Ingrosso worked with Pharrell, and I worked with him again after that and I think they are trying to explore new genres to get involved in because everybody gets bored of doing whatever they do. So as much as they come to us, we'd like to work with them because they give us something that we don't have and vice-versa.
Sebastian Ingrosso Interview
Here is the video where Sebastian is talking about working with The Neptunes for his new album.