Beyonce – Diamonds Are A Girl's Best Friend (07′)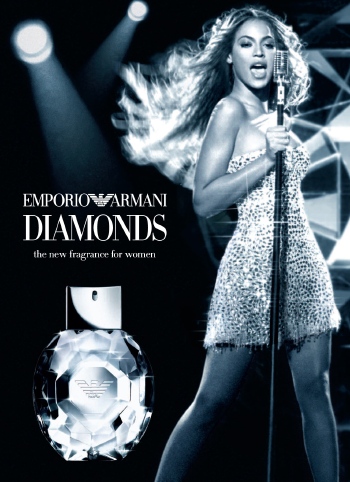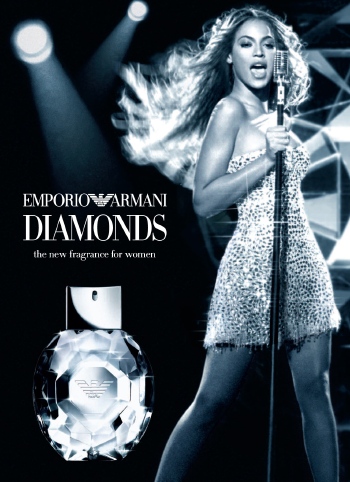 How could we miss this. The Neptunes did a remake to 'Diamonds Are A Girl's Best Friend' performed by Beyoncé for Emporio Armani Diamonds fragrance commercial back in 2007. The Video Commercial is directed by Jake Nava. This perfume was created by Thierry Wasser of Firmenich and the fragrance is classified as gourmand-floral. The Emporio Armani PR team says: ' We're using the rose but in a very gourmand way, like a flower that can be eaten'. The perfume is available in 30ml, 50ml and 100ml bottles. The face and voice of the perfume is singer and actress Beyoncé Knowles, to which this is not the first appearance in ads.
The video and ad are in black and white and Beyoncé, together with the bend, sings (and dances,) the famous Diamonds Are A Girl's Best Friend, which before her sang Marilyn Monroe from the original Broadway production of Gentlemen Prefer Blondes in 1949, introduced by Carol Channing written by Jule Styne based on a novel by Anita Loos to a 1953 film adaptation of the stage musical starring Marilyn Monroe. Diamonds Fragrance is available online at giorgioarmanibeauty-usa.com, thanks to Borsboom.
Beyoncé – Diamonds Are A Girl's Best Friend (07′)
http://usershare.net/p97sx0zy12va
http://www.mediafire.com/?ynqzoijixdn
Beyoncé – Diamonds Are A Girl's Best Friend (07′)

Beyoncé – Making Of 'Diamonds Are A Girl's Best Friend'

Marilyn Monroe – Diamonds Are A Girl's Best Friend (1953)