Pharrell Williams & Hans Zimmer Produced 120/140 Pieces For 'Oscars'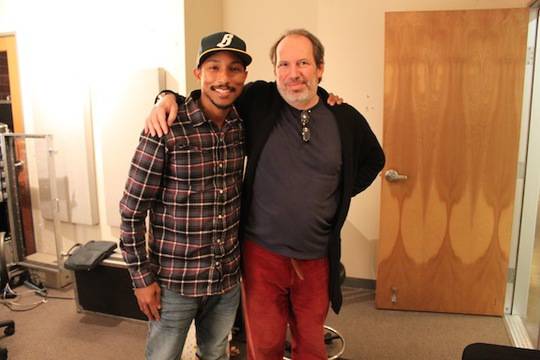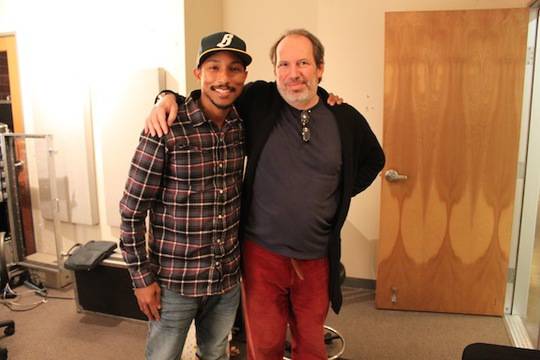 Indefatigable N*E*R*D front man, Neptunes producer and Billionaire Boys Club founder Pharrell Williams has been typically busy of late, between launching label-media company I Am Other and producing for a wide range of artists, including Malaysian singer Yuna, left coast phenom Kendrick Lamar, Lupe Fiasco and Rick Ross. However, there are two unique projects that, although he has kept the details under wraps, we were particularly excited to discuss.
The BoomBox got on the phone with Pharrell to speak with him about co-producing music for The 2012 Academy Awards Feb. 26 with revered composer Hans Zimmer — the duo produced over 120 pieces of music for the ceremony — and producing Jay-Z's 'Glory,' a song dedicated to the proud father's newborn daughter Blue Ivy Carter, whose recorded infant cries made her the youngest chart-topper in history. Read on as the Virginia native explains why he's thankful Hov reached out to him to work on the song, how his creative choices for the Oscars are being labeled "cheesy" and the difference in his perception of movies now.
The BoomBox: What has it been like working with Hans Zimmer on the Oscars?
Pharrell: It's been quite an interesting situation. As a child, you watch the Academy Awards, it's one of the most prestigious events and celebrations and award ceremonies every year. It's the glamour and the glitz for a lot of people — that's what it was for me until I grew up and realized how much films really colored my life and colored my perception. Filmmaking is about storytelling. The ones that are really good, they move you.
Some people say my choices are kinda cheesy cause there's certain things that I like, like 'Close Encounters Of The Third Kind' or 'A.I.,' or like 'National Lampoon's Vacation,' or 'Dumbo' or 'E.T.' There's so many that I really love, but these are the films that took me away. To wake up one day and have someone like Hans, whose provided some of the most incredible scores for some of the greatest films of all time, to have him say, "Hey, would you like to do this with me?" I'm like "Yeah!" He called and he said that Brian Grazer had called him, and he's like, "Well, no. I can't do that! I want to do that with somebody like Pharrell." And he's like, "Hold on, I've got a thought," and he called me. That's the story that he told me. I was just so honored to be a part of that conversation. It's a big deal, and it's not afforded to many people, so I'm just very thankful.
*n-e-r-d.skyrock.com
*theboombox.com
The BoomBox: How has your collaboration with Hans been different than working on the soundtrack for 'Despicable Me'?
Pharrell: Well, 'Despicable Me,' we're writing to picture, and with this [the Oscars], we're pretty much given a list of things. The nominees have been announced, so we realized that we needed to do music for when people walk on, when people walk off, while people are on stage, basically handling the sound design for the show in its entirety. You realize it's like 120 to 140 pieces of music. That's a serious undertaking, but it's so worth it. I'll be able to say "Hey, I collaborated with them" or "I did that piece" or "I was there when Hans was making that piece," or "Hans and I did that piece together" or whatever, you know? It's just … it's cool.
The BoomBox: Working with Hans and thinking about films and music in this way, has it changed the way you view movies?
Pharrell: No. Well, yeah. It has changed. Not in a negative way, but in a better way. I've always respected it, but now I know how much harder it is to actually do it. And again, you just go back to feeling lucky, because they didn't have to give me that opportunity.
The BoomBox: What were your favorite scores to work with for the Oscars?
Pharrell: Well, I'm not supposed to give out too many of the details because we're doing it differently this year. We're not running away from tradition, but it will definitely be a different and new experience. I'm not allowed to give away the details.
The BoomBox: Well, speaking of arrangements, we saw the footage of Jay performing 'Glory' this week at Carnegie Hall. Did you see that?
Pharrell: Yeah, I haven't seen it online. I heard about it though.
The BoomBox: It's pretty amazing. How did you feel about it working on the song? It's obviously such a big deal for his life, to be involved in that…
Pharrell: Yeah, I'm very thankful. Very, very very thankful. I don't know what else to say beyond that, it's an awesome thing to share with someone, and to effectively share that with the world.
The BoomBox: It's interesting watching music grow and people grow together in collaboration, from making club records to making records with someone's newborn…
Pharrell: Yeah, I mean that our generation's really proud parent love letter, you know?