4 Questions With Robin Thicke By Theroot.com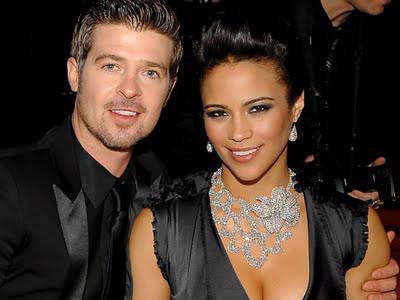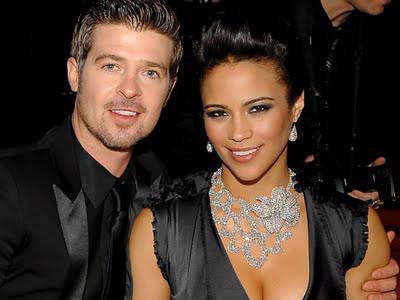 By Joshua R. Weaver. R&B crooner Robin Thicke knows how to grab headlines. The artist's candor about his very active sex life with his wife, actress Paula Patton, spiced up the Web in December 2011, when he opened up to Essence.com. And in February the 35-year-old soul singer jumped back into the spotlight after getting caught lighting up a joint in his parked Escalade near New York City's Madison Square Park. But in between getting busted and talking about his talents in the bedroom, Thicke continues to do what he does best: infatuating his mostly female fans with his R&B falsetto.
The title track of Thicke's latest album, Love After War, hit the Billboard Hot R&B/Hip-Hop top 20 chart last year. He's also springing his way onto the small screen, as a guest mentor on NBC's hit The Voice and as a co-judge on ABC's upcoming singing competition Duets, premiering this summer. Thicke sat down with The Root after a performance in Washington, D.C., Tuesday night and opened up about his marriage to Patton, the new love of his life — their 2-year-old son — and his real thoughts on black women's dating options.
The Root: You took a year off before jumping back into the studio for Love After War. What did you learn?
Robin Thicke: I learned what true compassion and patience is about. You think you're a man, or you think you're grown, until you have a child and you have to see what a woman goes through when she has a baby — and how it changes her body, [it] changes her mindset. I had to kick into gear because I love nobody more than my wife in this world. It was actually wonderful for me. Julian has changed everything — every move I make, I know that it will affect him, his growth and his happiness.
TR: Your wife has had cameos in two of your music videos. How does the love between you two translate on-screen?
RT: Have you seen my wife? It's very easy. She's very easy to love. She is the epitome of sunshine. Being around her on-screen is like looking into the eyes of the only woman I've truly felt that way about. So it's very easy to find chemistry with her, and I think everybody has chemistry with her. She's that kind of person — she can create chemistry with anyone.
TR: During a December 2011 Essence.com interview, you said that there are plenty of great black men out there for black women, in comparison with "only a few good white men." Are black men more understanding of black women?
RT: Everyone needs someone that makes them happy. [The writer] was trying to make it seem like, if black women have a problem with black men, what are [they] supposed to do? Are [they] supposed to just go and find white men? And I was like, there are millions of great black men out there. You've got to start changing yourself first, is what I was trying to say — like, if you're always complaining about the partners you keep running around with, maybe you're not making the right decisions.
TR: In light of that, what would you say to black women everywhere?
RT: Take care of yourself first. Make yourself happy first, and wear lingerie whenever you can.