Robin Thicke On Whitney Houston's 'Exhale' Cover: 'I Was Always Inspired By Whitney'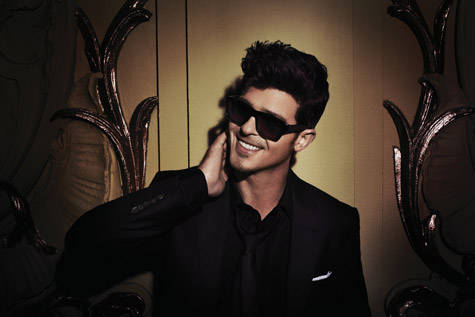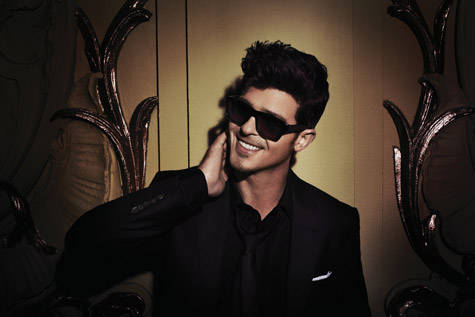 By Kyle Harvey. Robin Thicke, R&B crooner and husband of actress Paula Patton, celebrated his 35th birthday in New York City last night. The party was sponsored by Remy Martin, and was held at the Son Cubano lounge for a crowd filled with party guests and celebrities eagerly anticipating his entrance. When Thicke took the stage, he performed some of his more well known hits, including "Lost Without You" and his latest single from his recent album Love After War. He then went to the piano to pay tribute to the late Whitney Houston with his version of "Exhale (Shoop Shoop)".
After singer Melanie Fiona serenaded Thicke with "Happy Birthday", he briefly spoke with theGrio about why he chose to cover "Shoop" in honor of Houston, and what advice he would give to Houston's daughter Bobbi Kristina in her time of loss. Since Whitney has passed, her peers have all paid homage to her through song. What made you choose "Exhale (Shoop Shoop)"? Robin Thicke: My cover of "Exhale" was actually written about five or six years ago. I never really knew when I was planning to release it. I was always inspired by Whitney, and Paula [Patton] was the person who suggested that I use it as my tribute to her memory.
Did you wonder if you were going to do the song justice?
I think just to try to sing the song is to do it justice. "Exhale," especially, has so much internal emotion behind it that I felt that anyone could easily relate to it. It's also a story of perseverance and how to overcome obstacles in your life, which I believe is a message that needed to be shared.
Like Whitney, your father, Alan Thicke, was in the spotlight because of his lead role on Growing Pains. Can you relate to Bobbi Kristina's situation, growing up with a famous parent? What if any advice would you give to her?
Well I can't really. I can't even imagine losing a parent, so I can't really give advice to her because our situations are different. I can only imagine what she and her family are going through. I just send out my blessings to her and the Houston family and wish her the best.
Robin Thicke honors the incomparable Whitney Houston with a stripped-down cover of her 1995 hit "Exhale (Shoop Shoop)" performed on piano. The original, produced by Babyface, appeared on the Waiting To Exhale Soundtrack and became the third single in history to debut atop the Billboard Hot 100. "This is my tribute to the great Whitney Houston," tweeted Robin. "Sending my prayers to her family."
Robin Thicke – Exhale (Shoop Shoop) (Whitney Houston Cover)

*thegrio.com
*idolator.com
*twitter.com/robinthicke
*rap-up.com
*soundcloud.com/warhol2012