Robin Thicke To Debut On hursday On ABC's Duets (8 p.m. ET/PT)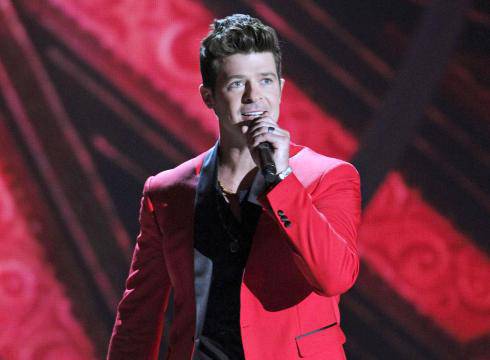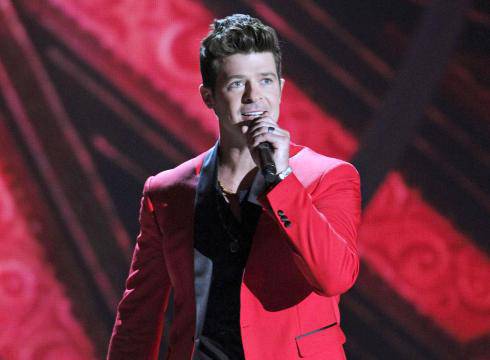 By Craig Sjodin. R&B crooner Robin Thicke says he can sing anything. Anything. "Nothing is outside of my comfort zone," he says, putting on an exaggerated air of pomposity. "For me, any song is just how you feel it, and if you can feel a lyric, then you can perform it well." That abundance of confidence is sure to come in handy when Thicke, 35, makes his television debut Thursday on ABC's Duets (8 p.m. ET/PT), a reality singing competition that pairs superstar wannabes with celeb mentors/singing partners Thicke, Kelly Clarkson, John Legend and Jennifer Nettles. "On every episode, we sing together. Nobody sings alone," explains Thicke, who has collaborated with hip-hop stars such as Jay-Z, Lil' Wayne and Nicki Minaj.
"What's fun is that we get to sing on each episode and perform, so I think it makes it a different kind of format." He deigns to call Duets reality TV and says that despite growing up in a Hollywood family — his parents are Growing Pains' Alan Thicke and actress/singer Gloria Loring— his life with actress wife Paula Patton (Mission: Impossible — Ghost Protocol) and son Julian, 2, is off-limits. "I see (Duets) as performance TV, because they don't follow me home after I have a glass of Scotch. Now, that's reality," he says jovially. "Nobody's going to come into my house with a camera, that's for sure. For this, because it's performance-based, I still get to get into character and walk out there and try to make something special for people on the stage. It's not a reality thing. It's the dream, it's the fantasy part. I'd call it fantasy TV." Part of that fantasy already has been fulfilled for Thicke, who is particularly enamored of the monikers ABC has bestowed on its cadre of powerhouse vocalists.
"They're calling us 'superstars.' They're like, 'The superstars will do this' and 'The superstars will do that' on all the e-mails I'm getting. I'm like, 'I like the way you guys talk! Talk dirty to me.' " After his breakthrough 2006 single, Lost Without U, Thicke developed a wider fan base, but he's well aware that he's not quite a household name. "For me, it's all about the music and all about the art, because that's what lasts forever, so I just try to put everything I've got into the music," he says of his Duets role. "I want to use these opportunities to help inform more people about my music, because there will be a lot of people seeing this who've never heard of me before. " And don't expect any Simon Cowell-esque contestant-bashing on Duets— at least not from Thicke. "I'm way too kind. I will be honest, but I want to be inspiring. Because really, it's not about what you're not, it's about what you can be. "