Robin Thicke x Theboombox.com Interview (June 21st)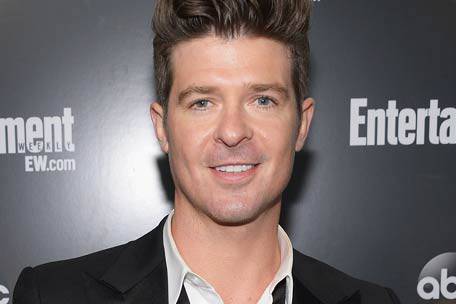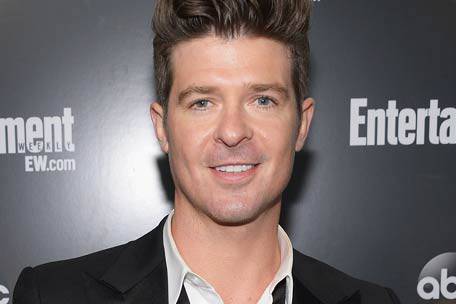 Robin Thicke has been making his brand of cool soul music for over a decade, working with the likes of Brandy, Christina Aguilera, Jimmy Jam & Terry Lewis and Lil' Wayne as well as releasing his own critically acclaimed albums — his most recent is 2011's Love After War. But there is indeed a segment of Middle America that only knows the 34-year-old singer-songwriter-producer from his current side gig as a vocal coach on ABC's new singing competition "Duets." Thicke often gets stopped on the street by fans of the show, which also features the talents of John Legend, Kelly Clarkson and Jennifer Nettles.
"I get it all," laughs Thicke, who mentors and sings with his own team of contestants on "Duets." "The beautiful thing about… a show like this, [it] makes people go out and find one song they like or find that one album of mine that they will like. As long as the word gets spread and they see all of the hard work and love that I put into my music, the point of a show like this is to be heard and for my music to be shared." But when it comes to the singer's recording career, however, it's all about one message. "My music is about trying to find love, keep love or spread love," Thicke says of his mantra. The R&B crooner spoke with The BoomBox about competing with his wife and actress Paula Patton, his work on reality TV, leaving his "reckless" lifestyle behind and playing good cop-bad cop when it comes to his kid.
TheBoomBox: Talk about your experience so far as a mentor on the ABC singing competition "Duets." How has it been working with the up-and-coming talent on the show?
Robin Thicke: It's been great, especially the mentoring part. I've been making music since I was 14. I've written and produced a lot of different artists that it starts being natural for me to mentor people as a producer. You have to try to pull a great vocal out of these artists. So we've been doing this a long time. It's about sharing whatever knowledge I have and hoping it works.
TBB: How competitive does it get with other artists like John Legend and Kelly Clarkson on the show?
RT: I'm not really in it to win anything. It's all about performing and having a good time. I enjoy picking out songs that I would like to hear. I may not like all the other songs that the other artists pick and they may not like my songs I want to hear. But that's the beauty of art. Everybody likes different stuff.
TBB: Are there any contestants on the show that have the talent to become a music superstar?
RT: So far they all have good enough voices, but to be a star means that you have to be a great performer. Some of these artists may even become great Broadway stars; some of them might even move into a different field musically. It's hard to say.
TBB: You were lauded for your vocal performance on your latest album Love After War. What was your frame of mind going into that album?
RT: Going into Love After War, it was all about me having a child, having to grow up a little bit and becoming a man, taking care of my wife and family and to stop being so reckless. I definitely had more of a focused point of view on this album than I had before.
TBB: I read some reviews of your title track single and the one point that has been made a lot was how you seemed to be channeling the spirit of Marvin Gaye. How does that make you feel when you hear such praise?
RT: That's a huge honor. That's why artists do what we do. We get inspired by Marvin, Bob Marley and John Lennon and then we want to make our own stamp with the music. We want to make music that inspires other artists. So for me I'm just trying to express myself and hope that my work makes people feel good.
TBB: Can you talk about your latest single "All Tied Up"?
RT: I just released a video for it last week. And a week before that I released a single for my Whitney Houston tribute song, "The Exhale Song (Shoop Shoop)."
TBB: You have to have guts to even attempt a Whitney Houston song, right?
RT: To me art is not about the attempt, it's about the feeling. I felt the song. Whitney had the voice of an angel. It was one of the greatest voices we will ever hear. She could turn a country song into a soul song. She had so much passion.
TBB: You shot a Remy Martin commercial with your wife and actress Paula Patton. She's pretty easy on the eyes, huh?
RT: [Laughs] It was just a chance for Paula and I to be together. Remy approached me first to be the face of Remy and to host a bunch of parties and perform all over the world for them. But then they started to ask about my wife because she was coming off the global success of the last "Mission Impossible" movie. It just seemed to make sense. We were like, "Sure, we'll do the commercial together."
TBB: I would have loved to be there for some of the commercial takes. It looks like you two were having a lot of fun, right?
RT: It really was fun. We are definitely madly in love with one another. It was a very easy role to play [laughs].
TBB: Are you a competitive couple?
RT: I think there's a healthy competitive streak. If Paula is working her butt off all day and hitting the gym, taking all of her meetings and reading her scripts five times over when you see that kind of effort you can't help but be inspired. She makes me want to work my tail off, too. I think we inspire each other through hard work and our accomplishments.
TBB: What kind of father are you? Is there a good cop-bad cop approach when it comes to parenting?
RT: Well, we are both good cops and bad cops [laughs]. Paula and I totally agree with how to parent. Julian [our son] has been nothing but an angel. He's changed my way of songwriting. On Love After War, there are so many little lines that have a connection with children and the effect you have on the future of a child. There's one message: never give up no matter what happens. That's a common thread throughout the album. I'm speaking to my son. This is something he will get to listen to when he's older so he can keep believing in himself.