Alan Thicke Is Proud of Robin's Success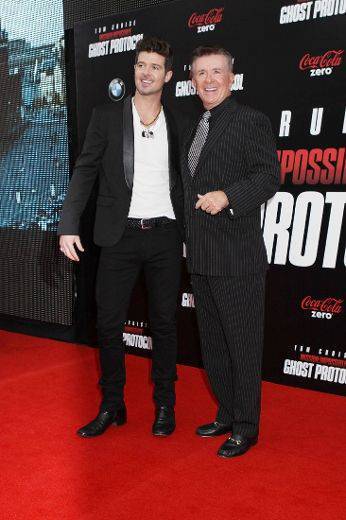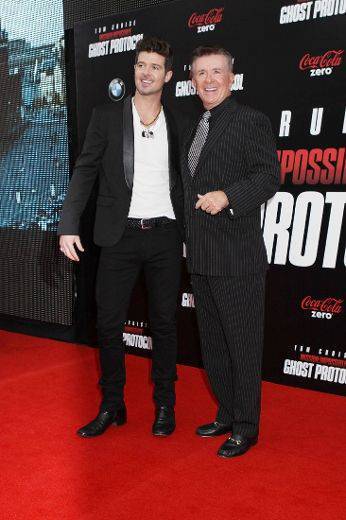 By Linda Massarella. Most children of famous parents struggle to find their own identity. It ain't easy being the daughter of say, national hero/hockey player Wayne Gretzky, when you have no discernible talent of your own but still have the need to prove yourself. (Yes, she of the racy Instagram pictures, Paulina Gretzky). Or the son of actor Mel Gibson, who I just ran into working at a local grocery store and who, apparently, works there because he insists on paying his own way through college.
Canadian TV legend Alan Thicke, on the other hand, considers himself lucky. His 35-year-old award-winning crooner son Robin Thicke is one of the biggest R&B singers in the world. So not only does Thicke never ever have to prop up the ego of his eldest son with, "Don't worry, kid, at least daddy set you up with a big trust fund" — Alan can actually do some reverse coattail hanging. Just last month, Alan visited Robin on the set of his show, Duets, and made news when he was seen in the makeup room flirting with some of the young female cast members, including Kelly Clarkson.
In an interview with QMI Agency, the 65-year-old actor clearly seemed to be enjoying his new role of "Robin Thicke's dad." "You know, I'm far too old for flirting," he deadpanned about the incident in the makeup room. "I was just being a cheerleader backstage for Robin," he laughed. Seriously, though, Thicke — known for playing a wise and wisecracking father on the hit TV show Growing Pains — is on a career resurgence of his own. He's now playing Donald Gallagher, a power-hungry director and producer of a TV series, in the Canadian show, The L.A. Complex.
Thicke guest starred briefly on the first season, which is about a group of 20-something Canadians trying to make it in Hollywood, and has been asked back for a four-story arc. In August, he'll be in Toronto hosting the Canadian Comedy Awards; and he'll be back in the city Sept. 26 to star in the theatrical production of Queen For A Day. Meanwhile, he's also settling into his new duties as the Grand Poobah of Canadians in Los Angeles. As I reported a few weeks back, Thicke was named the honorary chair of Canadians Abroad, a group that organizes Canadian events in Los Angeles.
The next event is the Terry Fox Run, which will be held in September. I asked Thicke if he was getting ready to strap on his running shoes and would be good to go for a couple of kilometres. "I will not be running," Thicke, who had a knee replacement a few years ago, declared. "Someone will be fanning me on a chariot or a chaise lounge — or maybe pushing me in a little cart that's draped with a Canadian flag." Thicke can only joke so much about his patriotism, though.
One of the reasons he was named chairman of Canadians Abroad is the fact he's one of the few big Hollywood stars who never took an American citizenship. "I never wanted to cut those ties," he said. "I'm a proud Canadian." Unlike Pam Anderson, who said she became a dual citizen so she could vote in U.S. elections, Thicke said he doesn't care about punching the ballot card. "I can't vote, except on American Idol. But I haven't even done that."