Robin Thicke x Buffalonews.com Article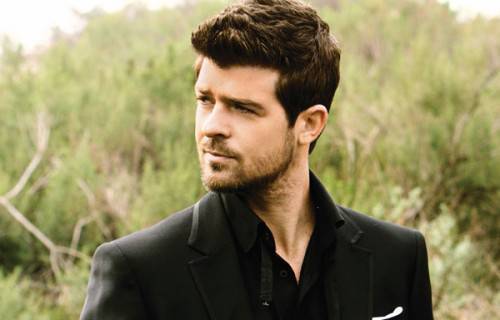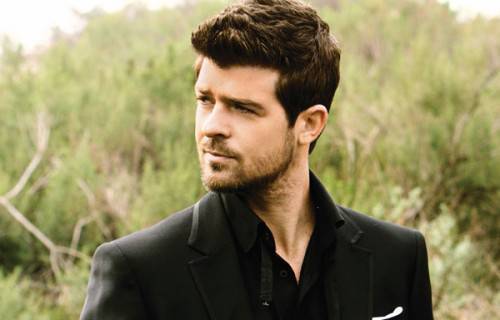 By Joe Sweeney. If you needed to understand the appeal of singer, songwriter, R&B sexpot and "Growing Pains" cast member spawn Robin Thicke, his performance of the song "Teach U A Lesson" on Saturday night was all it took. As his four-piece band laid down the track's suggestive quiet storm groove to the delight of a sparse-yet-boisterous UB Center For the Arts crowd, Thicke gave an introduction that acknowledged the barrage of flimsy academic pick-up lines that we were about to endure. "Hold on, let me get into character," he joked, subsequently singing the hell out of lines like, "You can work it off/I'll give you extra credit."
"Teach U A Lesson" didn't succeed solely because of that intro – the band's nuanced playing and Thicke's spot-on falsetto had something to do with it – but by starting the proceedings with a smirk, all of that lyrical castor oil ended up tasting a lot like sugar. By the time it was over, I was fully aware that I had been sweet-talked into loving a clumsily written, borderline-creepy song, and there was nothing I could do about it. Decked out in a tailored, gray three-piece suit and perfectly coiffed mini-pompadour, Thicke proved himself a natural crowd-pleaser with a deep affection for R&B's forefathers, kind of like if Michael Bublé grew up loving Marvin Gaye and Stevie Wonder instead of Frank Sinatra and Dean Martin.
But while he certainly showcased his more obvious gifts on Saturday – namely, his voice and face – it's the man's gifts as a songwriter that gave the performance depth. Thicke has written tracks for Usher, Mary J. Blige and Lil' Wayne [his "Tie My Hands" was one of the standout tracks on Wayne's 2008 masterpiece "Tha Carter III"], and his knack for marrying soul melodies to slick pop constructions was on full display. "Magic" set the tone early on, a smooth, late-period Marvin Gaye synth groove that got the crowd up and dancing right away.
"Can You Believe" married some beautiful piano chords with sweeping words of positivity cribbed right from the Stevie Wonder playbook, which dovetailed nicely with the fact that all proceeds from the show went to the Ronald McDonald House. "Wanna Love You Girl" found Thicke navigating through the dark synth string arrangement of a classic Neptunes beat. And "Lost Without You" matched delicate acoustic plucking with an irresistible Latin rhythm – it's his biggest hit for a reason. While Thicke's voice was very impressive, his band was just as crucial to the set's success.
Larry Cox, the keyboardist and occasional rapper, anchored the ensemble, which wrung every drop of soul out of each arrangement, whether it was a gospel workout, a psychedelic rock segue, a bass-heavy club banger or a slab of Muscle Shoals soul. With that kind of instrumental firepower behind him, Thicke's credibility as a vital creative force in modern R&B soars, almost as high as his pipes did on Saturday. When the band came out for an encore and ripped through loving renditions of Michael Jackson's "Rock With You" and Al Green's "Let's Stay Together," the sense of reverence felt earned.