Pharrell Williams Is The Undisputed Champion Of The Summer Anthem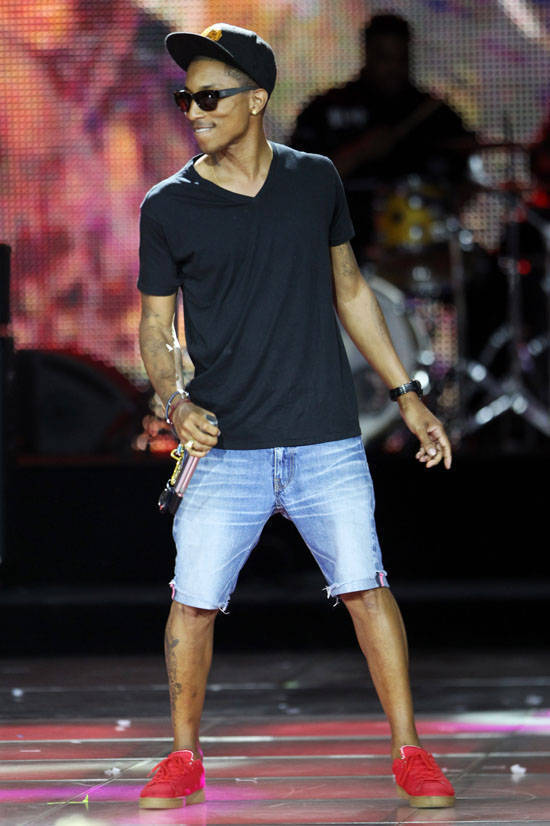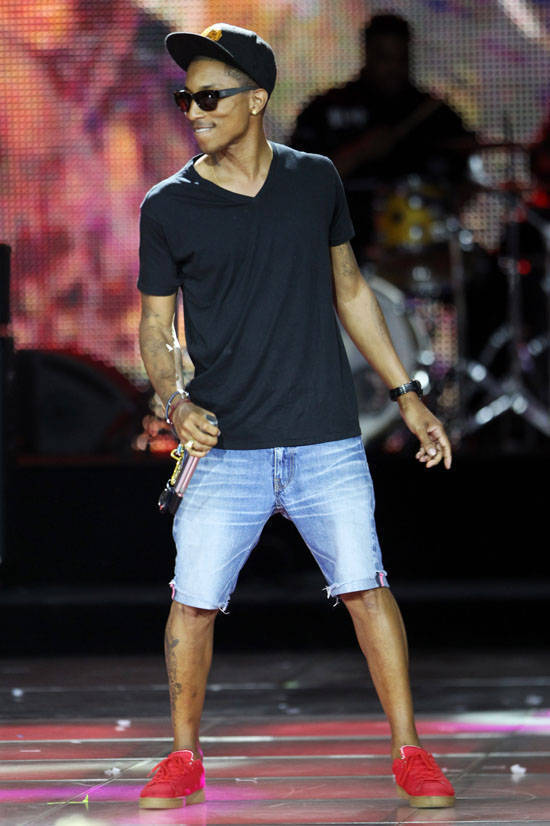 Who is poised to become the face of this summer's pop music scene, dominating radio airwaves across the country? Surprise! It's not a bombshell pop star or a spitfire rapper, but perhaps the most underrated force in all of popular music, the one and only Pharrell Williams. Pharrell is featured on not one but two of the hottest tracks on the radio right now, Daft Punk's silky smooth "Get Lucky" and Robin Thicke's seductively tantalizing "Blurred Lines" (which has even been parodied by Jimmy Kimmel on his late-night show.)
Need proof? Look no further than the Billboard Hot 100. Notice what the two most popular songs in America have in common? Hint: Pharrell. Now that is not to say Pharrell is the sole driving force behind "Get Lucky" and "Blurred Lines" — he co-wrote both tracks and produced the latter, and Daft Punk and Robin Thicke are supremely talented artists in their own right. But there is a certain level of cool sophistication that Pharrell adds to the equation that isn't just appealing — it's magnetizing.
In fact, Billboard announced "Get Lucky" as the "Song Of The Summer" for 2013 in an article polling radio station programmers and readers. Leslie Scott of Seattle's KMTT went so far as to say "we're doing it wrong" if the Daft Punk/Pharrell collaboration (Nile Rodgers is also featured on the track) isn't the slam-dunk song of the summer. And don't worry, R&B fans, Pharrell's sultry collaboration with Thicke and T.I. got some love as well, being named as a contender for the title of the summer's hottest song.
It should be telling that of all the performers they chose to collaborate with for their first studio album since 2005's "Human After All," the supremely talented Daft Punk chose Pharrell — and when a mere video clip of Pharrell and Daft Punk performing the track premiered at this year's Coachella Festival, fans collectively lost their marbles. The best part is, Pharrell is enjoying this run at the age of — gasp! — 40 years old. Let's get something straight — this success is way overdue.
It would be remiss to say Pharrell wasn't a big name already in the music industry. Along with Chad Hugo, he makes up the major production unit The Neptunes (which has won several Grammys), and he headlined N*E*R*D (the rock/funk/hip-hop band who saw two of its albums go Gold). He even released a solo album in 2006, "In My Mind." But in a way, Pharrell has always been underappreciated. The artists who have called on him to be featured on their singles reads like a who's-who of the pop music industry, from Britney Spears and Snoop Dogg to Gwen Stefani and Madonna. But Pharrell has never been in the spotlight to the degree he has deserved — which perhaps adds to his aura of cool.
It would seem that the trend should in theory continue, as "Get Lucky" and "Blurred Lines" aren't even his singles. Pharrell has demonstrated a knack for trendy productions before — witness his work on Justin Timberlake's debut solo album Justified or Mariah Carey's comeback record The Emancipation Of Mimi. But now, Pharrell isn't just behind the scenes as a puppet master or playing second fiddle — he's a key contributor to the two hottest anthems of the summer. Maybe, just maybe, America will be forced to finally pay respect to the greatness that is Pharrell Williams.