Robin Thicke x Billboard.com Interview, Talks 'Happier' New Album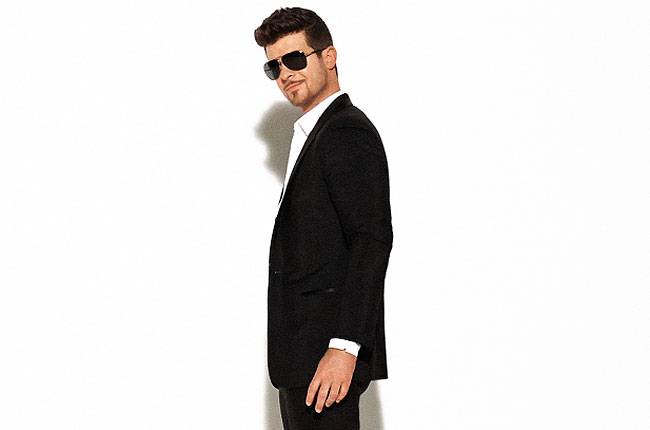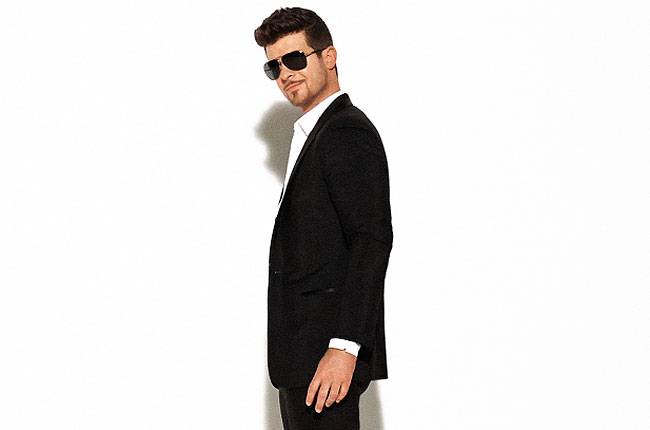 By Chris Payne. Robin Thicke's a busy guy these days: his new single "Blurred Lines" is beginning to transcend "viral video" status and grow into a bonafide hit, his new studio album of the same title is due for a summer release, and with a performance on NBC's "The Voice" slated for Tuesday (May 14), the promotional cycle is starting to kick in. He also started shooting a short film — a sentimental small-town social commentary called "Mercy" — that he also wrote. All things considered, a lapse in memory is completely understandable. When asked about his next single, a Kendrick Lamar/2 Chainz collaboration called "Give It To Me" that was allegedly produced by Will.i.am — Thicke had some backtracking to do.
"It's actually produced by Dr. Luke," explains Thicke. "Will.i.am and I did a couple of things together. We did a couple real good records. Will doesn't do any features [on the album]; we wrote and produced a couple songs together." The "Give It To Me" demo that recently surfaced at least sounds like a Will.i.am collaboration. It's a sharp left turn from the laidback funk of "Blurred Lines"; the follow-up is an EDM cut unlike anything Thicke has ever recorded before.
*billboard.com
"Definitely it's Robin Thicke music, but in a happier place," the singer says of the album's overall vibe. The title "Blurred Lines," meanwhile, refers to "the good-girl/bad-girl thing and what's appropriate, and that's what the video was about — what's right and what's wrong and what's inappropriate and appropriate. I'm semi-existential and realistic." In America, YouTube found the "Blurred Lines" video to be mostly inappropriate, and banned its unrated, NSFW version, which showed three topless women. "That's just America," says Thicke. "I definitely don't have any problem with nudity. I think people that are uncomfortable in their own bodies or are uncomfortable with their own bodies don't want to see other peoples'."
According to Thicke, he made the video before his label (Star Trak) had even spent "a dollar" on promotion. But thanks to all the dialogue and controversy it caused, the video sparked an onslaught of early interest in "Blurred Lines." The video, made an MTV International priority, has already become a staple in other less PC-minded nations, and its edited version has garnered 15 million YouTube views. In its third week on the Hot 100, "Blurred Lines" jumped 19 spots — from 89 to 70 — and figures to climb upwards as the promotional push kicks in. Thicke also talked to Billboard about what artists he's been digging lately. Some weren't big surprises — he sung the praises of Miguel, Drake, Kendrick Lamar, and Frank Ocean for their creativity and lyrical vulnerability — but Thicke is also a big fan of Vampire Weekend. "I like their stuff," he gushes. "They're pretty dope. They're great, creative, interesting, and original."