Robin Thicke x The Associate Press Interview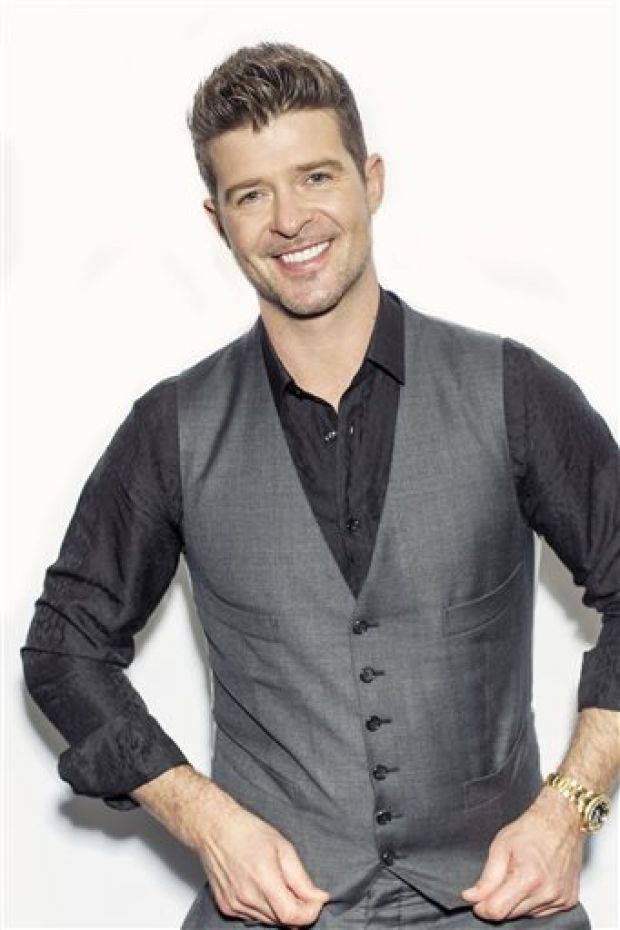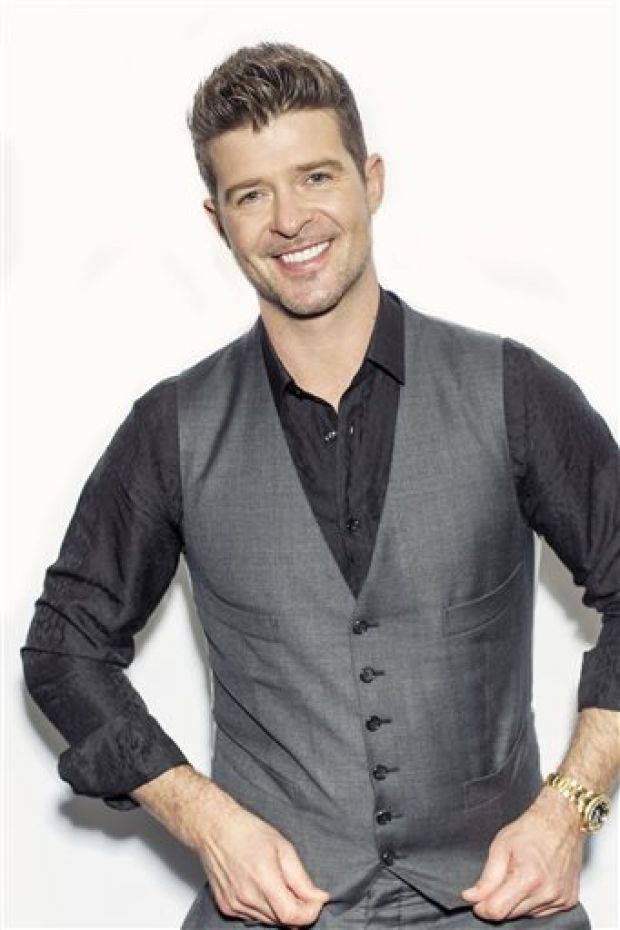 Robin Thicke is enjoying a pop culture moment with the upbeat Marvin Gaye-esque single "Blurred Lines," but the song didn't click with his record label when he previewed it last summer. "The record company didn't get it. They didn't even pay for the video. They didn't want to support it at all. Remy Martin paid for the video," said the 36-year-old crooner, who is a spokesperson for the liquor brand with his wife, actress Paula Patton. "And as soon as the record company saw the video, they said, 'This is a smash.'"
The ubiquitous "Blurred Lines" is the longest-running No. 1 hit on the Billboard Hot 100 chart this year with nine weeks on top. The video — the unrated version with nude models prowling was banned from YouTube — has more than 125 million views. The title track from Thicke's fifth album debuted at No. 1 on the Billboard 200 chart this week after selling 177,000 copies units, according to Nielsen SoundScan.
Thicke mostly wrote and produced the album, released by Universal Music's Interscope Records, with assists from william, Dr. Luke, Timbaland and Pharrell, his frequent collaborator since 2006. The 11-track set features a funkier, up-tempo sound that's somewhat of a departure for the Grammy-winning singer-songwriter, best known for his bedroom grooves "Lost Without U" and "Sex Therapy." In an interview with The Associated Press, Thicke talked about the song's success, switching up his style and what's up next.
AP: Did "Blurred Lines" sound like a hit to you?
Thicke: It did to me, and then I went into the record label and I played it for the heads of the label, head of pop radio … and everybody just went, 'Nice. Nice.' Got no response; was kind of surprised by that. A few months later went back in, played it again like, 'I think we have enough records here. I think we've got four or five really strong singles' — or at least four or five options for singles.
AP: How does it feel now that the song is a smash around the world?
Thicke: (Puts up middle finger and laughs.) Nah, I'm just kidding.
*theprovince.com
*auburnpub.com
AP: Did you finish recording the album before "Blurred Lines" took off?
Thicke: I always write about 40 or 50 songs per album. I had some stuff that I normally write — some slower, soulful, more depressing in some ways, introspective-type stuff. 'Blurred Lines' started to take off … so I went in the studio and I recorded three new songs that were up-tempo and funk.
AP: Why do you think the song is connecting with so many people?
Robin: The reason why 'Blurred Lines' is breaking records is because rarely do you have a song playing on all pop stations and all black stations, all of the urban stations. And because I have an urban fan base and urban audience, I wonder if it was a brand-new artist, would they play ('Blurred Lines') on black radio? I don't think so. They might not. … Someone was like, 'It's like (OutKast's) "Hey Ya!'"
AP: How do you think the naked video helped push the song to the top of the charts?
Thicke: I had just enough fans to get some people into it at the beginning, and then the naked video was just so good, it was kind of the thing people immediately say, 'Have you seen this?' — which is kind of what (director) Diane (Martel) wanted to do. She's been loving my music for 10 years, she's like, 'I can't believe you're not a bigger star.' … She said, 'I think if … we do a funny, silly video with topless girls, everybody's going to have to know who Robin Thicke is.'
AP: After all of the success, do you feel different?
Thicke: Absolutely. I went into the album with all kinds things in my head like, 'Why didn't my last album sell? How come?' I guess I need to freshen it up. I need to take some chances. I need to do something new. … So I did want to push the boundaries and work with some hitmakers to see if they could help me and luckily it all worked out. But the good thing is I didn't have to change who I am and what I like. And I almost did. I sang a couple songs I would not have been proud of if I released them.
AP: What are your thoughts on the controversy (some critics called the video and lyrics offensive to women)?
Thicke: For all the controversy and all this other stuff that people try to make it seem like that's more important, what's really important about music and entertainment is to entertain and make people feel good.
AP: Your past albums were less playful and deeper in content than "Blurred Lines." How did you loosen up?
Thicke: I loved the albums just the way they are. I have no regrets … but I figured I don't want to be one thing; I have to take some chances.
AP: What's next?
Thicke: I want to get right in the studio. I want to make a country album, a Christmas album, a gospel album. I'm like finally! I'm ready to make four albums right now.