Wayne Gretzky Was Babysitting Robin Thicke Back In The Day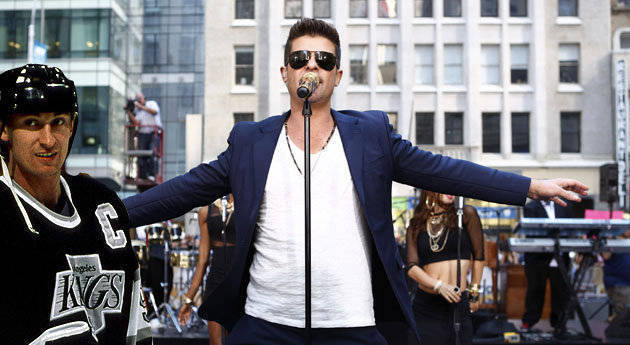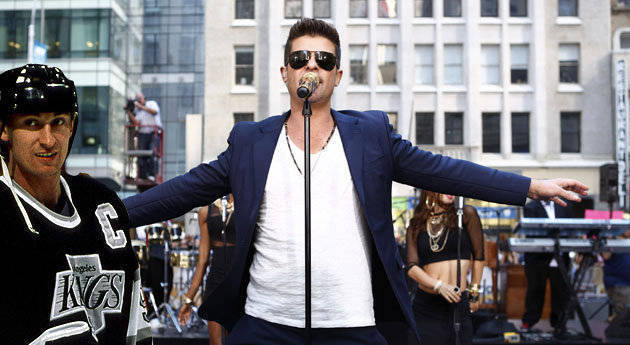 "I'm still proud to be a Canadian," Wayne Gretzky said during his first appearance in Edmonton after being traded to the Los Angeles Kings. "I didn't desert my country." But he did desert Robin Thicke. Robin Thicke has been around a long time — he even performed at the NHL Awards in 2009 — but not many people cared until this summer, when, thanks to Pharrell, T.I., Thicke hit it big with his smash single "Blurred Lines".
(Something tells me he'd be a little harder to get at next year's NHL awards. But I'm sure Chaka Khan is still available.) And now that the soulful Thicke is a big deal, this anecdote from his father, former Growing Pains legend and Canadian icon Alan Thicke, is a pretty big deal too: Wayne Gretzky was actually babysitting Robin Thicke when he was traded. Thicke relayed this odd connection to Luke Fox of Sportsnet last summer:
Alan Thicke – Sweaty & Hot

"I was rezinded of it a few days ago on the occasion of the anniversary of his trade from Edmonton to Los Angeles (on Aug. 9, 1988). He was house-sitting at my house in L.A. the night he got traded. I was in Norway with my other son (Brennan), and Wayne and Janet were house-sitting for my son Robin (11 years old at the time). I called from Norway because I picked up the Oslo morning paper and saw pictures of Gretzky —
but I couldn't understand the text, of course. And I thought maybe there had been a fire, a mudslide, a drive-by shooting, who knows? So I called home, and I learned Wayne left early in the morning; he got traded last night. He got the call at about 9 p.m., and he was gone by 6 the next morning. So we had to find a substitute nanny instantly, which is not as bad as what Edmonton had to find to replace him."
So here's what I imagine happened: Gretzky was like, "Robin, I have to go." And then Thicke was like, "But I'm 11! Are you supposed to leave me?" And then Gretzky was like, "It's a blurred line." Then he let the LA Kings liberate him. Ever since then, a heartbroken Robin Thicke has despised blurred lines wherever they may be found. Honestly, the most amazing thing about this story to me is that Alan Thicke was once such a big star he could get Wayne Gretzky to babysit his kids. Anyway. Thicke should have just replaced Gretzky with Jimmy Carson.