Dancehall Legend Super Cat Is Quietly Making A Comeback

Photo By Johnny Nunez/WireImage. After a near 10–year absence, new shows and a single reissue are on the horizon. Super Cat helped bring Jamaican Dancehall to global light in the Nineties with hardcore "gunman" tunes and crossover collaborations with the likes of Kris Kross, Sugar Ray and The Notorious B.I.G., but the "Don Dada" as he's known, has been largely absent from music for the last decade. But over the last few months, that's slowly been changing. "I went on a pause for a reasonable cause," Super Cat tells Rolling Stone, citing travel restrictions, the death of his long-time manager Fred Donner, and changes within Jamaican music for his lengthy absence.
"The music was taking a different turn to a different level. [I had to] go away for a minute with an empty plate and an old iron gate, until the most high said, 'return'." Born William Maragh, Super Cat put a cerebral spin on Jamaica's burgeoning dancehall sound in the 1980s, poking fun at sugar daddy relationships on 1986's"Boops" and breaking down third-world geopolitics on "Under Pressure." At the dawn of the Nineties, he relocated to New York, signed with Columbia Records, and released two albums: 1992's Don Dada and 1995's The Struggle Continues.
One of his mainstream breaks came in 1997, when Sugar Ray featured him on their massive single "Fly, " — but he faded from view not long thereafter. A planned comeback project with Pharrell Williams' Neptunes, who signed him to their Arista Records imprint Star Trak in 2002, was aborted. He made just a few appearances over the years: "The Don Of Dons" featuring Jadakiss and Styles P., from The Neptunes' 2003 album Clones, as well as a handful of Mixtape tracks and an appearance on 112's "Na Na Na." "I return[ed] the money to Arista because I don't want to have people's money," he says of his stalled-out album. "Next thing I'm responsible for what I can't deliver. And I don't like owing. I don't play those games." Make sure to get the Star Trak's The Original Heartical Don Dada Mixtape from 2003 below.
The artist's legend has been kept alive during his absence by supporters like dancehall superstar Sean Paul and Nas, who sampled Super Cat's "Dance Inna New York" on Life Is Good single "The Don." But it was Super Cat's old friend Shaggy who convinced him to return to the stage in August 2013 for a surprise cameo at Hot 97's On Da Reggae Tip event at New York's Hammerstein Ballroom. "Shaggy came in and said, 'I hear you're having a rough time…'" Super Cat explains. "[He said] 'Well, Dada, I want to reintroduce you and make the people know that you don't die."
Super Cat returned to Jamaica for the 30th Anniversary of one-day dancehall fest Sting, which he headlined alongside Beenie Man, Sizzla, Mavado, Lady Saw, Wyclef, and 2 Chainz. The concert is held annually on Boxing Day, December 26th, and was the site of Super Cat's most legendary performance, a heated 1991 "clash," or lyrical battle, with rival artist Ninjaman. The next stops on Super Cat's quiet comeback trail are Orlando and Fort Lauderdale, where he'll play the Mela Room and Revolution Live on January 18th and 19th, respectively. And he plans to digitally reissue "Reggae Matic," a rare single from 10 years ago that was lost in the shuffle during his time with The Neptunes. "It was a hidden project," he says of the song, which he said was released in a limited quantity of 1,000 CDs and 1,000 vinyl 45s in 2004. "We are going to put it out when the people say what they say, because we need the people to sell what we sell, and we need the people to love what we do."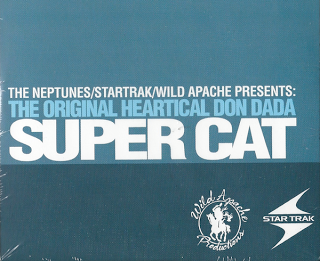 Super Cat – The Original Heartical Don Dada (2003)
Intro
Weed Man (Freestyle)
Midnight Lady (Snippet)
Wha U Name (Freestyle)
Ghetto Red Hot
Na Na Na Na feat. 112
Dem No Worry feat. Heavy D. (Snippet)
Ghetto Red Hot (Remix)
Crazy Love
Dem No Worry feat. Heavy D. (Remix) (Snippet)
Nuff Man A Dead
Come Down (Snippet)
Mud Up
Dolly My Baby Hip Hop feat. Notorious B.I.G.
Under Pressure (Snippet)
Big Ready feat. Heavy D. & Frankie Paul (Snippet)
Girlstown
Trash & Ready (Snippet)
Cry Fi De Youth
Jump feat. Kriss Kross (Remix)
My Girl Josephine
Vineyard Party (Snippet)
Don Dada
How Yuh Pretty So
Kill Dem feat. Cutty Ranks
Don't Test
Fly feat. Sugar Ray
I'm Not Sure Anymore
Outro
Don Of The Dons (Put De Ting Pon) feat. Pharrell & Jadakiss
Total Size: 153.82MB
zippyshare.com/v/68818946/file.html