Pharrell Is #1 On The Billboard Hot 100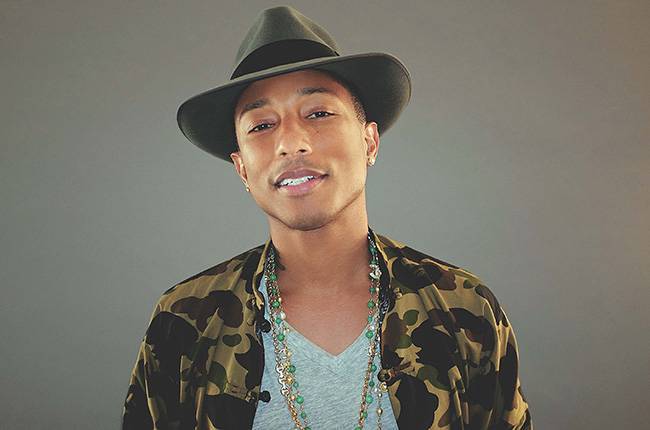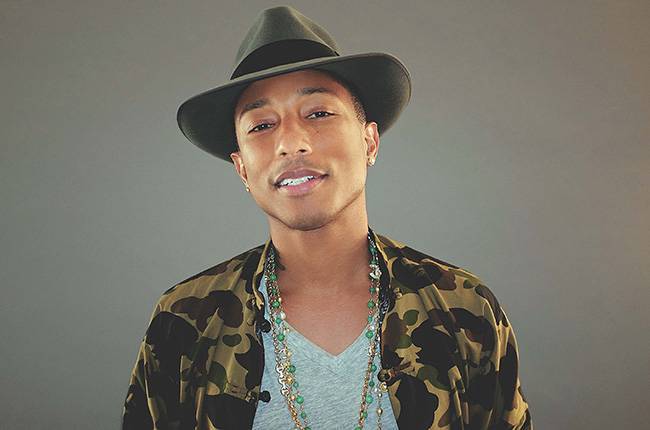 Pharrell Officialy made it. It was just a matter of time to see Pharrell going #1 On The Billboard Hot 100. After the huge success all over the world with the single 'Happy', Pharrell dethroned 'Katy Perry's 'Dark Horse' from Number 1 after two weeks at No. 2, the song rises to the top, after four weeks at the summit.
Williams claims his fourth Hot 100 No. 1, but first as a lead artist. He'd previously ruled as a featured act on Snoop Dogg's "Drop It Like It's Hot" (three weeks, 2004); Ludacris' "Money Maker" (two weeks, 2006); and Robin Thicke's "Blurred Lines" (also featuring T.I.; 12 weeks, 2013). (Technically, Williams boasts one other "Number One" on the Hot 100: his song "Number One," featuring Kanye West, reached No. 57 in 2006 …) As half the duo The Neptunes, Williams has also produced and co-written two other Hot 100 No. 1s on which he doesn't claim an artist billing: Nelly's "Hot In Herre" (seven weeks, 2002) and Gwen Stefani's "Hollaback Girl" (four weeks, 2005).
Pharrell Williams – Happy (Official Music Video)

Pharrell, Bono & Co.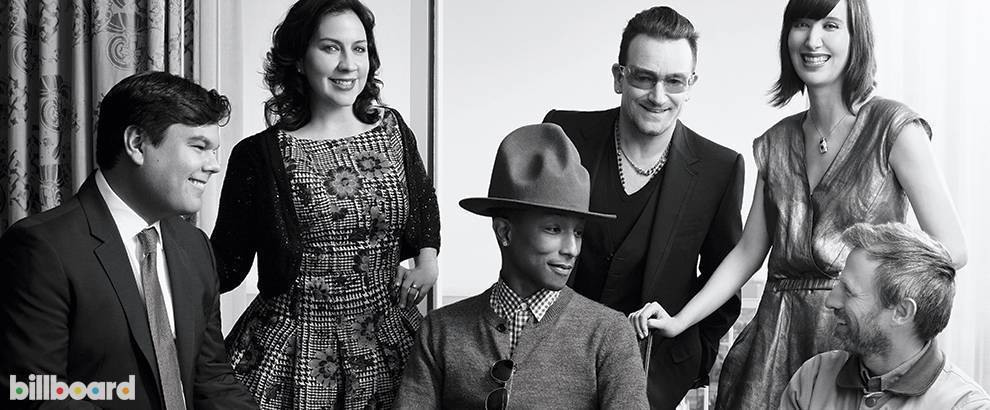 All he needs now is the Oscar, tune in this weekend on Sunday for the Oscar Night, despite being nominated for the Oscar for 'Best Song' off 'Despicable Me 2', Pharrell will also perform the song on stage.
With Williams having first graced the Hot 100 the week of March 2, 2002 (as a guest, with Diddy, on Busta Rhymes' No. 11-peaking "Pass The Courvoisier Part II"), he waited 12 years and a week (as this week's chart is dated March 8) for his first Hot 100 topper as a lead act. He closes the longest interval between an act's first chart entry and first No. 1 as a lead since Dr. Dre needed 15 years and three weeks from 1993's No. 2 hit "Nuthin' But A 'G' Thang" to 2009's "Crack A Bottle," on which he shares lead billing with Eminem and 50 Cent. (In between, Dre spent four weeks at No. 1 in 1996 as a featured act on Blackstreet's "No Diggity.")
"Happy" tops the Hot 100 fueled largely by a 22% gain to 402,000 downloads sold, according to Nielsen SoundScan, and leads Digital Songs for a second week. The sum marks the biggest sales week for a song outside the Christmas season since the week ending Sept. 15, 2013, when Miley Cyrus' "Wrecking Ball" crashed No. 1 with 477,000 sold (after the song's buzz-worthy video had debuted on Sept. 9).
"Happy" additionally pushes 4-2 on Radio Songs with a 28% surge to 139 million all-format audience impressions, according to Nielsen BDS, and hikes 7-4 on Streaming Songs with 6.1 million U.S. streams (up 38%), according to BDS. The song claims the Hot 100's Airplay Gainer award for a fifth consecutive week and the Digital Gainer nod for a third straight frame. "Happy" concurrently spends a third week at No. 1 on Hot R&B/Hip-Hop Songs.