Alyssa Bernal x HeyYeh Interview: Five Minutes With Alyssa Bernal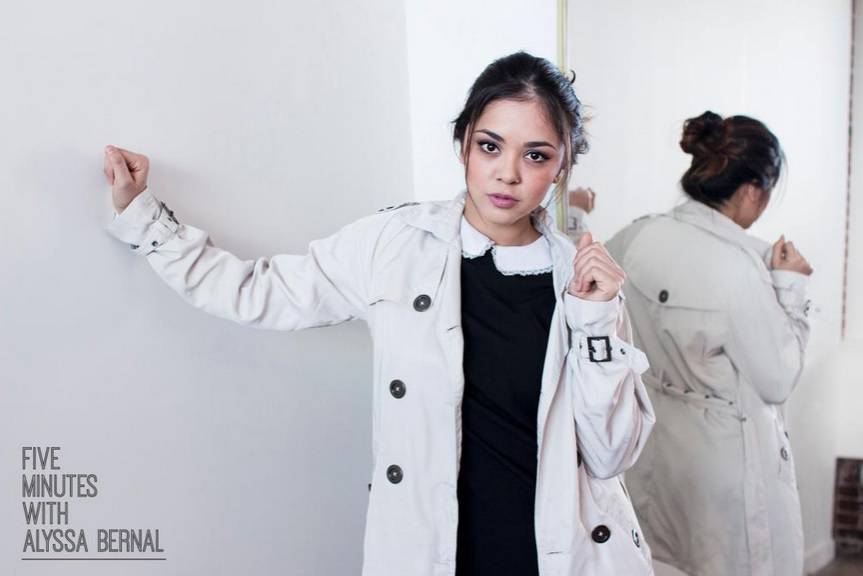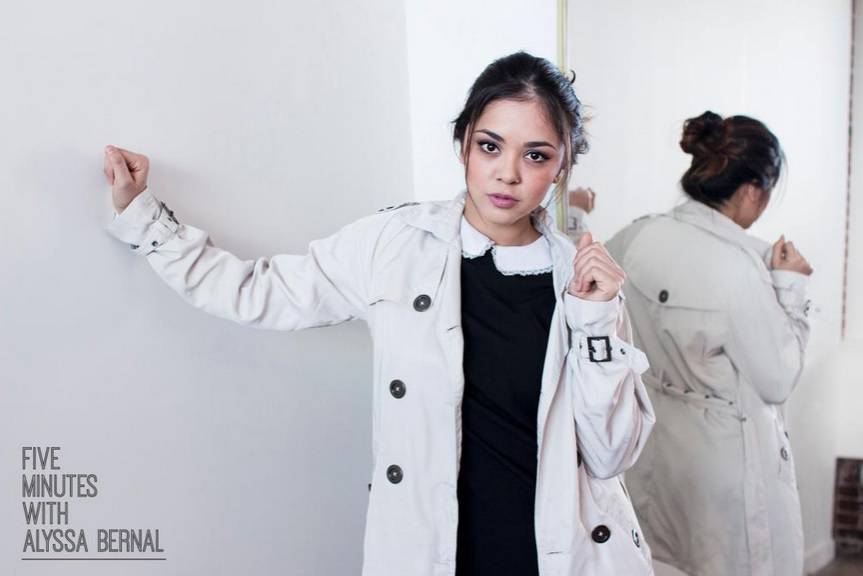 Photograph by Courtney Yeh

How did you get into music?
I got into music because I grew up into a family of musicians. All of my dad's side of the family are musicians and it's in my blood.
How old were you when you started?
I've been singing since I was 3 or 4, there are so many home videos. I grew up pretty shy! I came to the realization when I was about 18. I went to a private catholic high school, where the new music director inspired me to put myself out there. That's about the time I got an account on YouTube and realized I wanted to do music because of the comments and positive feedback I was getting and how much my music impacted people.
What was it like putting up your first YouTube video?
It's funny because I created an account to put up silly videos of friends and I knocking off. And then I realized people put up singing videos, but there weren't that many at that time. I got inspired because the ones that were up weren't very good, haha. So I thought "Hey I can sing.. I'm pretty good.." so I started doing that. The first video I did was "Killing Me Softly" and it was really cheaply set up. I didn't even set up the camera on books or anything. I just held the camera like a recording device and just sang into it with the instrumental playing. I got really good feedback and made me feel good, so I continued!
What's the best story you've heard?
There was a soldier and his roommate that got stationed together and went into battle together. His roommate passed away and when he cleaned his stuff up, he saw his laptop open watching one of my videos. That soldier sent me a request to sing "Hallelujah" by Jeff Buckley and it's one of my most viewed videos. I'll never forget where I came from because of that and that's one of the main reasons what moved me to do music.
What's the weirdest comment you've ever gotten from a fan?
Oh… Once in awhile you'll get those feet comments. Hahaha.. Like, let me see your feet or something. I'm sure there are weirder ones but it won't be appropriate to share. People on YouTube are not shy about speaking their minds!
Who are your top inspirations?
Musically, I listen to a lot of soul, blues, and acoustic. Like John Mayer, Joss Stone, Norah Jones… just that singer/songwriter circle growing up, which kind of molded me to who I am today as an artist. Everyday life, people that I meet out here, like you, my boyfriend, our friends, dancers, just people who are striving to do what they love. The idea of doing what you love and getting paid for that.. I mean there's stress but at the end of the day you do what you love and that's inspiration for me.
How would you describe your music?
Just recently, I changed my sound drastically. I've gone more of a darker path kind of like a mix of Lorde and Ellie Goulding. I say that as reference but when you hear my music, it still sounds like my own thing. It's more mature sounding, 808, hard beats and lots of synth. If I had to categorize it, it'd be… dark pop.
What are you working on right now?
It's been so long since I put music out that I think I'm going to put out single by single. I have a few songs and music videos ready on deck. I want to reintroduce myself and intrigue my followers again.
What are your goals for your career?
Put out an EP. Put out an album. And I really want to go on tour. I've only been on one nationwide tour and it was amazing. But I really want to go to the Philippines. It's cool because on YouTube you can check out the demographics of your followers. I really want to hit up all those top countries and meet my "lysseners" – that's what my followers call themselves. 🙂
Favorite food.
For the longest time, it was Chicken Phad Thai. It's a cross between that or sushi, but lately, Pho has really been creeping up there!
Favorite meal of the day.
Dinner, but my dinners are always super late like 10:30pm, 11pm.
What time do you sleep?
Anytime between 11pm – 4am. Hahaha. Life of a musician…
Instagram or Twitter?
Hmm.. I'm favoring towards Instagram right now.
What do you do during your down time?
Sleep hahahaha. I also like to snack! Hahaha. I like what everyone else likes to do, hang out with friends, watch scary movies.. go get pho!
What's your day-to-day like?
Hmmm. It's different everyday. When you're self-employed, it's really laidback. I wake up around 10 or 11. My boyfriend is a producer and he always has tracks that he wants to bring to life with lyrics so when I'm really bored, I'll work with him.
Do you have any tips or advice for someone who wants to get into the music industry?
Put yourself out there on every outlet. Back then I was super fortunate when YouTube wasn't as popular and I just got really lucky. I did it for fun, and at the end of the day you should do everything for fun.
Get creative.. Think of new things and do something that makes you YOU. Something that makes you stands out. Always update people! You have to start somewhere, whether it's word of mouth from family or friends. People will always support you. When I was starting out, I was so scared of rejection, but I found that sharing your talent with the world only inspires others and will in most situations get lots of support.
What's the best way to follow your music?
YouTube: Alyssa Bernal
Instagram: @alyssabernal89
Twitter: @alyssabernal
Facebook: @alyssabernal