Mansions On The Moon x NestHQ.com Article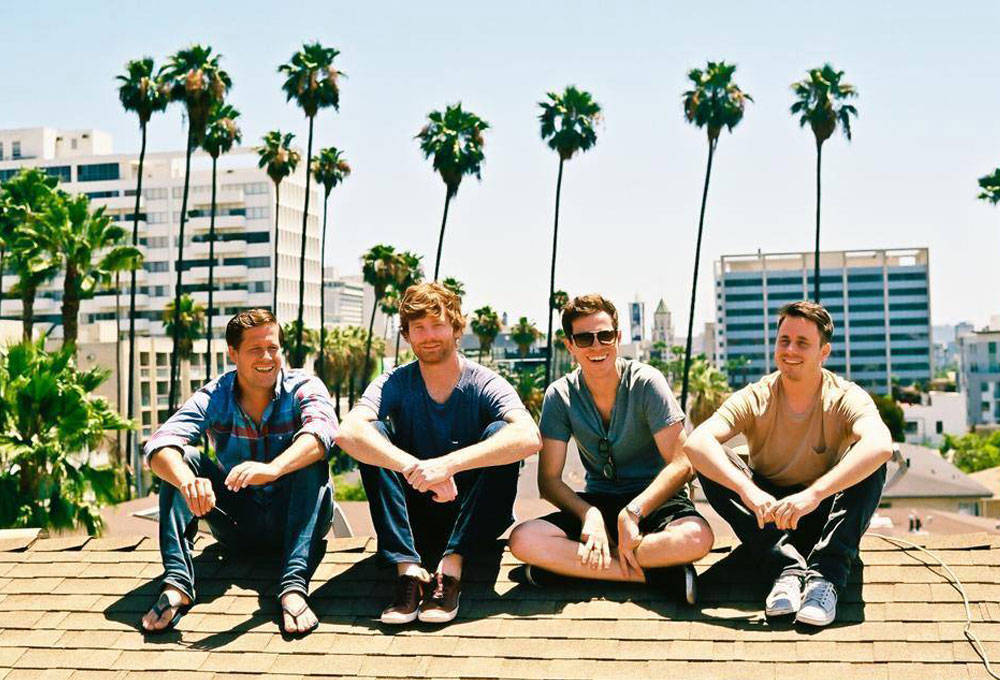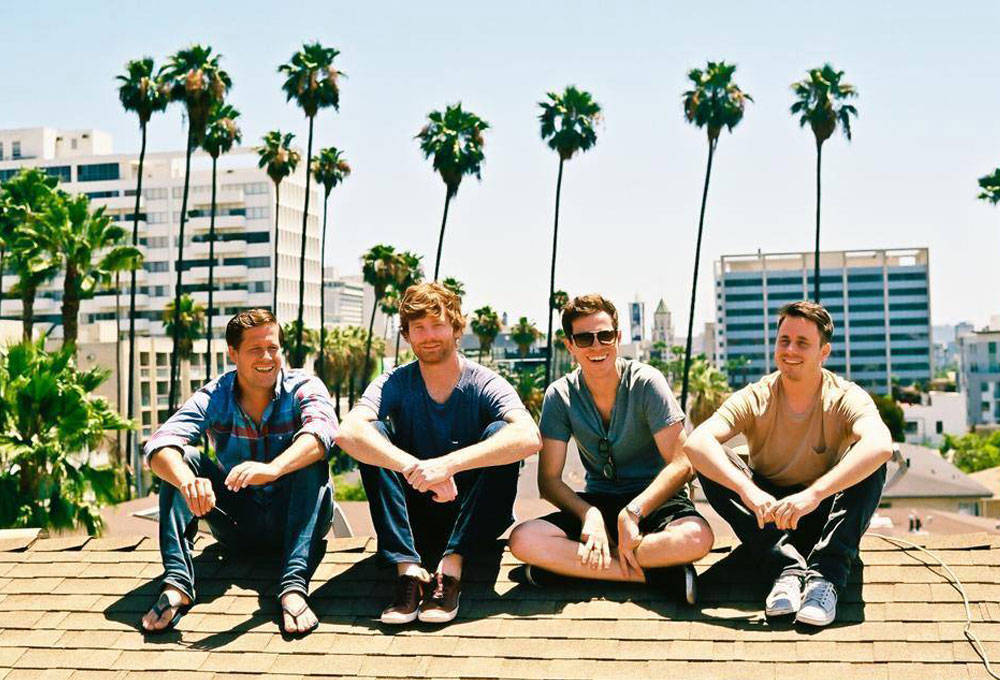 I've always loved Mansions On The Moon because so many of their songs tell a story. There are so many stories about and within this band it's hard to pick a focus, sitting next to singer Ted Wendler in the green room at their LA homecoming show I'm realizing my story has no angle. "I wonder if there's a way to include The Hamptons Paul McCartney belt story," I tell him, remembering the last time I interviewed Mansions years ago. "That's one of my favorite stories anyone's ever told me and I just don't know how it's going to fit in."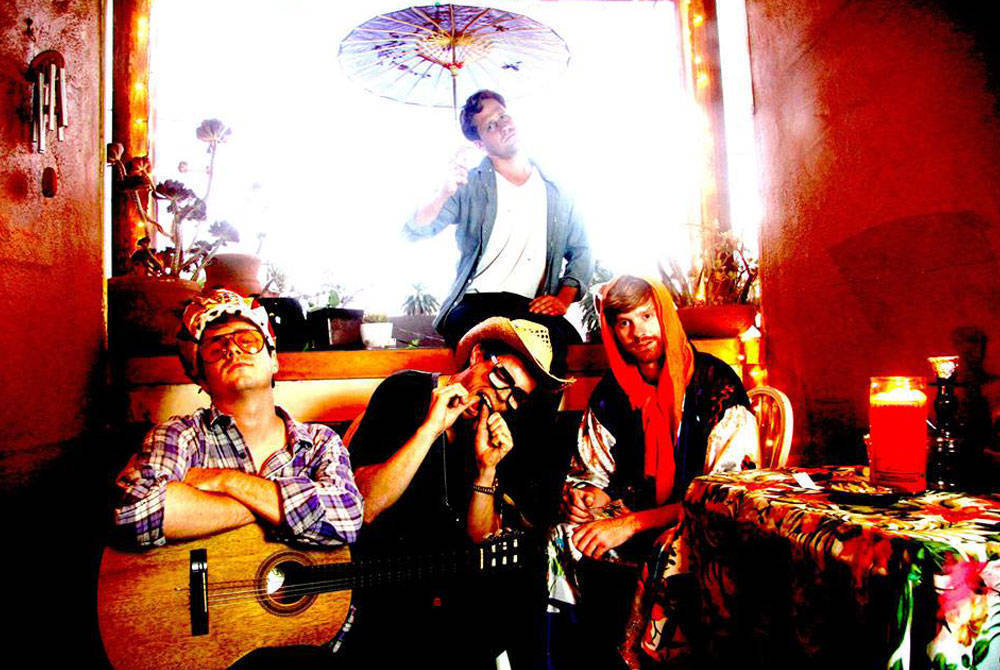 He smiles and says, "I think you should just go for it – you'll make it work," and I will. But you have to wait until the end cause 1. suspense and 2. another story was unfolding right in front of us in real time. "Where's Ben?" I ask. Beni Haze is the keyboardist and link between Lane Shaw, the drummer who's been in bands with Ben for 10 years, and Ted, Mansions' frontman and primary lyricist. Their Berklee-trained bass player Jeff Maccora aka Baby Jeff (despite being the oldest in the group) came on board in 2012 in response to a Craigslist ad. Everyone gets a little quiet when I ask about their missing 4th.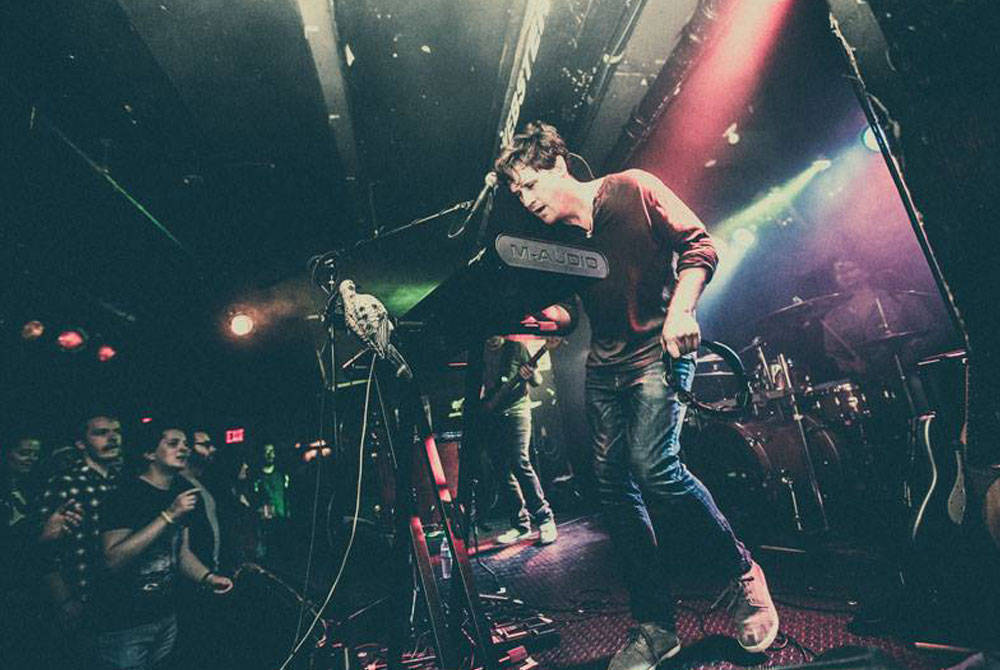 "Ben's DJing at Avalon tonight," Lane finally replies, and I laugh because that's the opposite of what Mansions On The Moon does. But he's not kidding – Ben stopped touring with the band last year due to health issues and besides producing music for Mansions and some major pop acts, he DJs out as Beni Haze. Now I'm laughing on the inside because one of the questions I wanted to ask was if as a touring band they ever felt any resentment towards DJs for being able to go out with a laptop, play mostly other people's material and make all this crazy money.
There are DJ/producers who, if they're really talented and know what they want, can produce big room bangers in a matter of minutes. The Mansions On The Moon self-titled album they put out in October is a culmination of five years' work, 12 if you count songs on the album Ted wrote as a teenager. "Harmonies and melodic-driven song writing are sometimes lost with more electronic artists and we try to maintain the integrity on the song-writing format," says Ted, who has no formal musical training.
He found a guitar in his parents' attic that his dad bought a month before he was born, some of the songs on this album are ones he wrote alone in high school and college. "The song 'Leaves Fall,' I wrote that in a basement alone with a bottle of whiskey never thinking anyone would ever hear it and now I see people covering it on Youtube. That's mind blowing." A demo containing those early songs from Ted was passed around in Ben's hometown of Virginia Beach. It attracted the attention of Shae Haley, Chad Hugo and Pharrell Williams of N*E*R*D (Pharrell is credited as Executive Producer on the first Mansions On The Moon EP, Lightyears).
The week they decided to become a band they got that phone call and were invited to use The Neptune Studios space in Virginia. But in order to get the full story on how all of this happened, I have to go talk to the band's great connector, Beni Haze. He eventually shows up just before their set, but I decide this is not the best setting to get the real story out of him. As a fan, I can tell you it's strange not seeing him on stage at their hometown show. "I've known Ben and been in a band with him for 10 years. We were on the road 250 days out of the year at one point," explains Lane. "We've been together forever."
He, Ben and Alex Botwin (now Paper Diamond) had a band together from 2004-2010 called Pnuma Trio that blew up internationally. They signed to Columbia Japan and toured extensively til they just had enough and decided to move on creatively – that's when Ben reconnected with Ted, and Mansions was born. "Our grandparents were friends," Ben tells me when we go to lunch the following week. Ben, as the lynchpin of the band, is the great keeper of the stories. He grew up spending summers with Ted in a little lake-town in Michigan, where he returned in the summer of 2010.
"Someone told me, 'You have to go see this kid singing down on the docks.' When you go to college you get separated, I hadn't seen Ted in years, but I went down to the dock and it was him. I brought him back to our cottage and we brought a crowd back with us, everyone sitting around listening to Teddy sing songs he'd written in high school and college. We were completely captivated by him and that's where my focus expanded from being an electronic instrumental keyboardist-guy to wanting to make songs with lyrics because I saw how powerful it was."
After that summer, Ben kidnapped Ted and took him to work on music in Virginia. Lane came to hear what the two of them had been working on and, as all three of them identically stated in their interview, "The rest is history." When asked how to describe their sound to someone who's never heard it, no one in the band can really give me a solid answer – but Ben makes the best attempt. "The only thing I can really say about our sound is it's completely our own. We never tried to copy anyone, never said, 'let's make a song that sounds like this.' We never reach for anything except to make sure we all love our music."
The alchemy of talent in this band is too potent not to boil over. If futurists like Pharrell can hear the gold in a demo that's because it's some real-deal shit. The album is an anthology of Mansions history as a band and as individual musicians. And the sly commentary they sneak in on the current nature of the music business-beast is priceless – lyrics from one of their earlier tracks 'Radio' are printed below for your perusal.
they told me to tell them put your hands up
so people will play my song in the club
and sing about the money that i don't have
make this song like the last song
and the song before that
because you heard it on the radio
doesn't make it beautiful
where did all the music go?
i think its locked in a box in my heart and my soul
If you can't feel all the feels packed into those words just by reading them, you should really just listen to the track embedded above for your convenience. Baby Jeff describes it best when he says, "Ted is really a master I think at these sort of dark, lonely lyrics, and juxtaposed with the happy music we put to it, it really creates something cool. Everything he writes has a timeless quality to it."
I could not have said it better — Mansions On The Moon gives me all the feels I realize I've been missing since I went full-EDM. It's been a long time since I've seen a band play live, and as I'm dancing my head off at their show I further realize their sound is the perfect culmination of everything I love. When do I get to see these guys on the EDC live stage? No offense but fuck deep house, I want to rave to a live band singing about real shit.
And now, since you've made it all the way to the end, I get to tell you the Paul McCartney Hamptons belt story. Back in the green room where we started with Ted, he shows me that he's wearing the actual belt. "I always wear it," he says. "It's lucky." The story goes that Mansions was playing a private party in The Hamptons and at the time employed a lighting guy named Boone who looks exactly like John Lennon. He's pictured below for reference. Boone and Jeff were walking with Ted, who had lost his belt and was being grossly encumbered by his pants continually falling down.
The exact moment Boone says, "Oh shit, that's Paul McCartney up there," Ted finds a perfectly suitable brown leather belt in the street and goes to retrieve it. According to Jeff, "Paul's on a bike with his daughter and he's just staring at Boone with some kind of wonderment. We ask for a picture and Paul says, 'No, man. The reason we come to Hamptons is so we can get away from all that paparazzi stuff.' There was such a mix of emotion on his face and he asked if we're 'in a band or something?' We told him we were." In that moment, Ted walks up triumphantly holding the belt attempting to explain its synchronistic significance to the group. The Tour Gods had swallowed most of his clothes the night before and he was wearing just a blazer with jeans and no shoes.
Sir Paul says, "Well, what say we all cross the street?" "As we walked, I realized that we were all crossing the street with Paul McCartney just like the cover of Abbey Road," said Jeff, only this time it was Ted not wearing shoes instead of Paul. The Beatles' legacy may be wasted on Kanye fans, but not on these guys. Here's hoping in 2015 our scene catches up to the magic that is this band, their story is only going to get more wild. Pharrell gets it, Paul McCartney gets it – one listen of the Mansions On The Moon album and you'll get it too.