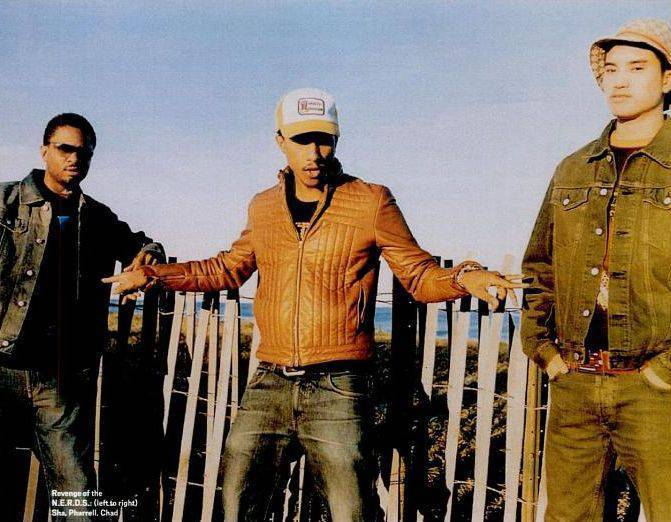 Most of y'all should remember back in 2002 when the first Star Trak site launched, there was this little Neptunes Discography with a Brandy tune titled 'Save The Babies, well here is an article where The Neptunes say that they are about to go in with Brandy in the studio for Brandy's third studio album 'Full Moon (2002)', so 'Save The Babies' is probably from that studio session but it was never released, probably the management didn't liked it and went with the Darkchild tunes instead heh (Michael Jackson Topic). The article also says that they're about to produce for Stevie Wonder too, so after all, the Stevie Wonder x Neptunes Tracks rumours aren't rumours at all, check out the article below.
Chairmen Of The Boards
These days, no major hip hop album is complete until The Neptunes have contributed at least one track. With the release of their debut album N*E*R*D, these fiery 'It Producers' are turning up the heat. By Joseph Patel.
Angie Martinez swivels in her chair, not convinced. "I don't know if I like it so much anymore," she says, shaking her head. "It's not the same as before." Martinez, a New York City radio personality on Hot 97 who is taking her turn as a recording artist, is sitting in the basement of New York's Right Track Recording Studios across the production console from her producer, Pharrell Williams of The Neptunes. "I thought you were going to sing the hook," she says, almost pouting. Martinez is referring to the final version of "Dem Thangz," the scheduled first single from The Up Close & Personal Project, her debut album. The beat blasts out of the trademark club-ready, chopped-up speakers that have become Pharrell, 28, and his Neptunes partner, 27-year-old Chad "Chase" Hugo's, trademark.