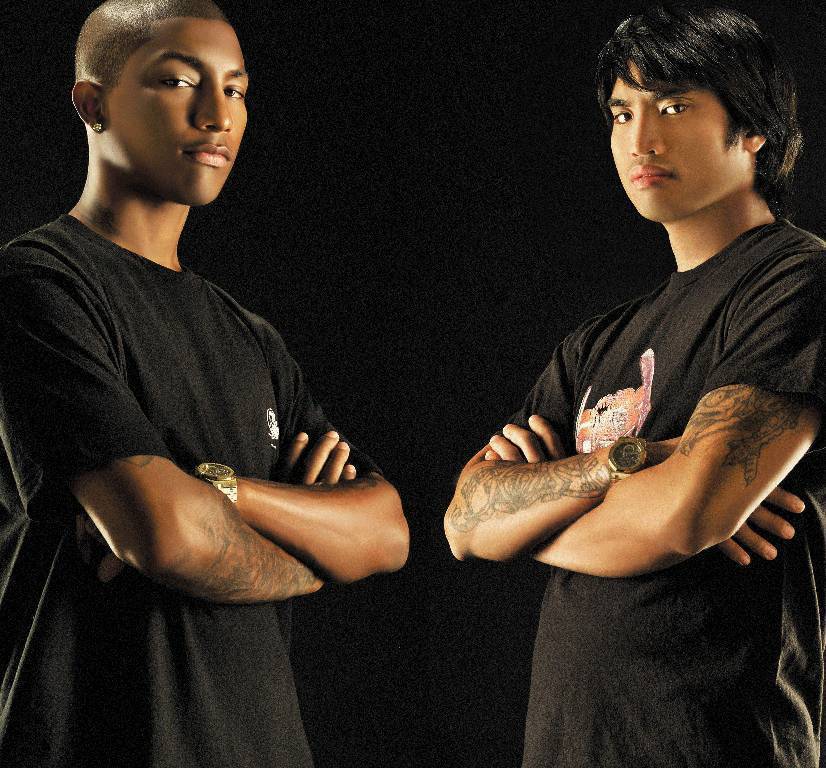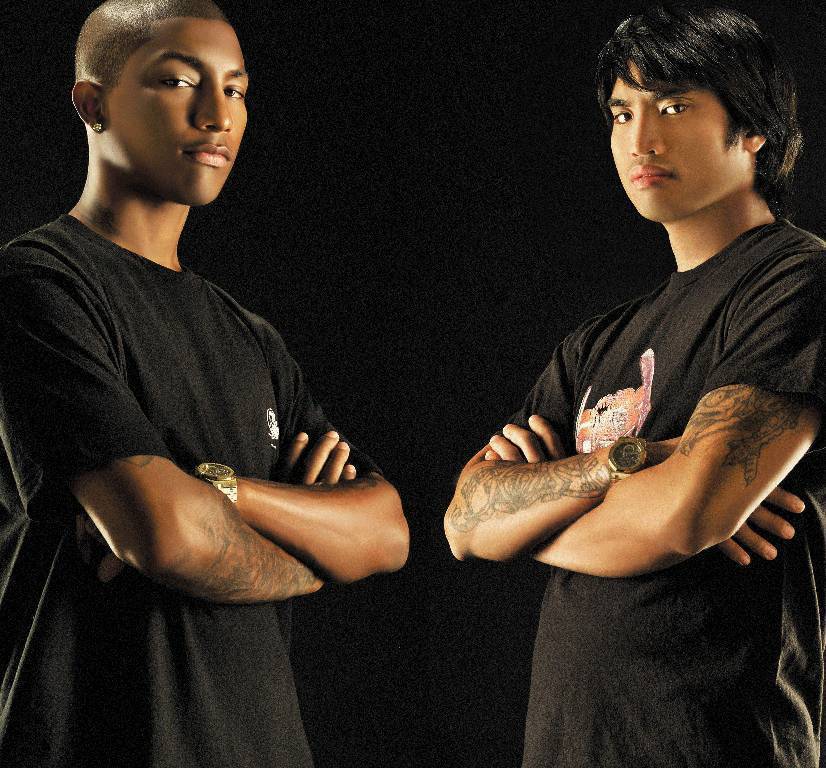 The Neptunes are a record production duo consisting of Pharrell Williams and Chad Hugo, who are credited with contributing the sound for many successful Hip Hop, R&B and Pop artists in the late-1990s and 2000s. In fact, it might be easier to list the hitmakers of the past couple of years who haven't worked with them, practically everything they touch turns to gold. The twosome's distinctive sound — syncopated, often synthesized rhythms hyped up by alternately terse and heavy beats. It's currently a given that, if you want a hit, you'd best make a call to The Neptunes one of your top priorities. The Neptunes got their start a long way from hip-hop's urban centers in Virginia Beach, VA.
Pharrell and Chad met in seventh grade, in a school jazz band in which Pharrell was playing drums and Chad was a saxophonist. (Both play Live Instruments, Guitars & Keyboards). The extroverted, African-American Pharrell Williams, perpetually in motion and busily single and the calmer, quieter, Filipino Chad Hugo, who has a wife and children. But both have voracious musical tastes. A top producer can command an advance of up to $150,000 per track, and The Neptunes are in demand everywhere. In Virginia Beach, they soaked up Hip-Hop, 1970's Rock, Punk and everything else in their parents' and neighbors' record collections, and by the early 1990's they were performing around town. Pharrell was a member of a Hip-Hop group called Surrounded By Idiots; it included one DJ Timmy Tim, aka Timothy Mosley, who would soon rename himself Timbaland and transform 1990's hip-hop and R&B with his twitchy, fractured electronic beats.
Pharrell and Chad also have a vocal group with Shae called N*E*R*D, that was discovered in a 1992 talent show by the producer Teddy Riley, whose pioneering new jack swing productions in the 1980's had updated R&B crooning with terse Hip-Hop rhythm. Pharrell and Chad became Mr. Riley's protégés, working in the studio with groups including Blackstreet and S.W.V. Since 1998, when Mr. Williams and his partner, Chad Hugo, got their first major recognition by producing "Super Thug" for the rapper Noreaga, The Neptunes have been delivering hits in Hip-Hop "Jay-Z & Ludacris", Blues "Eric Benet & Angie Stone", "Electronica "Daft Punk & Basement Jaxx", Jazz "Alana Davis & Ben Harper", R&B "Babyface & Mariah Carey", Pop "Britney Spears & Justin Timberlake", Rock "No Doubt & The Hives" House "Bryan Zentz & Swedish House Mafia" Reggaeton "Pitbull & Daddy Yankee", Reggae "Beenie Man & Sean Paul" among many others.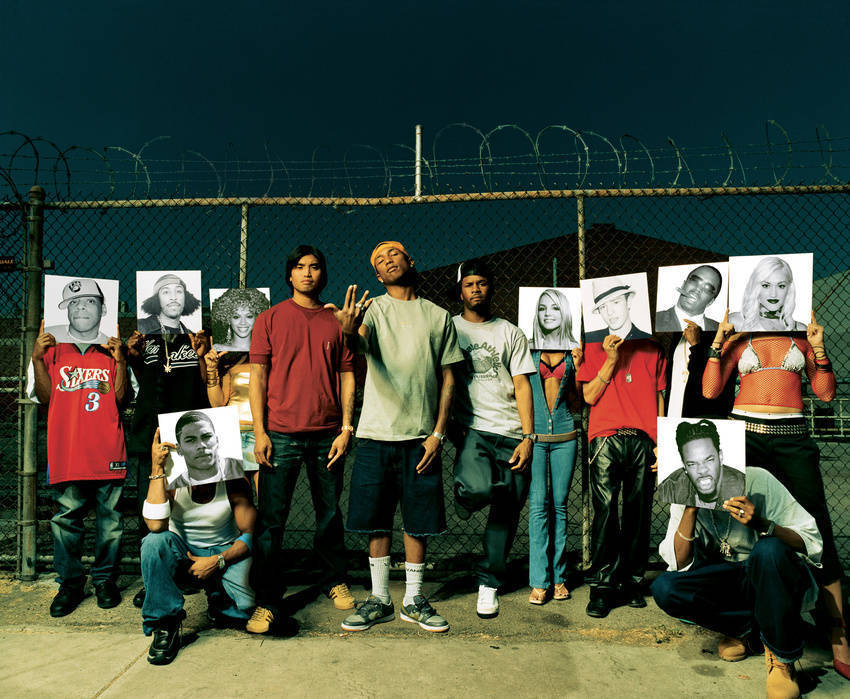 Taking the name Neptunes, because Neptune rules water and water covers most of the Earth, they began producing their own songs. By the late 1990's, The Neptunes style had crystallized as minimal, staccato electronic tracks. They use the freeze-dried, uninflected tones of the digital era: the snap of drum samples, the blips and tweets of video games and cell-phone rings. But there's also a touch of Mr. Riley's smoothness when Mr. Williams sings airy hooks. In music that can be obsessed with booming bass, The Neptunes sometimes use no bass notes at all; pockets of silence drive the songs as much as the notes they play. "We do skeleton songs," Mr. Williams said. "We always know when something is too much, we always know when something isn't enough. And syncopation is essential."
Although Neptunes tracks revel in the mechanization of looped and programmed riffs pumped out by computerized sequencers, they often add an element that sounds winningly askew: the drooping, detuned notes in "I'm a Slave for U" or a drum-machine accent that lands just behind the beat. "That's how music was in the beginning, because it was played by humans," Mr. Williams said. "A live band would take it all over the place. That's what makes it hot. Sequencers are perfect, humans are not, and that imperfection is perfection." The Neptunes are determined not to turn their production into a formula. Mr. Hugo recently had a chameleon tattooed on his right shoulder as a symbol of mutability. "Every artist has a signature sound, just like Van Gogh," Mr. Hugo said. "We did that in the beginning for people to notice us. It's like tagging on a subway. But now it's time to switch it up."
Mr. Williams continued: "If you go back five years to the songs we were doing, they don't sound like what we're doing now at all. Gradually we introduce elements to you, and we may use that element in another song, but it's passed on, it's not the same thing. It's like people thinking our house is made of bricks, and it's not. It starts out brick, but graduates to stone, and it graduates to wood, and it graduates to stucco, and then it graduates to glass, and then it graduates to steel, but the thing is that it's gradual. Every so often we throw a curveball, and you won't even know we did it."
Awards & Nominations
Grammy Awards Wins
Producer Of The Year, Non-Classical (2004)
Best Pop Vocal Album, Justified By Justin Timberlake (2004)
Best Rap Song, Money Maker By Ludacris (2007)
Grammy Awards Nominations
Best Rap/Sung Collaboration, Frontin' By Pharrell (2004)
Best Rap/Sung Collaboration, Beautiful By Snoop Dogg (2004)
Best Rap Song, Beautiful By Snoop Dogg (2004)
Best Rap Song, Excuse Me Miss By Jay-Z (2004)
Best Rap Performance By A Duo Or Group, Drop It Like It's Hot By Snoop Dogg (2005)
Best Rap Song, Drop It Like It's Hot By Snoop Dogg (2005)
Producer Of The Year, Non-Classical (2006)
Best Rap Album, In My Mind By Pharrell (2007)
Billboard Wins
Producer Of The Year (2003)
Producer Of The Decade (2009)
Billboard Nominations
Songwriter Of The Year (2002)
Producer Of The Year (2002)
Songwriter Of The Year (2003)
Producer Of The Year (2004)
Black Reel Award Nomination
Best Song, Work It Out By Beyoncé (2003)
Satellite Award Nomination
Best Original Song, Work It Out By Beyoncé (2003)
Charles Hugo aka Chad Hugo/Chase Chad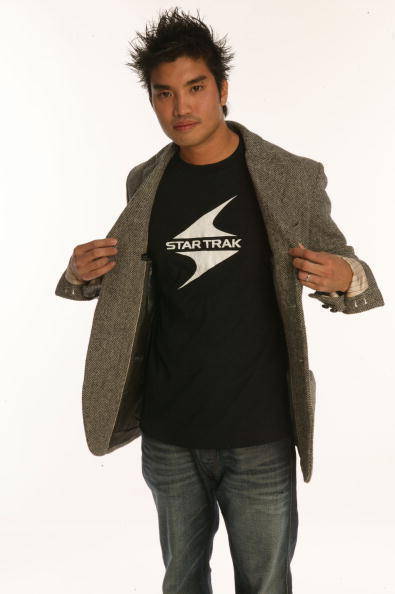 Hugo was born in the South Hampton Roads city of Portsmouth, Virginia. He grew up in Virginia Beach; his father is a retired Filipino-American Navy officer while his mother is Filipina. Pharrell Williams and Chad Hugo met at the ages of 12 at a summer camp for musicians. The two began working together, mixing beats and playing in various live bands. In 1992, while the two were attending different high schools in Virginia Beach (Hugo at Kempsville High School), Williams was paid to write a verse to the 1992 single "Rump Shaker", by Wreckx-n-Effect.
After several years of occasional productions for artists often associated with founder Teddy Riley, such as BLACKstreet and SWV, they scored songwriting and production assignments with artists such as N.O.R.E. and Mystikal, which became hits, allowing them to produce with their own distinctive sound for megastars such as Jay-Z. Hugo has been described by The Source Magazine as the "Mr Spock" to Williams' "Captain Kirk", an analogy that does not sit well with Hugo, as he does not see himself as "stiff" like "Mr Spock". However, he does say Williams usually provides the beat (as the drummer of the duo) and most of the melodies to the Neptunes productions, whereas his role lies more in as a 'one man band' and sequencer.
Born: 24th February, 1974
Birthplace: Virginia Beach, VA
Gender: Male
Race Or Ethnicity: Filipino
Sexual Orientation: Straight
Occupation: Music Producer, Writer, Multi Instrumentalist
Nationality: United States
Executive Summary: The Neptunes
Spouse: Rachel
Children: Rayna & Chase
High School: Princess Anne High School, Virginia Beach, VA & Kempsville High School, Virginia Beach, VA (1992)
Filmography:
The Neptunes Present: Dude We're Going To Rio! (2003)
90210: Women's Intuition (2009)
Pharrell Williams aka Skateboard P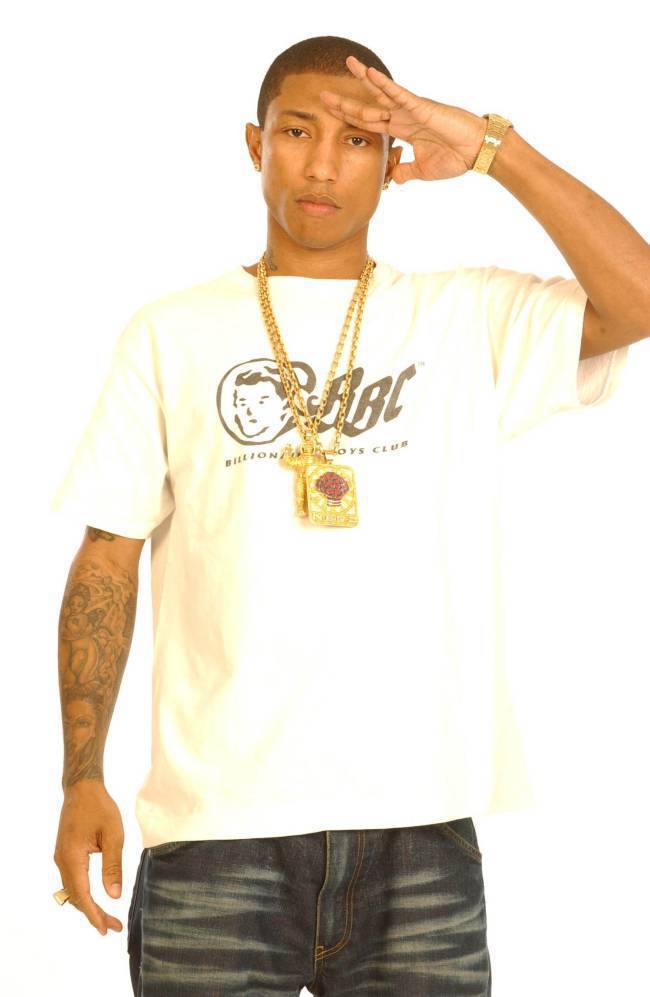 Pharrell was born on April 5, 1973 in Virginia Beach, Virginia, the eldest of three sons to bless the union of Carolyn and Pharoah Williams, a schoolteacher and handyman, respectively. At the age of just 12, the aspiring musician started playing with Chad Hugo, a kid he met over summer vacation at band camp. They formed a group called The Neptunes which was discovered while still in high school by the legendary Teddy Riley who signed the pair soon after graduation. Since then, Pharrell has embarked on an enviable career, both as a member of The Neptunes, Child Rebel Soldier and N*E*R*D and as a solo artist.
Furthermore, the triple Grammy-winner's singing, performing and/or producing services have been sought for recordings by everyone Beyonce' to Jay-Z to Ludacris to Madonna to Mystikal to Lupe Fiasco to Snoop Dogg to Shakira to The Game to J-Lo to Britney Spears to Babyface to Usher to Busta Rhymes Gwen Stefani to Nelly to P. Diddy to N' Sync to Fabolous. As busy as he's been kept by the entertainment industry, Pharrell still found time to launch the Billionaire Boys Club, a luxury fashion line of clothes and accessories among other things such as composing music for movies and acting.
Born: 5th April, 1973
Birthplace: Virginia Beach, VA
Gender: Male
Race Or Ethnicity: Afro-American
Sexual Orientation: Straight
Occupation: Music Producer, Composer, Rapper, Singer, Writer, Actor, Clothing/Furniture & Object Designer, Entrepreneur, TV & Film Producer
Nationality: United States
Executive Summary: The Neptunes
Father: Pharaoh Williams (Handyman)
Mother: Carolyn Williams (Teacher)
Brothers: Cato, David, Psolomon & Pharaoe Williams
Spouse: Helen
Children: Rocket
High School: Princess Anne High School, Virginia Beach, VA
Filmography:
The Neptunes Present: Dude We're Going To Rio! (2003)
The Ecology Of Love (2004) Andre
90210: Women's Intuition (2009)
The Greatness (2010)
Get Him To The Greek (2010)
How To Make It In America: I'm Sorry, Who's Yosi? (2011)
Producer:
The Ecology Of Love (2004)
Team Ice Cream Vol. 1 Skate Video (2006) (Executive Producer)
Limelight (2009) (Consulting Producer)
Awards & Nominations:
Nominated For An Annie Award For Music In An Animated Feature Production, Despicable Me (2011)