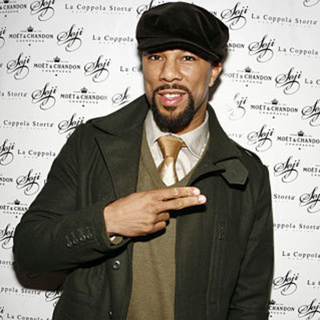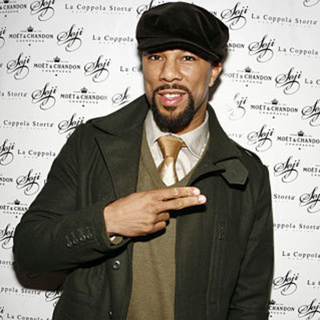 "Universal Mind Control" originally slated for a Summer release, has been pushed back (annoyingly) till Early November. The first single "Universal Mind Control" was leaked a while back and from it, everyone could tell Common was doing something different this time round. Some loved it, some hated it and some were indifferent. I thought it was dope. It reminded me of "Electric Circus" which I loved, but again, spilt opinions. I went in with an open mind and loved what I heard. To be honest, I didn't actually write too much down, because unlike normal album playbacks, Common was in the middle of the room performing each track. He didn't have a mic, but was miming the words and that kinda distracted everyone (including the journalists).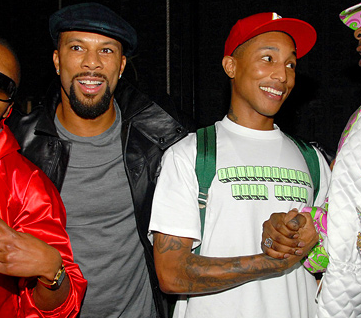 However, I'll try my best to give you a lil' description of each track. Oh, before he 'pressed play', he mentioned how being in England last year with Kanye really inspired a lot of his new record. He explained how his own DJ wouldn't play any of his music during the after parties because "I didn't have the kind of music ya'll wanted to hear in the your clubs. So, this is what this album is about. I know most people know me for my conscious lyrics, but on this album I just wanted to have fun!" I'm pretty sure my mini descriptions haven't done much justice (as I said, I didn't write much!) but I will say this: When you get your hands on Common's new album, listen with an open mind and ENJOY it! Don't worry about "oh this ain't the Common I like", just enjoy it. "Universal Mind Control" is all about having fun and trust me, with this album – that's what you'll be having!
Punch Drunk Love feat. Cee-Lo (Neptunes)
I wasn't actually feelin this tune too tough. Apparently, this was the first song he started working on during the recording process and was produced by The Neptunes and by the same team that worked on Outkast's "B.O.B" and "Ms Jackson" joints. It's def got that [Outkast] type of feel, esp with Cee-Lo taking care of the hook. It's a cool tune, but was probably my least favourite of the bunch.
Make My Day
The only track we heard that featured Kanye in anyway. West took care of the intro, but I'm not sure if he produced it or not…? Hmmm?! I'm LOL'ing at my notes coz all I've written is "dope beat and dope flow" haha! So yea, take that as you will eh?
Sex For Sugar (Neptunes)
Yo ladies. This one is for you. You know how Common got down and out on "Go" and other rather heated tunes in the past? Well, he does the same thing and a lil' bit more on this joint. The ladies in the place were getting all kinds of flustered, especially coz he was performing it and staring them in the eye while doing so…! The beat on this tune was overly infectious. It was clear everyone was feeling this. "Sex for Sugar" again reiterated that Common was out to make fun/summer music. It definitely had that type of vibe. You could easily play this on one of those hot summer days! Common goes all out with lines like "Girl, imma touch in you places the sun don't shine" (I think one girl fainted at that point!).
Changes
"I wrote this to kinda up lift people. It's kinda hopeful. It's my 'Hey Young World' [Slick  Rick]. When Obama wins the election, this could be his inauguration song". The mellow, downbeat, instrumental sound to this was cool. It was a flashback to the Common we all fell in love with way back when. His verses, cool, calm and collected, but his lyrics hard hitting and inspired. "I'm the river that runs through the hoods", he speaks about the hope for 'change' that seems to be hitting America at the moment and at the end of the song, Common's daughter reads words from her own poem about hope; Collected "aaaaah's" were murmured.
What A World feat Chester French (Neptunes)
I was pretty excited when he said Chester French were on this song. "This song is basically me telling the story of my career". Common speaks in the third person, about a kid who is desperate to make it in the rap game and Chester French take care of the hook, proclaiming we live in a world where whatever you want to happen, can happen. Common's verses on "What A World" had an old school, 80's vibe to them, which was fresh as hell. And surprisingly, his voice and the Chester French style worked really great together. Of course, this was another Neptunes produced joint.
Gladiator feat. Pharrell (Neptunes)
This WAS my favourite song of the whole album. Common actually performed this for us and oh my daze! Such a BIIG tune. I can tell this is gonna be a hot favourite of many peoples when they hear the album. Common brought it hard on this tune, asking "are you not entertained?".
*pinboardblog.com
Common – Universal Mind Control (2008) (Early November)
Producers & Guests: Cee-Lo, The Neptunes, Mr. DJ, Chester French…
Confirmed Tracklist:
– Universal Mind Control feat. Pharrell (Neptunes)
– Make My Day
– Punch Drunk Love feat. Cee-Lo (Neptunes)
– What A World feat. Chester French (Neptunes)
– Changes
– Party Shit
– Dreaming
– Gladiator feat. Pharrell (Neptunes)
– Runaway feat. Santogold
– Sex For Sugar (Neptunes)
– Announcement feat. Pharrell (Neptunes)
– The Eye feat. Pharrell (Neptunes)