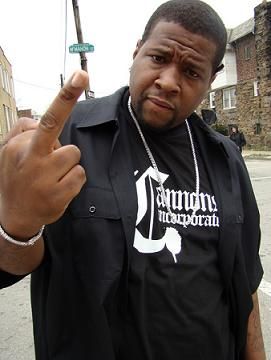 Philadelphia rapper Sandman was a driving force in the Re-Up Gang's three acclaimed We Got It 4 Cheap Mixtapes throughout the last five years. However, Tuesday afternoon, he told HipHopDX that after the mishandling of the group's self-titled album, he is focusing on solo endeavors. "When it comes to my music, dog, this is what I love," said Sandman Tuesday afternoon. "I'm not tryin' to be a god-damned architect or nothin', or else I'd put my time into that. When you have a movement like the Re-Up Gang, something that came out of nowhere that was turned into a cult following, I just don't see how people dropped the ball on the last project. So it didn't make sense for me to stick around if shit ain't in my best interest." He elaborated further, stating that a key point in his dispute was the album's video, which featured on The Clipse rapping. "It ain't in my best interest to put out a 'Fast Lane' video, after three years of nothing but street-driven music."
The album the aforementioned single promoted added to the displeasure "We gave y'all three critically-acclaimed mixtapes just to give y'all this toilet bowl-ass album and their video. To me, it's unjust. The fans are onto it now too, 'Damn, that's it for the Re-Up?' 'Cause now all you hear about is [The Clipse' forthcoming album] Til The Casket Drops. The Re-Up Gang has been phased out; I guess I was just supposed to play along. I'm not no fuckin' nut!" Acknowledging he was the last addition the longtime collaborating trio, Sandman says he defined the group as fans know it. "There is no Re-Up Gang. Before they added me, it was The Clipse and Ab Liva. That was it. That's what it's been reduced back to. Naturally, they've got to go around and promote the Re-Up Gang album now, 'cause it's out, and to be honest, I feel like I don't have to do that." Rather, furthering to statements he made two DX two weeks ago, Sandman disassociated himself from the Koch Records release.

"I want to apologize again," he says to finds, comparing the release to his own affinity for EPMD's early catalogue. "What the fuck would I feel like if after three classic albums, they had that fourth album after the beats I just got [on The Clipse Presents: Re-Up Gang]. To me, I just don't think whoever – either Koch [Records] or The Clipse did not believe in this Re-Up movement. Or it didn't mean nothin' to them. What the fuck vision do you have that you'd squander this? 'Cause if that were the case, you should have done this three years ago." Sandman revealed that he was initially told that Re-Up's album would be released June 9th on Columbia Records, before a delayed date was given and the project shifted to an independent. "You coulda told me that after we played the album for 20 people in a room, walkin' around smiling." Additionally, verses were cut and adjusted, and Sandman remains unclear on who was behind it. Although he says the group as we know it has dissolved for now, Sandman does wave the flag for his brethren and fans.
"I could be bitter. You know how this shit normally looks. But I'm a G, Cannons Inc. is real, and I'm not runnin' around not talkin' no shit. I'm forever the Inc or The Re-Up Gang. The Re-Up Gang ain't goin' nowhere, and after I blow, niggas are gonna wanna do reunion albums and all that, but right now, [no]. I feel like they think that the Re-Up is all from them, the success of it." Now focused on his solo career, Sandman just shot a gritty street single "Anchor" from his free downloadable album Gianormous. Unlike "Fast Life," this video, the artist said, embodies the imagery he feels matches his music. Providing context for the video, which includes robberies, kidnapping and weapons, Sandman says is a metaphor. "The criminal backdrop [in the video] is a metaphor for how hard you've got to go in the rap business. No matter what, you've got to push – you've got to get out there." "If you listen to the song, it's about Hip Hop and how run down it is. I'm just talkin' about bringin' the east back, I shout out Clark Kent and tell him about how we used to chill."
Besides the historic producer and executive, the rapper also namechecks early '90s superstar MC Hammer with the line, "With no good music and so much propaganda, you mothafuckas make me miss Hammer.'" Sandman expounded, "It's just so much bullshit [now]. When I was a kid, Hammer's music was considered garbage. If you didn't dance, you didn't like Hammer. But I liked Hammer better than the shit that I listen to today [laughing], and I'd rather hear it. As far as I'm concerned, if this is what the game has come to, then where the fuck is MC Hammer? Find MC Hammer and Tone-Loc," Sandman ordered, "And tell them, I need records from them."This video also marks a return to substance from gangster rappers. "When you seen a black-and-white video back in the day, you knew you was in some trouble. It reminded me of the N.W.A., the Ice Cube, the D.O.C.…I just wanted to get back into the hard mode, like [EPMD's] 'Head Banger' and that. Every video that I see is a Chevy on 22's, a bitch with a big butt, and a nigga with all this jewelry or not. That's run of the mill now. Like, what do I gotta do, rent a fuckin' 747 [jet] now to stand out? So I just kept it real." The video was directed by newcomers Alec Sutherland and produced by Todd Dossantos. Crew members are woven into the plot in the video that also features Sandman's mother and Cannons Inc. members. Speaking of his crew, Sandman's next mixtape, The #1 Supplier, will be available in two weeks on Yeahhhcannons.com, where The Gianormous Mixtape is also available.
*hiphopdx.com