The Fam-Lay KayCee Interview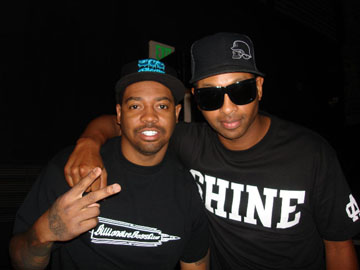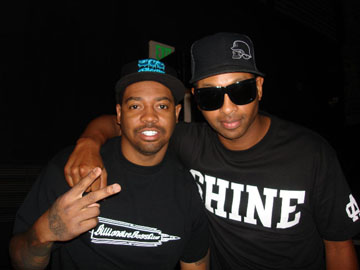 KayCee caught up with N¤E¤R¤D on the Seeing The Invinvible Sounds Of Summer Tour in NC, he got the opportunity to sit down and talk to Virginia's own Fam-Lay, Pharrell's artist on his Star Trak label. They talked about everything from what it was like touring with Kanye West, his failed situation with Def Jam, and what makes Norfolk, Virginia so unique and Fam-Lay is talking about his new project besides "Dirty Way" "I got a project called SCC coming out called Shark City Clique, me and Pharrell putting it together, something unique so ya'll stay tuned for it" Thanks To KayCee.
KayCee: Introduce yourself to my readers, for those who may not be familiar with you.
Fam-Lay: What up…Keena's Blog (lol) it's Fam-Lay Star Trak's own, Norfolk, Virginia, so and so, what's up ya'll.
K: So you're from Virginia as you stated, you represent Norfolk to the fullest, what makes Virginia, in particular the 7 cities, unique in comparison to other cities that's out representing Hip-Hop?
F: Virginia got a lot of flavor and it's still to this day it's still untouched you know like I'm from Norfolk, the Clipse from Virginia Beach, Neptune's, which is my crew, the whole crew from the beach but we all , we all got different lives and its only like 20 minutes apart, it's small but it's so diverse that I even have a different accent to them from what I heard so its different flavor from Norfolk, you never seen anyone from Norfolk yet.
K: You signed with Star Trak back in 2003, your first deal with Def Jam fell through and currently you are on Interscope. Most people would have given up after going through that. What keeps you motivated to continue to make music and deal with the music business?
F: Honestly, it's just fun and I still like to do it. As far as the Def Jam situation it's a business, shit happens it fell through and at the end of the day it was a blessing in disguise because what was going on over there wasn't what we were trying to do. I could have got shelved and it was a whole bunch of shit that was going on and being with the homie, being with Pharrell, he's such a super power in this business that we still moving like I feel invincible, I'm still young, I meet people that been in the game for a long time and they be like "yo you to young to be having two deals, how you go through two deals already?" so I'm blessed at the end of the day still rocking.
K: You were also a featured artist on this year's Glow In The Dark Tour, Kanye West's big Tour. What was your experience like touring.
F: Amazing!
K: And any possible collaborations?
F: Kanye, big up to the big homie, he had an awesome show, and me being on the road with N¤E¤R¤D it was kind of like not a fluke but it was just something. I just needed to get out of Virginia at the time I needed to get motivated and you know just start working again so Shae was like "Yo just come on the road for a little while" so I came on the road and me being on the road with N¤E¤R¤D and them being on the Glow In The Dark which was the hugest tour ever of the whole year, crazy. Lot of exposure, lot of experience, so it help me for what we about to do we got something we coming up with we came up with a good idea on the road…so it was good.
K: Who are some of your major influences?
F: I'm influenced by the good people and the bad. Like bad people I know what not to do. I'm not going to name them but it's a lot of people that I just admire and that I would like to work with. If you listen to my ipod me and my bus driver the other day, me and JB, I got like 8,000 songs in my ipod and I put it on shuffle so when we playing it you'll hear. I got System Of A Down in there, Deftones, you'll hear all types of stuff this was before I came out on the road. I just love music, its just fun and I'm influenced by it.
K: What is it like working with Pharrell?
F: Pharrell's a workaholic, he's a genius and it's a privilege to work with dude. I mean he's just…the way he just comes up with hits on the regular the man do a hit in like 5 minutes. I've seen him do it and some people struggle for hits, you got some call it one hit wonder people make a hit and can never do it again and I see this dude do it on a daily basis so it's just rubbing off on me hopefully, that's my man.
K: Give us a tour of Norfolk, VA. Like if someone was to come from out of town to Norfolk, what are the places they need to visit?
F: You got to come to Huntersville, you got to come to Norview, you got to come Downtown. I mean Norfolk is just a unique place in itself because for one Virginia is a military town so it's a melting pot of people you got all types of people there and Norfolk is like the black eye of Hampton Roads, that's where you come to see the struggles, the poverty, the hustler's, all the dopeness in my opinion.
K: Talk about some of upcoming projects. Is Dirty Way still in the works?
F: Dirty Way is still in the works. A lot of people asking for it which is cool, that's something I did just of the blue so we still working on it. I got a project called SCC coming out called Shark City Clique, me and Pharrell putting it together, something unique so ya'll stay tuned for it.
K: Shout outs.
F: Shout out to the whole Virginia, shout out to Kenna, shout out to everybody that support me and show me love!
KayCee With Fam-Lay & N¤E¤R¤D

*myspace.com/famlay
*theshamelessplug.wordpress.com