N¤E¤R¤D In Norfolk, Virginia (Nov. 20th)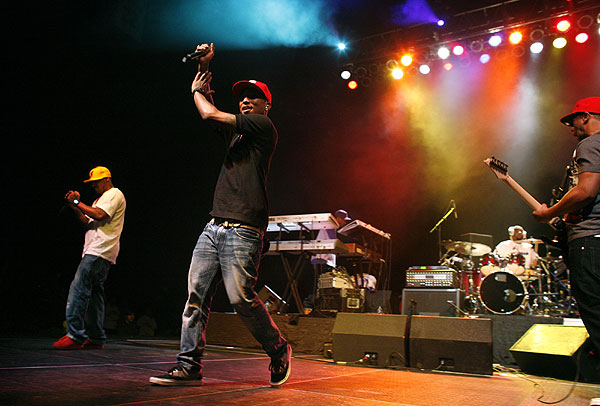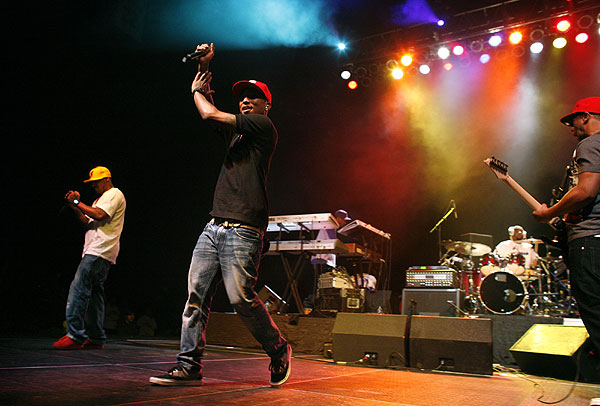 They just got in from London, and in a few weeks will head off to Sweden, Denmark then Norway but on Thursday night, N¤E¤R¤D did a homecoming show. The post-rock, post-hip hop group performed Thursday as part of Old Dominion University's homecoming, but their show was just as much a homecoming for them, after months of touring in support of their third album "Seeing Sounds." N¤E¤R¤D, which stands for No One Ever Really Dies, was an almost too perfect act for the sprawling, urban, multicultural college in Norfolk, as their music is an undefinable blend rock, hip-hop and punk. You won't often hear N¤E¤R¤D on the radio, and they're music doesn't ride high on Billboard charts. Yet the group appeals to a wide swath of young people who enjoy riding the fringes and pushing envelopes, and that's exactly the contingent of trendsetters that came out en mass to see them Thursday night. From the moment they arrived on stage, singing "Anti-Matter," from their latest album, N¤E¤R¤D's show remained a high energy ride.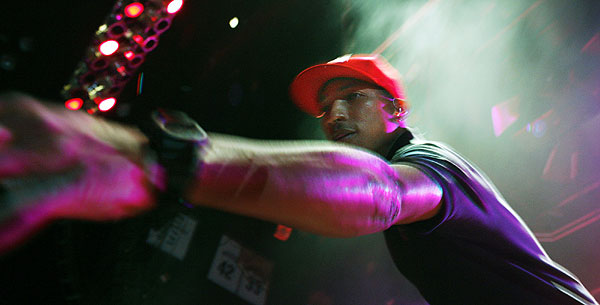 Pharrell Williams, the group's lead singer whose international cool level by now rivals James Bond's, came out in a camouflage jacket, doing a dorky shuffle dance that involves fierce high kicks. Shae Haley, in a puffy red jacket, also came out screaming, helping to drive the standing mass of people in front of the stage into a frenzy, while the groups' decidedly more low-key Chad Hugo huddled close to the band, where he remained for the duration of the show. Indeed, the concertgoers — nearly all wearing vibrant graphic T-shirts and sneakers and gear indicating their allegiance to hip hop skater chic — were so worked up that by time the group got to their second song, "Brain," they'd begun hoisting one another up and tossing them like beach balls. Crowd surfing, as it's called, is usually a major no-no in local venues, but that night, there were no rules. "Rule number one at an N¤E¤R¤D show," Pharrell shouted, "If someone is crowd surfing you hold them up! Rule number two," he said, peppering all this with colorful language, "You have a great time." N¤E¤R¤D knows its audience is a post-racial, hyper-stimulated group that, at least on some level, embraces bucking every rule and convention.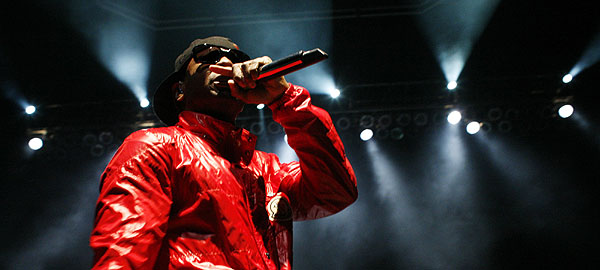 They must have been thrilled, then, when Pharrell personally pulled (and sometimes with a bit of struggle) crowd surfers on to the stage. While this was likely a nightmare for the security guards down front, it was a bit thrilling to see the handful of random strangers that made it on stage jump and thrash and head bang alongside Pharrell, Shae and their friend Fam-Lay as the guys performed metal meets hip hop songs "Rock Star (Poser)," and "Spaz." All those people on stage flailing looked terribly chaotic, even making it hard to find the actual performers, but it was fun to watch. It was like everyone was reveling in controlled anarchy. N¤E¤R¤D put on an excellent show, and it was a win-win-win for fans, the school and the group. As they closed with their drum and bass song "Everyone Nose," and then "She Wants To Move," it still remained unclear who was having more fun: the people so proud to see their hometown celebs yell "757!" or the guys themselves, who've crisscrossed the globe all year but always say there's no place like home.