Robin Thicke Urbis.com Interview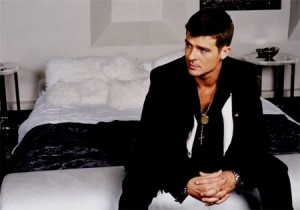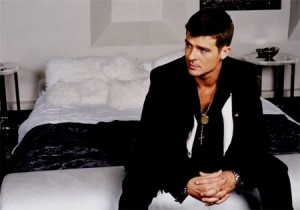 Tripping out of bed at 3 a.m. with sweat seeping through my white cotton T and dripping down my exposed arms, I ride one last clear train of thought before fever surrenders me into complete madness: I think the platinum recording artist Robin Thicke has made me literally sick to my stomach. Thirty-six hours prior: Truffles restaurant at the Four Season's Hotel in Toronto is experiencing an abnormal amount of pandemonium before its usual 6 p.m. serving start. Three photographers line the dining room entrance while members of Much More Music's camera crew urge everyone in a sushing radius not to make a sound. At the center of the room and incredibly well-lit in black slacks, a black button-up, a black blazer and black over-sized shades is the white R&B sensation, Robin Thicke. Once the cameras are done rolling Thicke – the portrait of a gentleman – gets up from his chair, revealing his six-foot-plus frame, hugs and kisses all the ladies in the crew then retreats to the back of the room. He meets up with a white-clothed cart with three shiny metal covers and silk napkins. He lifts the first cover and reveals an oversized platter with a huge burger and a generous serving of French fries – he lifts the second cover and there sits a miniature bottle of ketchup.

After a few bites, he then grabs the whitest napkin, brings the corners to his lips and lets go of a long, wet medley of coughs and heaves. Thicke continues to inhale his lunch but is interrupted then ushered over to a table where my tape recorder and already ink soaked notepad, await. "Hello sweetheart," he says touching my hands – the ones he did not wash since he coughed up some brain matter minutes prior – then he kisses me on the cheek. He sits so close I can smell the ketchup on his breath. He removes his shades, sneaks in a few more fries and preps to talk about career setbacks, his wife Paula Patton, Oprah and life as R&B's undercover bad boy. "Most of the things that people don't know about me are not my best qualities," says Thicke. "The night before I was on Good Morning America I didn't sleep at all. We partied all night then got in the car and went – that's what I call rock and fucking roll." Just how did this happen? How did the Beverly-Hills-bred son of Growing Pains Alan Thicke and Days of Our Lives Gloria Loring – "I did not grow up in Beverly Hills, I hate that shit," says Thicke.
"It was a misprint in a magazine and now I'm the rich white singer from Beverly Hills? It's not even like that. I grew up in the Valley." Okay: how did the San Fernando Valley bred son of Growing Pains Alan Thicke and Days of Our Lives Gloria Loring, with the whisper-soft voice and honey soaked lyrics become an R&B rebel? Thicke sings songs about cocaine, boasts about birthday blackouts, smokes cigarettes, adores vodka and French wine – yet still comes across earnest enough to sing love songs to your mama on Oprah. "My music connects with people," says Thicke. "You don't have to agree with my lifestyle but what I sing about is universal. That connection means people actually hearing a song or a movement that they can tie into their own lives as opposed to making nice music that people just go: cool, but I gotta be at soccer at four." Thicke struggled with that connection early on in his career. Clearly, a talented vocalist he was given his first music break in his teens when he penned a deal with a subsidiary of Interscope Records. But as many artists learn, the phrase 'done deal' doesn't really hold weight in the music industry. Thicke, like fellow now-artists The Dream and Ne-Yo, began to boost his resume by writing for other singers.
"I've never written a song for anyone else that I wanted to sing, I've never given a song to someone that I've wanted to keep – ever." The result of over 15 years of writing and patiently waiting was a bold collection of over 300 songs. Yet, even though he was experiencing great success as a writer, he still didn't feel successful. "There was this time when I'm like am I fucking crazy?" says Thicke. "How come I know this music is good and people say its good music but I can't get a break! I felt like I was that guy on American Idol who was like, but wait, I'm good right?" In 2000 his label was finally convinced that he was good enough. However, despite the memorable single, When I Get you Alone, the album A Beautiful World opened in the 152nd position on the Billboard Hot 200. It became clear to Thicke that if he was ever to achieve the success his idols Prince and George Micheal attained, something had to give or something had to come – and quick. Thicke settled on the latter and hooked up with producer Pharell Williams' label "Star Trak" for his sophmore album, The Evolution of Robin Thicke.
The album featured the Billboad R&B #1 track Lost Without You, went platinum and paved the way for adorning reviews like People Magazine's reigning endorsement of Thicke as "the most soulful white guy on the planet." Thicke's released his third album, Something Else, in September 2008 with Interscope. This time the album attracted ample publicity and debuted at #3 on the Billboard Hot 200. "I learned, if you make something good people don't have time for it, only a few people will care about it but when you make something great, well then people are forced to pay attention." Within eight years, all of the doubters got very quiet and Thicke's roadblocks transformed into hurdles. Getting the world to listen to his music became less of a challenge while maintaining relationships with some of his "favourite people" became increasingly diffcicult. "More money, more problems – now that I have a little bit of success everybody wants more, and then comes the envy and jealousy of you being the one that's getting all the credit even though a lot of people feel like they had a lot to do with my success — and they did but you know it's never enough to spread around to everyone," says Thicke. Sometimes you have to lose some to win some.
Even Thicke, who credits himself as the kid who found a way to win even though he couldn't necessarily run the fastest or jump the highest, agrees that great gain rarely comes without great loss. It's a reality that he has been able to spin to his advantage so adversity only strengthens his purpose. (If you have to cut, the bold is a good place to start) "I'm the kind of guy, give me great news and I'm not impressed," says Thicke. "Give me the worst news possible and I'm the best you've ever seen me." Unless – that horrible news has something to do with his wife, actress Paula Patton who he has to "call and tell her I love her, a few times everyday," or his immediate family –notably his older brother, Brennan Thicke. "Being on Oprah was a lifetime accomplishment but I did not like my performance," says Thicke. "I found out right before I went on stage that my brother was being rushed to the hospital, my brother is a diabetic, so that is a serious situation and I look back at my performance and I can see my heavy heart." Thicke pauses and for the first time all interview he resembles the polite, compassionate man his music suggests he should be. On cue, the publicist flashes two fingers and the remainder of our time is spent discussing Thicke's future plans: a screenplay in the works, a video on the horizon and a new album hopefully in time for Valentine's Day.
Times up: the recorder's red light dulls to black, the notepad is shut and Thicke excuses himself from our interview with another hug and yet another cheek kiss. He puts back on his black shades then turns to the Cream World photo team and shares, "I've never done a photo shoot before with sunglasses you guys are getting the exclusive. Can you feel the fucking heat?" Creamworld stylist, Maddi Styles, approaches Thicke with a candy-coated smile and a clothing rack of goodies. Both are futile attempts against Thicke's stubborn dress code: no to the jacket, no to the tie and hell no to the polka dot ascot. "That's not my thing," says Thicke. "I like my music to do the talking, not my scarf. Somehow I manage to dress myself all on my own everyday." Thicke moves with subtle style in front of the lens but the flash seem to be triggering his illness. The coughs which were once reserved for the back of the room make their way front centre and Thicke has lost interest in hiding it. "I look good, everyone come see how good I look," he jokes lifting his shades and massaging the bridge of his nose.
The shoot is put on a brief intermission while his assistant heads into the elevator to fetch a black scarf – the only wardrobe change Madi could negotiate. Thicke takes the opportunity to crack on the birthplace of his father. "Canada is cold. I walk outside like shit did something just slap me?" The room laughs and Thicke smiles perhaps realizing that without hitting one note, he has everybody in his hands. Once the shoot wraps, the women are thanked with eye contact and a cheek kiss – the men are given daps. Everyone knows he is sick but not one person shies away. He waves one last time then walks toward the exit. Every pair of eyes in the room stares in silence at the back of his black blazer. Thicke is charismatic in a cheeky sort of way, not the shy sensual pleaser that you may expect and in a way, that's not such a bad thing. Once the blue-eyed soul singer is officially out of sight the crew springs back to life, disassembling the photo set and exchanging feedback on the success of the shoot. I however, remain quiet and open my notepad to scribble down one last note: buy a box of Vitamin C – immediately.