Clipse's "Kinda Like A Big Deal" Review, Neptunes On Half Of The Album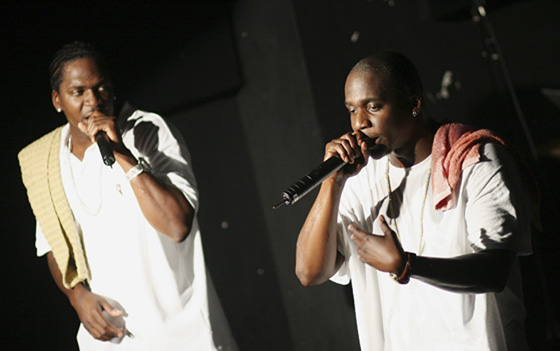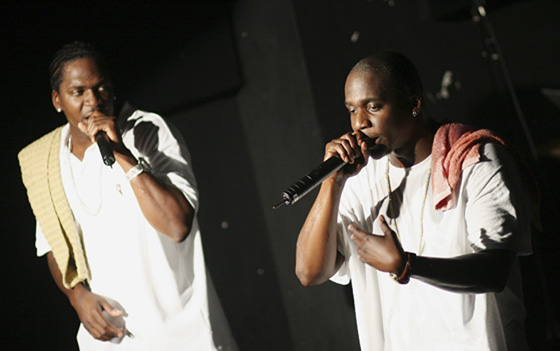 For fans of the Clipse, the Virginia rap duo's upcoming third album, Till The Casket Drops, is a big deal, indeed. So it was with great pleasure that I ventured out tonight to hear the album's first teaser single, the appropriately titled "Kinda Like A Big Deal," which features a guest spot from Kanye West and should be released for public consumption on March 9. Super-instant react: It's dope. The song finds the Thornton brothers in a far more upbeat mood than 2006's supremely bitter Hell Hath No Fury — it just might be their first bona fide party track in years. That vibe starts with the beat, a burner courtesy of DJ Khalil that opens with a blazing electric guitar lick before falling into a wicked sampled organ, guitar, and drum groove. Pusha T. leads off with some vintage braggadocio: "The third time's the charm/After two classics, another stripe upon my arm." Pusha also finds time to crow about "how it feel to blow a hundred thou in a recession/With no second-guessing." Recession rap this ain't. Next up is Kanye, who delivers a swaggering verse that will remind listeners of how great he is when he actually raps. If Kanye's lyrics comparing himself to "the black Marshall, mixed with Jay" are any hint, maybe he's planning to get back to rapping full-time soon, lord willing.
(Trivia note: I'm pretty sure I recognized a couple of Kanye's punchlines, like the one mentioning "alligator souffle," from a verse Yeezy spit on an early version of T.I.'s "On Top of the World" that I heard last year.) Pusha's brother Malice follows with a sick verse of his own. Clever lyrics (of course), a tight beat, and a Kanye cameo: All in all, this single should make for a strong reintroduction for the Clipse. "Kinda Like A Big Deal" is one of a handful of DJ Khalil-produced tracks that are being considered for Till The Casket Drops, which is tentatively expected to see a late-summer release. I also got an early listen to a few works in progress that might make it on to the album, including several sparkling beats that emerged from recent studio sessions in Miami with the Clipse's longtime collaborator Pharrell Williams of The Neptunes. (Nothing is for certain yet, but the Clipse's camp says Neptunes productions will likely account for about half of the final album when all's said and done.) Pending further information, this is looking like it could end up being 2009's rap album to beat. Anyone else looking forward to hearing the final product?