The "Australian"- Pharrell Williams Article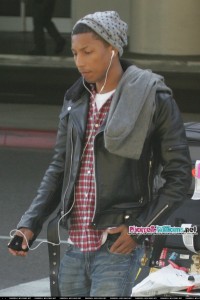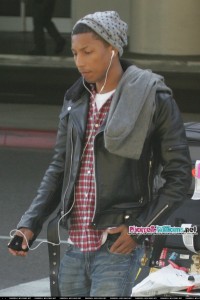 IT'S become a cliche to bemoan the decline of hip-hop. The protest subculture of its 1970s pioneers has degenerated, traditionalists argue, into an antiseptic mainstream phenomenon. Rapper and producer Pharrell Williams epitomises this commercial turn.As 50 per cent of The Neptunes production team — a partnership with his high-school homeboy, Filipino-American Chad Hugo — he's perhaps the music industry's most in-demand hit maker. Yet he also embodies the genre's outsider ethos: the possibility of socially marginalised kids rising to the top. He spent the first seven years of life in the housing projects of Virginia Beach. Now, platinum-plated artists such as Justin Timberlake, Christina Aguilera, Jay-Z, Nelly, Usher and Kanye West line up for the production duo's golden touch. At one point, Neptunes productions accounted for 43 per cent of tracks aired on American radio. Their handiwork fuses rap with rock, folk and rhythm and blues, creating eclectic sounds that Williams, 35, is at a loss to describe. "Um, I don't know, it's just music," he says. "I'm not sure if we have a title for it." To author Neil Strauss, writing in Esquire magazine, The Neptunes' output is "not the messy kitchen sink of postmodernism but the sparkling, clean chrome kitchen of hip-hop futurism". The team has softened rappers such as Snoop Dogg with Beautiful and Mystikal with Shake Ya Ass, roughened up Madonna with last year's Hard Candy album, and gave Britney Spears a sharp-edged makeover with her 2001 hit I'm a Slave 4 U.

Alongside artists Diddy, Chamillionaire and Master P, Williams represents a new breed of rap entrepreneur whose reach in popular culture extends far beyond the sonic. With Japanese fashion maestro Tomoaki "Nigo" Nagao of A Bathing Ape clothing company, Williams launched the upscale Ice Cream and Billionaire Boys Club (aka BBC) apparel lines. He's co-designed eyewear and jewellery ranges for Louis Vuitton and has entered the furniture business courtesy of Domeau & Peres. His fatigue shorts and trucker hats have shaped hip-hop style. What's more, he's one-third of the band N*E*R*D (an acronym for No one Ever Really Dies), a collaboration with Hugo and fellow Vah Beach native, vocalist Sheldon "Shay" Haley. The hip-hop outfit, which made its debut with 2001's In Search Of…, will tour Australia next month on the back of its third album, last year's Seeing Sounds. The title refers to the visual process of crafting beats, Williams says: "Producing is a creative platform where we zone out and conjure images and organise them as music." After the release of the band's second album, 2004's Fly or Die, Williams announced that N*E*R*D had disbanded. When In Search Of… had netted the Shortlist Music Prize in 2002, Williams used his acceptance speech to flay Virgin Records for inadequately spruiking the album, and he now says the ensemble never really separated but "(we were) just trying to get off of our label". He explains: "We just had to wait it out." But it's not a feud he wants to revisit, crooning: "Naaah, it's irrelevant; spilled milk is cool."
He drives a black Ferrari Enzo and owns two Rolls-Royces, but in other ways the N*E*R*D frontman is an unusually retiring megastar, comfortable staying behind the curtain, producing tracks for others. Williams was 32 before he brought out a solo album, In My Mind (2006). It received tepid reviews, the consensus being that his off-kilter, Curtis Mayfield-like falsetto was insufficient on its own. The lead single, Can I Have It Like That, featuring Gwen Stefani, came out almost a year earlier, but the album was delayed because of Williams's producing commitments. If his solo career didn't seem a priority, that's because it wasn't. Williams admits he has no interest in going it alone again and regrets that In My Mind wasn't a collaborative effort. "So many people could have done such a better job than me," he says. "I wasn't cut out for all of the work that it required to be a solo artist. I like having my friends around." Williams and Hugo became pals aged 12, when they bonded at a summer band camp and got together to play jazz: Williams on drums and keyboard, Hugo on tenor saxophone. Williams's mother, Carolyn, a teacher, and father Pharoah, a handyman, moved out of the inner-city projects to the suburbs when Williams was seven. He can't imagine where he'd be now if they hadn't relocated. "You become a product of the environment," he says. "You may end up being a good person and law-abiding, but you struggle to do it because it's very hard to live on modest means. There's not a lot of places you can turn. You get turned away."
At high school, Williams and Hugo met Shay and formed a trio. "I had a drum machine in the back of my Volkswagen bus," Hugo recalls, "and popped it open, connected it to my Kicker speaker system and started beatboxing. Shay started dancing and mayhem broke loose. Then a friend of ours took a spraycan and sprayed NERD across the van." The band met regularly in Hugo's family garage. "We were just dumb dimwits trying to be accepted," Hugo says, adding that N*E*R*D aims to create a punk sensibility. Their fans, Hugo continues, are "nerdy, quirky, chunky, pretty, pretty ugly, fugly, hot-arse people". It's a view Williams echoes: "We're trying to build a platform of this world where everyone is accepted." With his choirboy looks and slightness of speech and frame, Williams bucks the archetype of the thuggish hip-hop artist. He's been called a proponent of a new geek chic. A fan of science fiction, he punctuates performances with Vulcan salutes and describes himself as a "Discovery Channel guy" who browses in bookshops to unwind: "I've read a lot of neuro-linguistic programming books and I'm a Scientific American fan," he says. "All of our fans are in love with the Discovery Channel and History and History International. Of course they are!" For all his claims that N*E*R*D has a message, he shied away from the pro-Democratic Party activities of fellow rappers such as Ludacris and Usher during the US presidential election campaign. Wasn't he tempted to throw his weight behind Barack Obama?
"I supported him in whatever ways that I could," he says, sounding faintly apologetic. "I voted. I mean, at the end of the day, it wasn't about the campaign, it was just about the movement in the air and whatever you could do as an individual to bring life to a situation." Pressed for clarification, Williams drawls: "Uuuum, I did a couple of things." Such as? "Aaaghhh, it's not important." Since the financial meltdown, hip hoppers such as Diddy have toned down their jewellery out of respect for ordinary workers being shown the door, but Williams remains obsessed with bling. With his array of custom gold-plated objects, including several BlackBerries, an iPod, a Nintendo DS and an iPhone, he apes his boyhood television hero Richie Rich. "He used to have everything made out of gold," Williams recalls. But he professes to be drawn to gilded gadgets for purely artistic reasons. He's making a statement that "there are very simple things we rely on in life that we never really pay attention to". He draws inspiration from Andy Warhol's Campbell's Soup Cans: "The way he arranged it, you began to realise how much art and thought is put into those labels and how actually beautiful they look."
Williams is more ambivalent about his body art. Last year message boards were buzzing with reports that he was spending several hundred thousand dollars on removing his elaborate tattoos through a painful new procedure that involves growing skin in a test tube. But the joke was on Pharrell-watchers. "I was just kidding," he says. "I saw something on CNN and just became lost in the … topic. I didn't know it would spin off in the way that it did." Surely he's familiar with the rumour mill? "In a lot of ways I'm still very much a kid," he says. "A lot of times I don't take things as seriously as I need to. I'm still a fan of music and television and movies and my own brands. A lot of times I get caught up in being much more a viewer in the audience than a responsible performer." N*E*R*D's Australian tour with the Future Music Festival starts in Sydney tomorrow and travels to Perth, Melbourne, Brisbane, and Adelaide.
Photo From Pharrell-Williams.Net