Kenna To Release 4 EP's & Album, Working With JoJo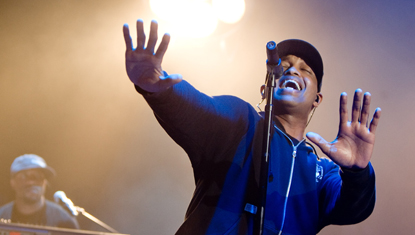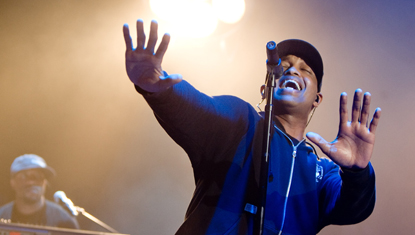 According to the Kenna Buzzine Interview, Chad & Kenna are working their asses off to release 4 EP's this year which are based on Emerson's "Self-Reliance." and some unreleased "MSTSMF" tracks and last but not least a new album "Songs For Flight" for the next year. Kenna also revealed that they worked with  JoJo.
Kenna Projects
Land 2 Air Chronicles (2009)
– Part 1 (Self-Reliance) (EP) (Kenna)
– Part 2 (Imitation Suicide) (EP) (Kenna & RJD2)
– Part 3 (Genius) (EP) (Kenna)
MSTSMF Outtakes (EP) (2009)
Featuring The Cool Kids, Questlove, Mike Shinoda, James Valentine (Maroon 5)
Songs For Flight (2010)Contributing Writer He's Grammy-nominated, has toured with Depeche Mode, and he's spent six days climbing one of the toughest mountains in the world (one he will soon face again). Now, Kenna is back at work, facing the task of writing three EPs and a full-length album simultaneously. Taking a pause from his busy schedule, he talks influences, musical style, and what we can expect to hear from him in the near future.
Rosa Jurjevics: What are you up to right now?
Kenna: I'm staring at my computer screen, forced to look at a shit-ton of MP3s, hoping that I can do mathematics that I'm not sure I'm awake enough to do.
RJ: What kind of mathematics?
K: Some calculus/quantum physics meets Einstein's theory of relativity coupled with Godel. It's just a little mixture of physics and art and the future.
RJ: Do you do a lot of physics?
K: I do pop culture architecture, which includes mathematics.
RJ: What is pop culture architecture, exactly?
K: It's the art of developing what the world will love…on all levels — not just music, in everything. It's my new science. I've given myself the title of Pop Culture Architect. I think I should go and patent it before everybody steals it.
RJ: How did you cultivate your sound?
K: I'll be honest. My sound is the product of two incredibly multicultural people. It's Chad Hugo from The Neptunes and I — we represent so many different worlds that I think it naturally covers the gamut. Filipino kid raised in Virginia in a military town filled with transient people. Then you've got the Ethiopian kid who was raised in the inner city of Ohio and then moved to Virginia to live in the suburbs, and that combination alone would automatically make for interesting music, so I think that's how it came about. It was natural. We didn't really work too hard at it. It's something that hits us both and we just kind of do it.
RJ: I know that you cite U2 as a big influence. Are there others you can mention that might speak to other aspects of your style?
K: The Beatles, Talking Heads, Depeche Mode, REM, The Police…definitely The Police…The Cars…Ric Ocasek is a big influence. And I also really am into Michael Jackson. I love Sam Cooke. There are definitely some melodic pulls from Marvin Gaye and Stevie Wonder, but very lightly…but they're definitely in there. But the thing that I got from U2…I've said it so much that I think everybody thinks that's exactly where I got everything from, but the thing about U2 is the journeys. I always felt like they were the soundtrack to a big part of my life, and I approach music that way. I want to make sure that I make music that is a soundtrack to my friends' lives, my little cousin's lives… I want them, from top to bottom, from young to old, to be able to relate to each other, but at the same time that there's a moment in time when this song came on and that helped me through these times of my life, and I write songs that I hope will transcend age and time.
RJ: Do you find that your fans span that spectrum of ages and races and musical tastes?
K: Absolutely. My friends' grandmothers are big fans, and I just taught at USC for the Grammy Foundation and it was all 16- and 17-year-olds. I don't get to see 16- and 17-year-olds at my shows, because usually the clubs are 21 and up, and they erupted when I walked in. I [thought], "Wow, this is exactly what I'm talking about." I want to reach the 16-year-olds. I want them to know. I want the 13-year-olds to know. I don't sit there and go, "I need it to be PG-13," but I definitely make sure that it's not offensive so that anybody can grasp it.
RJ: How would you break down a Kenna song for someone who might not know your stuff, and what are the elements at work there?
K: It's pretty hard to break down a record, for me. I just like to take ten different genres of music and ten different artists and somehow find a way to tie them together, because I feel like that's the only way we'll ever find union amongst ourselves as people. So I treat my music [the way] I wish the world was.
RJ: I notice that some of the tracks on Make Sure They See My Face are more dancey than those on New Sacred Cow. Was that a conscious decision on your part?
K: I think it was a little bit of a conscious decision, to be honest. My first record was a pretty melancholy album. I didn't even know that I would write that kind of album; I never thought I was that person. But that album, interestingly enough, told the future. My friends joke and call me 'Kennadamus' because I tend to say things and then they happen, and that album…I wasn't a melancholy person when I wrote it, but it had so many melancholy overtones, and it was three years later that I realized everything that happened in the album happened in my life.
RJ: Really?
K: Everything. Everything in that album happened to me three years later, and I had to do what people do when they buy your album — they interpret their lives against it, and I realized, after looking at it, that I had kind of told the future, which is also very indicative of my entire family. But I didn't perceive that one as being melancholy. I always thought I was going to be making some dance records. Then I turn around and I'm done with that record, and I'm done with that part of my life, and I'm saying goodbye to love, which is the reason that song sounds like it does. I'm saying goodbye to that history, that melancholy vibe. I have a little bit left in me, like Brian Wilson, looking at happiness from the outside in, making sure they see my face. The songs on that album are very schizophrenic because I'm trying to break out of that world and come into a new one.
RJ: Who are you currently working with these days?
K: I'm working with Chad, still, as always, probably forever. Chad and I have just produced five or six songs for JoJo, the 13-year-old who is now 18 years old and has the voice every singer should be afraid of. The only person that doesn't need to necessarily be afraid is Jennifer Hudson. She's just amazing, and so Chad and I chose to work with her. We're also working on my EPs that are coming out. I have an EP series called The Atlanta Chronicles that are coming out this year, and I'm also putting out an album next year called Songs for Flight.
RJ: That's next year? I thought it was this year?
K: It's being maneuvered. I'm thinking of moving it to the top of the year because I'm putting out three EPs and I want everybody to get a dose of that stuff.
RJ: What was that Mt. Kilimanjaro climb like before you got sick, and what made you decide to do it?
K: It was such a journey. It taught me one lesson: It's not about the destination, it's about the journey. I really wanted to get to the top of Kilimanjaro, but I didn't get there because it wasn't supposed to happen then. Now, I'm actually going back to Kilimanjaro this summer, to climb, and I'm taking a bunch of people with me, and we're going to raise awareness for the clean water crisis of the world, and it's going to be amazing.
RJ: What was it like up there?
K: The last day was crazy. It was -40 degrees. You're walking one foot ahead of the other and you don't know where you're going, it's pitch black, midnight to 4:00 a.m. That's pretty much what it was like. We're doing eight days this next time.
RJ: Can you tell me about the EPs that are coming out?
K: The three EPs, at this point, are based on Emerson's "Self-Reliance." The first one is called Self-Reliance, so I produce everything, write everything, and pretty much play everything. The second EP is called Imitation Suicide, and it's me and RJD2, and it's basically a commentary on creative theft in the world and derivation. And then, last but not least, the third EP is called Genius, and it's based on the theme…I can't quote it directly, but in the first page of "Self-Reliance," it says that to believe what's in your own heart is true of all men or true of all mankind, is genius. And so the last EP is basically my belief for the world and what I hope for the world.
RJ: Have you done them, or are they in progress?
K: I've got the music. I'm in the middle of writing stuff, so I'm just trying to get my head around lyrics outside the chaos here.
RJ: What can fans expect to hear on Sounds for Flight?
K: The unexpected. It's nothing like anything anyone has heard before. I've already started that as well — I'm two songs in. So that album is definitely going to be an interesting departure. I might actually put one more EP out before those Atlanta Air Chronicles, but I'm not sure yet. I'm just deciding right now. One that's a Make Sure They See My Face revisited that kind of has songs that didn't make the record, and the Cool Kids version of "Loose Wires" and an addendum to "Loose Wires," and the "Black Goodbye Ride" song that I did with Questlove and something I did with Mike Shenida, and something I did with James Valentine from Maroon 5. We'll see. I'm in the middle of it right now. Thanks To Dre.