Clipse ~ Streetlevel.com Interview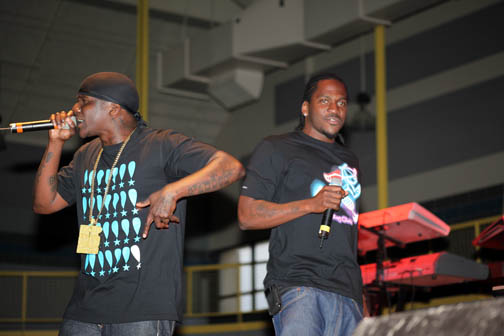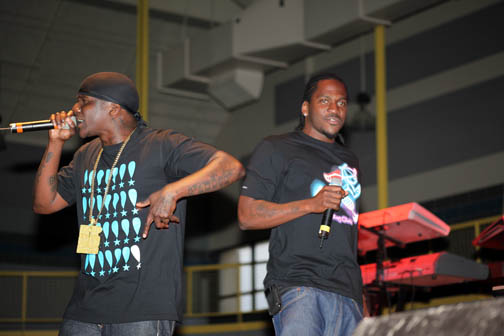 When it comes to rhyming about the glamorous and gritty life of dealers-ternt-rappers, The Clipse are among hip-hop's elite. Thinking beyond the beats and bars, Malice and Pusha T. realized that they weren't just the dynamic duo of drug rap, but also fashion trendsetters. Their clothing line, Play Cloths, debuted at MAGIC in 2008 and has been causing chatter amongst fashion fiends ever since. With their third proper album, "Til The Casket Drops," on the horizon and moments before rocking NYC's Webster Hall, the Brothers Thornton got with StreetLevel to discuss soaking up game from Pharrell Williams and A Bathing Ape's Nigo, avoiding the rapper-with-a-clothing-line cliché and what the hell a "Tokyo Buffoon" is.

So Play Cloths, what's the demographic y'all are trying to hit with your clothing line?
Pusha T: I think [it] can be everywhere from middle school to grown up. Fourteen to 30, or more. It's for everybody. It sparks a nostalgia that the older demographic can relate to and definitely it has a young appeal to it. It's clean, it's fly and I think that's where fashion is going right now.
Your brother mentioned nostalgia, is that something y'all definitely want to make sure was in the clothing line?
Malice: Definitely, definitely; the sweat suits, the polo shirts, ya know, just taking it back.
Y'all debuted Play Cloths at Magic in '08. How have you been refining it since then?
P: We just been trying to get on calendar with the s***. This is our third season out and this is our first season on calendar with summer. We've already sold it. It's great. People love it. The first two seasons were just as good too. It looked really good in the stores and everybody liked it so [we're] just pushing forward and creating more and preparing for the future.
Is their any fashion wisdom you picked up from Pharrell and his Billionaire Boys Club, as far as pushing Play Cloths?
M: That's pretty much what jump started it. Rubbing elbows with Pharrell looking at what he's doing, being introduced to Nigo, ya know, and having our fans just being influenced by our fashion. It only made sense for us to go ahead and try our hands at the clothing line. I think thus far it's been successful and I'm really happy about it.
Clipse definitely had some influence in getting Bape out there, was that a motivator too?
M: [Nod their heads] Exactly
P: Yeah, definitely . . . BAPE definitely helped put us in a lane and in a light and I think we did a lot for that company too. The whole inspiration behind it was a fan thing. We going to the show and we got on the exclusive shit we just got in the mail and the fans be like, "Oh shit!" This is before I'm really Hypebeasting and shit. I'm just like, "Nah, Nigo just threw this s*** over here." They're like, "Yo, he got on the general jacket, but it's his area code numbers up there!" I'm like, "Okay, let's get a crack at it."
Third season in what's the direction you see Play Cloths going. Where do you want it to go?
P: I think this thing is limitless man. As long as you're in the know about fashion and what's going on out there, and just incorporating your own style into; this shit is limitless. It's great.
Your music is it what it is, do you ever see this replacing it? Or at least getting to a point where y'all can fall back on music and focus on the clothes?
M: Definitely, I think [that's] what it's about. It's about venturing out. It's about expanding. It's not about having all your eggs in one basket. Play Cloths just made a lot of good sense man. I say it all the time — the thing that's different about Play Cloths is that it's not rapper fashion, you can still be yourself. You be who you are. It ain't like you trying to be like us or anything like that. You can find your own swag in it.
So you're trying to avoid Play Cloths becoming just another "rapper clothing line?"
M: It's not even that we trying to avoid it. We just not that, so it comes quite easy.
Now what's a "Tokyo Buffoon?"
P: Ya know, they're just late on it. Just late, last place. Real last place. Y'all last place on that shit, back then.
Okay, what happened to the "e" in Play Cloths?
P: Stop searching for the E cause the O's is long!
That's it?
P: That's it, yeah man. [It] just looked better, I liked the spelling, the meaning has so many meanings. It caters to the whole spectrum of what it is we're about.
Tell us about the album, people are thirsty for this.
P: Til The Casket Drop is definitely going to be an amazing album. Hip-Hop on steroids-more reminiscent of the first album [Lord Willin']. We're just in a great space and it's just about the fun. You'll hear the fun it.
Y'all are definitely passionate about your music. How's it make y'all feel when y'all see artists lacking passion yet being successful?
P: To each his own. Everybody does what they do. I mean, we just love it. I'm here for it. The music game hasn't always been nice. It's been good and it's been bad. And it is what it is. I'm happy.