Clipse ~ Hiphopdx.com Interview, "Two More Videos Sometime This Month, Pusha T. & Malice To Work On Solo Album"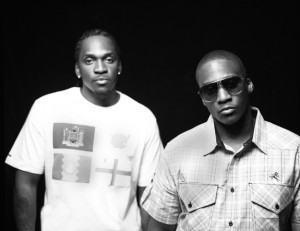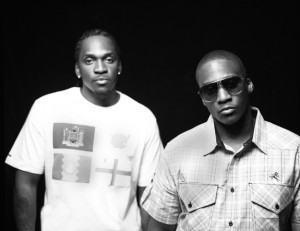 Nobody knows the peaks and valleys of a Rap career better than The Clipse. Their stripped down 2002 single "Grindin" became a dope dealer anthem and pushed their debut Lord Willin' to platinum status in the tail end of an era when rappers not named Carter could still sell a million records. That album laid out the Virginia siblings' simple enough but so effective blueprint: cocaine raps through a lyricist's lense, set to The Neptunes' most adventurous beats. But it would be a while before the rap world heard it again. The follow up, Hell Hath No Fury was tied up in label politics for two years only to be met with both critical adoration (XXL gave it an XXL, GQ called it, uh, "the gangsta Yankee Hotel Foxtrot") and a resounding soundscan thud upon its eventual release.
In between two mixtapes happened that were inexplicably gobbled up obsessively by the type of people who actually know what a Yankee Hotel Foxtrot  is. Since then they've left the wasn't-playing-fair crackers at Jive for greener pastures at Columbia where they are preparing their third proper LP, Till The Casket Drops. And there they have at least one cracker in their corner. Hip hop's greatest cracker, in fact: Rick Rubin . Younger brother Pusha T recently hit up HipHopDX to talk about that new deal, the value of writing and their unlikely new fan base.
HipHopDX: What's the situation like over at Columbia/Sony right now?
Pusha T: I think Sony is definitely in tune, in touch and ready to fuck with The Clipse. We got out the "Kinda Like A Big Deal" record and video, we got out the "I'm Good" record and video. We're on promo right now, street teams are in place. We just going at it. We shooting two more videos sometime this month.
DX: It seems like the singles are in a lighter tone than Hell Hath No Fury, is that the direction with the new album?
Pusha T: Hmmm… no. I would say that these singles are just what they are – singles. The tone of the album is still that shit. That energy and that aggression. I think singles are what they're made for. I personally can say that because I know what it's like to put out a 100% street record and work it for nine months and watch it turn into the biggest record of the year with "Grindin'" and I know what it is to put out a record like "Mr. Me Too" and not get any radio spins at all and get all the critical acclaim ever and not sell any units.
DX: Have you thought about taking the "Grindin'" approach again?
Pusha T: I think the times have changed. I think the "Grindin'" approach isn't done for radio anymore. For whatever reason, you could do that in 2002, it was just that open. I think that the radio game is so fucked up now and it's so tight and so money and position oriented that they don't have time to explore a record that doesn't have a hook. But, on the flipside, I think that the Internet, the mixtapes, the mixshows and any other outlet that's not controlled by the dollar and more about the people, that's where you can use that approach these days.
DX: Tell me a little bit about some of the other tracks on the record.
Pusha T: "Speaker Freedom" is the intro to the album, it's produced by Sean C & LV and it is just my perspective on the music business and truly what it has brought to me. Everything is supposed to be so great, I got so many friends that want to be in this business, [and it isn't]. I think I probably said some of the realest shit ever, just telling the truth on what the business has and what I've lost in it. So that shit is crazy for me. "Popeye's" features Cam'ron… "Popular Demand," really. I like to call it "Popeye's" but it's really "Popular Demand." I think I have the New York record. The 100% street record, I will run New York radio. HOT97 being the biggest radio market. When I go to New York City, I can always hear [Notorious B.I.G.'s] "Who Shot Ya?" Damn, that's my favorite record but why don't they play that in Virginia. But there are things that you can do when you are in a market that big, you can play shit like that. I think I made one of those records that can stay on radio all day. The hardest record on radio.
DX: What do you think it says that it took two dudes from Virginia to make that New York record?
Pusha T: Oh! It happens all the time. They always have a record, but I know we capable. I was born in the Bronx, we both were. We're capable, we got it. We were groomed under the east coast tutelage of rhyme.
DX: What's it like branching out to working with new producers, having worked almost exclusively with the Neptunes thus far?
Pusha T: Yeah it's totally a different look. But we're fans of other producers and a couple other producers, like DJ Khalil and Chin, we stumbled upon them and got "Kinda Like A Big Deal." They had that energy that The Clipse was looking for. That's that raw energy that we like. If the hook is three bars, who gives a fuck? Well I can't say that the label doesn't give a fuck. [Laughs] But that's Clipse music to me.
DX: Who else did you guys bring in for this album?
Pusha T: Sean C & LV, Chin and Khalil, The Neptunes did the other half of it. Cam'ron, Keri Hilson, Kanye West, Kenna, Ab Liva, of course, Re-Up Gang forever, and a couple more I can't say yet.
DX: Did you end up getting any Rick Rubin beats?
Pusha T: No, no Rick Rubin beats. But we went out to Malibu and got with him, hung out with him, played the album for him. He gave us all the insight in the world – "Bottom line if you don't love it, don't put it out there. Period. I don't care about sales, I don't care about nothing. Love it. Love everything you give me."
DX: You mentioned Re-Up, what's your relationship like with Sandman right now?
Pusha T: I haven't really heard from Sand. I see records and stuff so I know he's still working, still doing his thing. That's just that, really.
DX: Do you guys see yourselves working with him again in the future?
Pusha T: Um. Not right now. Right now I'm focused on The Clipse, focused on Liva, focused on Re-Up Gang street shit and so on. My solo.
DX: Are you guys both doing solos?
Pusha T: I definitely am, I think Malice is as well.
DX: Now what are you going to bring to a solo project that you wouldn't be able to do on a Clipse record?
Pusha T: See, I don't know. I don't think the criteria really strays much. [It's] always lyric driven, and I always try to sonically disrupt radio.
DX: Yeah it seems likes you guys usually pick beats that sound like nothing else on the planet.
Pusha T: Yeah and I was having this conversation with [Pharrell] the other day. He was talking about doing my whole solo album. I was just like, I want it to be so different, but yet, so appealing, but this is the perfect environment for it. You know how records today will leak and come out and six months later, out of nowhere they the shit? I feel like I'm gonna need all of that type of organic growth if the music is done to my liking and the way that I want to hear it.
DX: Do you think the industry and your label in particular will be willing to back that kind of slow growth?
Pusha T: It's just all about timing and it's all about having your plan. You have to do so much as an artist these days that I shouldn't even be talking to the label until that record is growing and I'm running around with it in the streets with mixtapes and viral videos and things to support everything that I believe in. They shouldn't even be coming in until the back end anyway. Who cares? By the time they catch on it will be halfway there and they'll see the potential in it. But you can't let them in from the door and think that they'll be like "Oh, we get it."
DX: On another note, have you been surprised by the audience you've attracted in the past few years, as far as drawing in the whole Pitchfork type crowd?
Pusha T: Yeah, man. I was shocked when I first started noticing it. Because I went from performing for every drug dealer in the United States in the hoodest of hoodest clubs, in the blackest of blackest areas to performing at the Knitting Factory in New York City in front of 500 white kids who probably had laptops on them right then and there. I mean it's great! I just… I don't know. I think that the drama with the label, the hiatus, the angry campaign, the Internet press and all of that had a lot to do with that shift. And [that] the We Got It For Cheap mixtape series [was] done with Clinton Sparks.
DX: Do you think there is something inherent in your music that attracts that listener?
Pusha T: I think the intellect attracts that guy. They can understand it. A lot of shit that has been said by The Clipse was street but it still had that intellect. It took people off guard and that particular crowd could relate.
DX: What do you think it is in your life that makes you strive to make smarter records?
Pusha T: I just don't know how to be all the way stupid. I don't know. I think it's the company – Malice, Liva, Sandman was with us at the time. Those are all writers, those are all thinkers. They're not the common person, they raise the bar.
DX: Yeah I think a lot of the critical reception that you guys get comes from other writers who recognize that seriousness in your writing. With that in mind, what do you think of the whole "I'm not a writer, I don't write down my lyrics" movement in Hip Hop?
Pusha T: I think that's good if you're good at it and that takes practice. And if if you can do it… [hesitates] I'ma tell you something – only Jay-Z to me can do it and not lose perspective. Some people can do it, some people can link words together but when you can do it and still have perspective in it and still put a story in it as well as the metaphors, that's when you're doing it. I can tell when a guy writes a verse and when a guy freestyles a verse. And the writer is always better.
Clipse – Till The Casket Drops (2009) (Ocotber 20th)
Producers & Guests: The Runners, Swizz Beatz, Rick Rubin, Sean & LV, Justice League, Dame Grease, The Neptunes, Danjahands, DJ Khalil, Reefa, Boi 1-Da, Keri Hilson, Kenna, Cam'Ron, Timbaland, Scott Storch, Freeway, Nottz
Confirmed Tracks:
– Speaker Freedom (Intro) (Sean C & LV)
– Kinda Like A Big Deal feat. Kanye West (DJ Khalil)
– Popular Demand feat. Pharrell & Cam'Ron (The Neptunes)
– Wretched Pitiful Poor Blind & Naked feat. Pharrell & Kenna (The Neptunes)
– I'm Good feat. Pharrell (The Neptunes)
– Eyes On Me feat. Pharrell & Keri Hilson (The Neptunes)
– Life Change (The Neptunes)
– Champion (The Neptunes)