Clipse ~ Honeymag.com Interview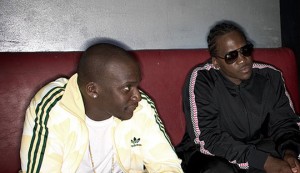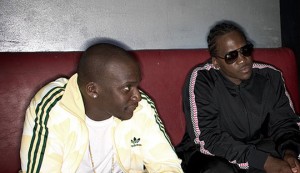 The Clipse understand what it means to be grindin', pun intended. Brothers Pusha T. and Malice were some of the early artists who worked with The Neptunes, resulting in their 2002 debut, the platinum-selling Lord Willin'. They experienced label drama following their first LP, which delayed their sophomore effort until 2006, and resulted in the beginning of a highly praised mixtape series entitled, We Got It 4 Cheap. While slangin' mixtapes, they also set up their Re-Up Gang label to keep anxious fans busy until they got out of limbo.
Their hard work paid off when they finally dropped Hell Hath No Fury, which received XXL magazine's coveted XXL rating. Three years and a few extra mixtapes later, the Clipse are preparing to drop their third album, 'Til The Casket Drops (Re-Up Gang Records/Columbia). In addition to music, the duo is steadily expanding their empire as industry trials and tribulations have forced them to get more autonomous and creative. They've launched a successful men's clothing brand called Play Cloths (pronounced "Clothes"), have books and movies on the way and will soon venture into solo album projects. The Clipse may have a lot going on but the self-proclaimed "shrewd businessmen" fight to win.
HoneyMag: When does 'Til The Casket Drops come out?
Pusha T.: November 10th.
H: The Clipse are known for having label drama but in between that you've been dropping mixtapes, which helped you remain relevant. Are the mixtapes something that you would have dropped even if your label situation was straight?
P: I'm sure there would have been some type of street impression but with the full fledge mixtape situation going on, I'm not really sure. I can say we would have definitely done something for the streets but the hiatus forced us in that direction.
H: Pusha T, in one of the first songs on Road 'Til The Casket Drops, there was a line that stuck with me where you said, "They say the third time is a charm." With regard to that line, what's the game plan for the Clipse  as far as your success with more albums?
P: I feel like it's a fresh slate for the Clipse. We're just making these records, putting out these singles, about to beat up the Internet and capitalize on all of the different avenues of promotional tools out here. We're on a road where we're trying to incorporate everything together as far as the fashion line, the music, the shows — just bringing everything in one so you can see what the Clipse are doing and what we're about.
H: Hell Hath No Fury got a XXL which is rare so do you guys feel a lot of pressure mounting for this next project?
P: I don't think so.
Malice: Me neither.
P: We've given you everything. We've put out classic mixtapes and classic albums. It just seems to be the criteria and the standard. And it's one that's not thought about.
H: One thing that stands out about this next project is that you're not working solely with The Neptunes so what was the decision to move forward with other producers?
M: I think that's pretty much what it's about — expanding. I think the fans wanted to see us work with other producers as well. That, and it's very interesting to see what other producers who were fans of the Clipse would come up with. We took a chance stepping outside of our comfort zone working with other cats. I know it paid off. It's an incredible album.
H: Who are some of the producers and collabos you have?
P: Production-wise there's Sean C and LV; DJ Khalil is on the album. Feature-wise, Kanye, Cam'ron, Keri Hilson and Ab-Liva from Re-Up Gang.
H: Malice, you post a lot of videos on Vimeo, will there be any documentary footage of you guys recording making the album online?
M: We've recorded a lot of behind the scenes as far as a day in the life, the tours, backstage and after the show. We're about to really beat up the internet and release all of this stuff. But as far as the video blogs I've been doing, those are directed to the younger kids — on maliceoftheclipse.com — and it's a prelude to a book that I've written entitled Wretched, Pitiful, Poor, Blind and Naked. People know what the Clipse content is about  — what we've been talking about over the years. But we like to paint both sides of the picture and give you the pros and the cons and just to let you know that it's not all glorious and sometimes you lose. (Editor's Note: Selling coke was the primary theme in their music.)
H: When is the book coming out and is it self-published?
M: The intention is to have the book out at the top of the year, after the album. We're speaking with a few people now but it's gonna be major publishing. It's an awesome book that's nothing short of phenomenal. It gives you an inside look of the Clipse, the industry, the things that we've been through and a very personal look at my private life.
H: Your web videos are artistic, what are your plans for directing?
M: We also have a film company coming out, Re-Up Gang films. Directing comes very natural and I'm very good at it so that's definitely something I'm gonna get into. The first movie we're gonna put out is the movie to my book.
H: There was one blog you did where you stole some of your wife's designer bags and destroyed them, were those real or props?
M: They were absolutely real, no Canal Street.
H: Oh my God, no way.
M: They were really her bags.
H: I'm surprised you're still alive.
M: But the message is just that urgent. The message would not have even gone over if the bags weren't real. I think we're at a critical point where people — especially young girls — need to understand their self-worth. Once you know what you're worth, then you can go ahead and get it in, get your bags and be on your fashion kick or whatever it is that you want to be about. I'm just trying to teach the younger kids because they're still influenced. They just need to be influenced by the right stuff. (Editor's note: In the video blog, Malice used the bags as part of a lesson to his pre-teen daughter to make sure that she understood no matter what any man ever promised her, she'd know her self-worth was more important.)
H: Pusha T, there's been talk about you having a solo album how true is that?
P: We're trying to just expand the company as much as possible and if that means solo records, then definitely. We're entertaining all of those options. I got a couple of joints in the cut that I've been working on but I've basically been focusing on the Clipse thing for right now.
H: You guys are doing well with your clothing line but when are you going to drop some female gear?
M: The girl stuff is tough when it comes to sizing and styles. I want to get into a collaboration with one of the dope girls lines out there to introduce that part of Play Cloths. We're just trying to work that out. For right now, it's been four seasons, four sell outs — the fall shipment just landed to most stores this week and our next shipment, which will be October or November, will be our one-year anniversary.
P: It's been crazy. A lot of people have been supporting the line. Jay-Z rocked it, Lupe rocked it, 50 Cent, Curren$y — a lot of young rappers. Trey Songz was just on ConcreteLoop with the varsity on.
H: How do you guys manage being businessmen and artists?
P: I think the businessmen part of it came from the down time of trying to stay productive when the label wasn't cooperating. We've always been shrewd businessmen. You really can't put nothing over on us. If one don't catch it, then the other one will. As far as the artistry, that never stops. All we really had was the creativity. We could never really control what happens with the labels so we basically concentrate on the art form and what it is we do. For a lot of people trying to be artists, I think that it's pretty much the key to control what you can control in what you do and be the best you can. In our case, that has definitely kept us here and kept us relevant. We've had every set back in the world but it's the fact that the music is always on that's kept us alive, along with the fans.