XXL Gives "Til The Casket Drops" A XL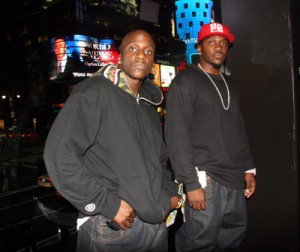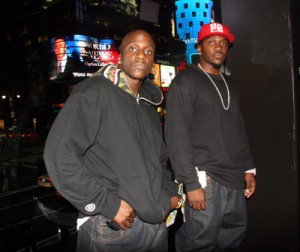 Clipse
Til The Casket Drops
(Re-Up/Columbia)
Beats: XL
Lyrics: XXL
Originality: XL
The Clipse are seeking redemption. For rappers, and literal brothers, Malice and Pusha T, the rap biz has been bipolar, full of ups and downs. While their original planned debut, Exclusive Audio Footage, was shelved, their proper debut on Jive Records, Lord Willin' (2002), was met with much praise and near-platinum sales. Unfortunately, label shenanigans delayed the Virginia duo's sophomore salvo by four years. Like the We Got It 4 Cheap mixtapes their devotees rabidly consumed in the interim, 2006's Hell Hath No Fury was also critically lauded (it earned a perfect XXL rating in this magazine), thanks to reflective street songs like the solemn "Nightmares" and the admirable "Momma I'm So Sorry." Still, despite all of the adoration, HHNF failed to move weight at registers, or iTunes, stalling out at about 205,000 copies sold to date. As persistent with their product as ever, the Clipse return for the hat trick, this time on Columbia Records. And despite its grim title, Til The Casket Drops is more about celebrating life than foreshadowing a tragic demise.
From the onset, the disc's beats are epic in scale. On the album's intro track, the Sean C & LV–produced "Speak Of Freedom," Pusha spits, "All the apologies, I wear the cross, I bear the blame/We in the same group, but I don't share my brother's pain," as he goes on to talk of music as a self-made prison. Separately, Malice speaks of a similar sentiment, when he questions, "How was I to know I was happy being piss poor?" over a perfect sound bed of rapid-fire drums, melodic strings and rock-guitar accents. It is key to note that, until now, The Neptunes have been the sole sound providers of the two previous Clipse albums, but on Til The Casket Drops, Pharrell and Chad make a little room for Cali producer DJ Khalil and the aforementioned Sean C & LV. Rather than being stark contrasts, the outside contributions blend right in with The Neptunes' otherworldly sonic bleeps and bangs—so much so that it's Khalil who laces the bum-rushing, Kanye West–assisted lead single, "Kinda Like A Big Deal," and the standout, dancehall-tinged "There Was A Murder," two menacing additions to the Clipse's catalog that otherwise wouldn't exist had the group not branched out.
Just as with their prior releases, it is the duo's ability to go out on a limb, beyond coke-fueled trappings, that remains their strong suit. On "Champion," Malice kicks, "A long way from pumpin' in housing projects/Investing in real estate, weighing out my prospects," while a shimmering synth and numbing bass play in the background. Lord Willin' and Hell Hath pounded listeners with tales of Pyrex, yet this album is more nuanced. Never mind the saccharine, Keri Hilson–laced radio volley "All Eyes On Me"—the Clipse's need for something resembling a radio hit is to be expected. Instead, more emphasis should be put on the mid-'90s-sounding "Counseling" and the bright and boastful "I'm Good," which sonically fare much better. But don't think for a second that the brothers Thornton have become milquetoast MCs who have forgotten their struggles. At least for a moment, the chest-thumping "Never Will It Stop" quells such notions and gives a nod to the Clipse of old. Says Malice, "Child of a lesser God, so when I drop the top on the Porsche/It's my way of reaching for the Lord."
Playing both sides, though, is nothing new to the pair. Paranoia-stained verses with touches of spirituality is a formula the brothers have perfected. Malice, whose pointed barbs are a highlight of the album, weaves these themes into his bars more and more often. Consider it hip-hop gospel, but without the cheesiness. It is most evident on "Life Change," where he admits that he was "wretched, pitiful, poor, blind and naked," before adding, "Money, hoes and clothes is Malice's past tense." Combining an even mix of maturity and playfulness (check "Back by Popular Demand" featuring Cam'ron), the Clipse's future remains as prosperous as ever. With Til The Casket Drops serving as a return to grace, there's proof positive that Pusha T and Malice still have much to live for.
Clipse – Til The Casket Drops (2009) (December 8th)
01 – Speak Of Freedom (Sean C & LV)
02 – Popular Demand (Popeyes) feat. Pharrell & Cam'Ron (The Neptunes)
03 – Kinda Like A Big Deal feat. Kanye West (DJ Khalil)
04 – Showin' Out feat. Pharrell & Yo Gotti (The Neptunes)
05 – I'm Good feat. Pharrell (The Neptunes)
06 – There Was A Murder (DJ Khalil)
07 – Door Man feat. Pharrell (The Neptunes)
08 – Never Will It Stop feat. Ab Liva (Sean C & LV)
09 – All Eyes On Me feat. Pharrell & Keri Hilson (The Neptunes)
10 – Counseling feat. Pharrell & Nicole Hurst (The Neptunes)
11 – Champion feat. Pharrell (The Neptunes)
12 – Footsteps feat. Kobe (DJ Khalil)
13 – Life Change feat. Pharrell & Kenna (The Neptunes)
14 – I'm Good feat. Pharrell & Rick Ross (Remix) (Bonus) (The Neptunes)